Over the past months, some businesses have had to change their model to survive. Others, like music venues, had to shut down completely. Concerts small and large are at odds with social distancing practices, and the future of these establishments is unclear. 
As these local music businesses face reopening, there's a long list of challenges and unknowns.
The Ramkat is a concert hall that sits on the edge of downtown Winston-Salem. The 1000-capacity venue opened up just over two years ago, and hosts music legends, touring bands from all over the globe, and local and regional acts.
The venue started an online concert series called Home Sweet Home: Live At The Ramkat, to bring music from the stage into people's living rooms. 
Concert going is usually a communal experience. People clustered together, shoulder to shoulder. But for now, that's out of the question.
Co-owner Andy Tennille says when the doors closed, he knew the business would be transformed.
"We're in the social gathering business. And to be in the social gathering business in the era of social distancing kinda feels like you're on the wrong end of the stick," says Tennille. "So we don't kid ourselves to think we're going to return to any sense of what we previously did in this building anytime soon." 
Music venues went from daily bar and ticket sales to an income of zero in the blink of an eye. No concerts, no sound engineers, and no bartenders. Under Governor Roy Cooper's reopening plan, they could potentially open in Phase 3. But guidance is limited. Tennille wonders if getting into the club will become a lengthy process involving things like temperature taking, and making sure every attendee is wearing a face covering.
"No one really knows what that's going to look like," he says. "Is that going to mean plexiglass surrounding every customer interaction place? Is that going to mean plexiglass in front of the stage to protect the artist? Is that going to mean people in the bathrooms monitoring the number of people in each bathroom, then sanitizing after individuals leave?"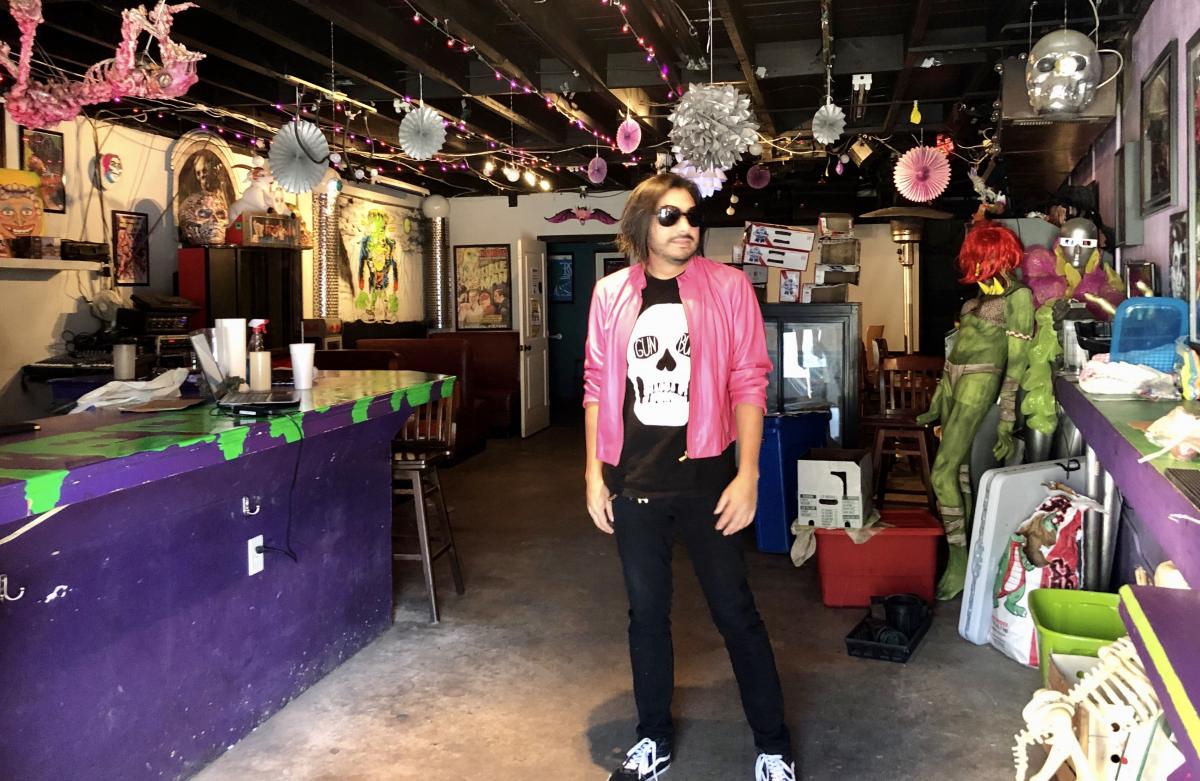 Monstercade and its owner, Carlos Bocanegra. Photo courtesy of Monstercade.
In a Winston-Salem neighborhood known as Southside is where you'll find Monstercade. It's small, with a B-movie vibe. A TV plays old horror movie trailers behind the bar, some retro game consoles line a counter, and movie paraphernalia and neon paint cover the walls.
When Owner Carlos Bocanegra saw that closing was inevitable, he quickly shifted to a new and temporary business model: beer pickup and delivery. 
"We pivoted immediately, we were ready. So as soon as the order came down that we were supposed to close at 5, bam, we had everything already in place," Bocanegra says. "We had to slash prices by 40 percent, which means that Monstercade is making nothing. I'm making absolutely nothing, but it was just a way for my employees to stay employed." 
When music venues open, owners are planning anywhere between 20 and 50 percent capacity. At a smaller spot, how will people social distance? Bocanegra says you can't police it.
"I mean, I'm not going to split up crowds," he says. "I'm not going to be like, 'hey guys, it's not ok that all 14 of you are bunched up in this one little area.' I think it's going to be up to the individual."
He says it boils down to an issue of survival.
"The venues are not going to be able to say no to the money. We're going to die if we say that we're not doing shows for a while," says Bocanegra. 
Larger venues are facing the same challenges, just on a bigger scale, and with more money on the line.  Greensboro Coliseum and The Steven Tanger Center for the Performing Arts are two facilities that have joined with other groups across the state to form the NC Live coalition.
Kerry Painter is the director of the Raleigh Convention and Performing Arts Complex. She says that NC Live will provide guidance and best practices for a safe reopening.
"We just knew if we joined together we could come with some cohesive ideas that we could all stand behind. And that's good. That assures touring shows and concerts that we care," she says.
Painter says it's still unknown what events will look like. And it's not only about keeping crowds safe. 
"How do we have a symphony with trumpets blasting sit next to each other? Or concerts where the band is used to riffing a guitar right next to each other?  We're going to have to figure out how to be on stage safely, and behind the stage safely," says Painter. 
Another coalition that has risen out of the pandemic is the National Independent Venue Association. It's making policy and legislation requests to benefit live music, an industry that's set to lose billions. At least 49 businesses from North Carolina are represented, including The Ramkat.
Co-owner Andy Tennille says that as concerned as he is for the future of the place, and of live music, that's not his only priority. 
"It's going to take a community to get out of this," he says. "While we're doing all the analysis, and trying to best prepare ourselves for reopening, the other thing I'm trying to keep a mindful eye on is, how can I help businesses around us and my friends that own these businesses if they are able to open, how can I help them be successful?" 
As of now, Phase 3 is scheduled to start on June 26. Tennille and others don't know if their music venues will even open that day, but it's clear that concert-going isn't going to be the same anytime soon.
Dark Prophet Tongueless Monk performing as part of the Home Sweet Home: Live At The Ramkat concert series.
Support quality journalism, like the story above, with your gift right now.