WFDD Fall Fund Drive
You make public radio possible when you support the programming you value and enjoy. Make your donation now, and you will be automatically entered in a drawing for a trip to see Hamilton! Give now! 
Monthly Gift One-Time Gift Sustainer Increase
Click here to learn more about the Fall Fund Drive including our new thank you gift.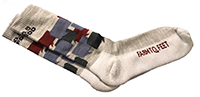 12:44pm Oct 17, 2018
Politics & Government
Politics & Government
A poll by NPR, the Robert Wood Johnson Foundation and the Harvard T.H. Chan School of Public Health finds opioid abuse a top issue for rural Americans.