On an early September morning, without any warning or promotion, the city of Winston-Salem saw a flock of motorized scooters parked in different points of interest. Bird had arrived to change the way locals commute. The premise was simple: using an app, you could rent a scooter and when you are done, you leave it on the street for the next person that needs it.
The scooters quickly caught on. Bird started to bring more and more scooters to the city. However, what Bird didn't anticipate was that the wrong population would be one of the scooters primary users: underage kids.
"Basically it would just be a group of us and we would just use one person's ID who was 18 and we would all just use different email accounts," Alyssa, a high school student, explains.
Alyssa was not the only one. Scooters started to appear on school grounds. According to Leslie Alexander, principal at R. J. Reynolds High School, the scooters quickly became a problem.
"As far as them being on campus outside, there are a couple of safety issues that are involved. One is that we do not allow people who do not have business here, meaning they do not go to this school, they do not have a child at this school, coming on to our campus. So that would pose a problem, having random people coming to pick up various scooters at different locations on campus, so we want to avoid that. Also, before we banned them on campus, we had several incidents where they were blocking doors that were fire exits and things like that. So for the safety of the school or overall they are just not a vehicle that we would want on campus," Alexander explained to one of the Radio 101 reporters.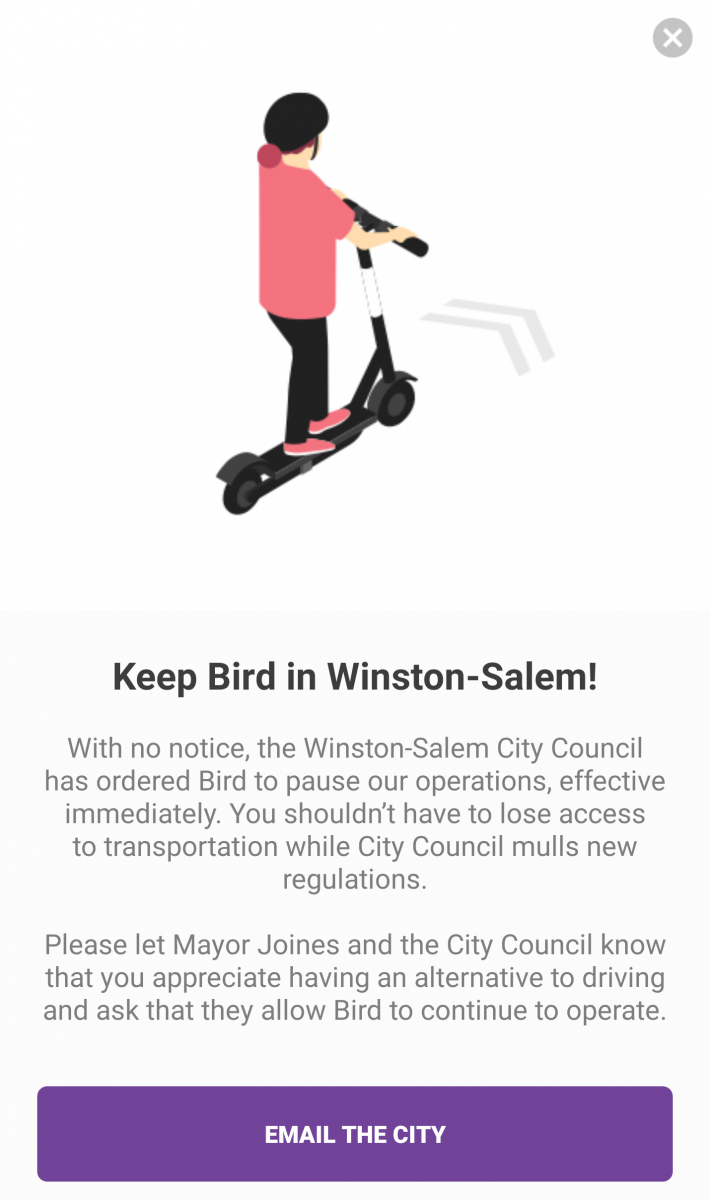 The terms and conditions for Bird state that the rider needs to be at least 18 years old, but all the security checks are done online through the app. So for example, there is no way for Bird to know that the person uploading a picture of an ID through the app is actually the owner of that ID. Similarly, the app didn't seem to recognize the difference between real and fake IDs, making it really easy for tech-savvy students to game the system.
On November 19th, 2018, the city of Winston-Salem voted to ban the scooters until new safety regulations could be put in place. As of today, there are no signs that the scooters are coming back, but that could change on January 14th, when the public safety committee meets to discuss the issue again.
Support quality journalism, like the story above, with your gift right now.