Winners And Losers Of The Fall TV Season Begin To Emerge
9:34am Oct 21, 2014

What's most amazing about this point in the TV season is what hasn't happened yet.
One month into the new season, no new fall TV show has yet been canceled.
(By this point last year, several shows had already been put out of our misery, including ABC's Lucky 7 and NBC's Ironside remake.)
Still, despite programmers' patience this year, there are still lots of clues about what's working this TV season and what isn't. Here's a peek at what we know so far about the current TV season.
Time slots still matter. Some of the worst-reviewed new fall shows have shown a surprising level of viewership, probably because of when they air.
Much as critics hated NBC's Mysteries of Laura or CBS shows like NCIS: New Orleans, Scorpion and Stalker, all of these programs have had strong to good debut ratings. NCIS: NO airs after NCIS, one of TV's highest-rated dramas. Scorpion airs on Mondays after CBS' giant hit The Big Bang Theory, while both Stalker and Laura fit into cop-centered nights of programming on Wednesday that keep fans watching.
Certainly, some people are using technology to watch shows when they want. But it seems there's still value in airing near another popular show or on a popular night of programming when fans can just avoid changing the channel.
Diversity can draw audiences. ABC's sitcom about an upper-middle-class black family, Black-ish, may have fallen a bit from its debut levels. But it is still holding a lot of the audience that shows up for the program that airs before it, the hit Modern Family, and got a full season order (most new network TV shows are only picked up for 13 episodes at first, and given the "back nine" episodes for a full season later). Jane the Virgin, an Americanized version of a telenovela centered on a Latino family, got the best Monday night ratings for The CW in two years last week.
And How to Get Away With Murder, just the second network TV show to feature a black woman as the sole star in 40 years, also got a full season order. It's doing well airing behind the first network TV drama to star a black woman since the 1970s, Scandal.
Football is can't-miss TV. Media watchers waited to see if the NFL's off-the-field problems addressing domestic abuse charges from some of its players would affect ratings for CBS' Thursday Night Football games. But CBS says its games so far are drawing viewership 36 percent higher than last year's scripted programming, drawing an average 16 million viewers a week.
TV audiences may hate rom-coms as much as movie audiences do. Several romantic comedies are struggling for audiences, including ABC's Selfie and Manhattan Love Story and NBC's A to Z (the network's other romantic comedy, the better-reviewed Marry Me, debuted to stronger numbers last week). This could be a quality issue, as the shows that are struggling also got pointedly mixed reviews before they started.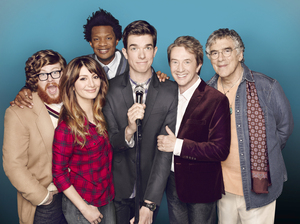 Fox is having a rough fall season, outside of Gotham City. The network's grand new experiment in reality TV, Utopia, was supposed to spend a year documenting a group of people building a new society. Instead, its low ratings have forced a move to Fridays and prompted rumors that it may be the first new show this fall to get canceled.
Widely admired standup comic and Saturday Night Live writer John Mulaney saw his sitcom Mulaney debut to a torrent of harsh reviews and some of the worst new ratings of the season. And shows such as the hospital drama Red Band Society and the Broadchurch remake Gracepoint have also struggled for viewership.
Only the Batman-centered drama Gotham has found its footing so far, earning good reviews, strong ratings and a full season pickup.
Maybe it's time for Fox executives to fire up the Bat-Signal and get some help for the rest of their fall schedule.
Copyright 2015 NPR. To see more, visit
http://www.npr.org/
.
Transcript
STEVE INSKEEP, HOST:
We already have some telling signs about who will succeed in the fall TV season. Last year in 2013, more than 50 percent of new shows that debuted in the fall were canceled. Our TV critic Eric Deggans is scoping out which shows may fail or succeed this year. Hi, Eric.
ERIC DEGGANS, BYLINE: Hey.
INSKEEP: This is starting to sound like a reality TV show. Are they going to survive?
DEGGANS: Twenty shows enter and only 10 leave, yes, yes.
INSKEEP: Oh my goodness, or fewer than 10 maybe. So who's doing well?
DEGGANS: Well, you know, I think one of the biggest mysteries of this fall is why some of the worst reviewed shows of the season are doing relatively well. Now, I'm talking about shows like NBC's "Mysteries Of Laura," CBS's "NCIS: New Orleans" and another CBS show that so many critics hated about a police unit that tracks stalkers that's called - well, it's called "Stalker." So let's hear a little bit of that.
(SOUNDBITE OF TV SHOW, "STALKER")
MAGGIE Q: (As Beth Davis) She's been hiding from someone.
DYLAN MCDERMOTT: (As Jack Larsen) In the bathroom she has a clear shower curtain so no one can hide behind it. She sleeps on the left side of the bed facing the door to watch for a shadow.
Q: (As Beth Davis) He likes the journey; he doesn't want it to end. Why kill her?
MCDERMOTT: (As Jack Larsen) I don't know yet, but I impressed you a little bit, didn't I?
DEGGANS: Yeah, a drama that doubles as a how-to manual for stalkers, like, what's not to like about that? So I think these shows have done well because timeslots still matter on network television. Now, I know we live in a TV world where people watch what they want to watch when they want to watch it, but "NCIS: New Orleans" airs after one of the highest rated shows on TV, the mother ship series, "NCIS." And "Stalker is a creepy crime drama that airs right after another creepy crime drama on Wednesdays, "Criminal Minds." And "Mysteries Of Laura" fits right into this night of cop action on Wednesdays on NBC, including "Law And Order: SVU" and "Chicago PD."
INSKEEP: Although, are there some people who are managing to succeed with programs that critics like?
DEGGANS: Yeah, you know, a lot of new shows with ethnic diversity seem to be clicking. ABC's comedy about an upper middle class family called "Blackish" is holding almost all the audience from "Modern Family" and it got picked up for a full season. And "How To Get Away with Murder," which is only the second network TV drama to star a black woman as the sole lead in 40 years, is doing great ratings airing behind "Scandal" on Thursday nights.
INSKEEP: Now, what's not working?
DEGGANS: Well, it turns out that today's TV audiences don't like rom-coms. Now, romantic comedies have also been failing at the box office and they're struggling on network TV, including shows like "Manhattan Love Story" and "Selfie" on ABC. And NBC's got this story about a couple who meet - kind of cute - called "A to Z."
(SOUNDBITE OF TV SHOW, "A TO Z")
BEN FELDMAN: (As Andrew) May I ask what it is you do?
CRISTIN MILIOTI: (As Zelda) I am a lawyer. I do pro-bono work for an otherwise sinister white-collar firm.
FELDMAN: (As Andrew) I've got to tell, you I am pro pro-bono.
DEGGANS: That's the kind of material that gets you some of the lowest of premiere ratings for a new fall show that we've seen. So the other loser that we've seen so far is Fox. Their reality show "Utopia" was supposed to show a bunch of people building a new society over a year, but awful ratings forced Fox to move that show to Fridays, where TV shows go to die. They also have a new Sunday comedy called "Mulaney," that got pegged as a Seinfeld rip-off and got some of the worst ratings of a new fall show. And it's new drama about sick high school kids club "Red Band Society's" also struggling. The only thing that's working for them is this Batman inspired series called "Gotham." So I'm suggesting maybe they just fire up the bat signal and maybe get some help for the rest of their schedule during the week.
INSKEEP: Eric, always a pleasure.
DEGGANS: Thanks a lot.
INSKEEP: That's NPR's Eric Deggans. Transcript provided by NPR, Copyright NPR.