At WFDD, we pride ourselves on being a place where people come together to discuss ideas. You might not always agree with what you hear, but you can trust that it's based on facts. Our reporters work 24/7 to find and talk to the best available sources on every issue affecting our community. And now during the pandemic, we've convened a series of Virtual Community Conversations, to further discussions on key issues. We want to hear from you. What's on your mind? What topics would you like us to cover in our Community Conversations series? Let's talk!
Check out our upcoming and past conversations: 

Thursday, September 24th, 2pm
We know there's a lot of uncertainty surrounding the vote, and we're here to help. Take part in our next Virtual Community Conversation: Safeguarding Your Vote. We'll talk with election officials and answer your questions about absentee voting, in-person voting, voter intimidation, and more. WFDD reporter Paul Garber will be joined by our special guests, who will address your concerns and questions to help you feel confident in your vote.
We'll hear from:
Karen Brinson Bell, Executive Director of the NC State Board of Elections
Charlie Collicutt, Director of Guilford County Elections
Anna Fesmire, Co-President of the League of Women Voters of the Piedmont Triad
Tim Tsujii, Director of Forsyth County Elections
Click below to register. Got questions or comments to add to the conversation? You can send them in at the link below.
Register To Attend Send In A Question Or Comment
Looking forward to seeing you!

There are a lot of unknowns as we head into the new school year. What will instruction look like for K-12 Public Schools? How are districts addressing equity issues and kids who may be slipping through the cracks as school buildings remain closed in many areas? There are also issues like providing school lunches for students during remote learning and childcare concerns for working families during the extended closures. 
How will schools pay for COVID-19 safety requirements and changes when they do reopen? There are also questions about testing and a whole lot more. WFDD's Keri Brown will moderate a discussion with local experts about some of the challenges and what's being done to help address these issues during the crisis.
Watch the full recording of our Virtual Community Conversation: What Does 'back To School' Mean Now? below.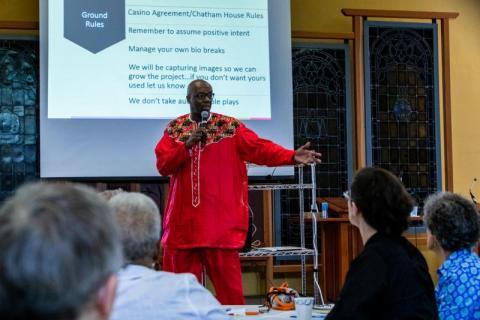 During this Virtual Community Conversation, speaker, author, and dialogue facilitator Dr. David Campt discussed strategies for more effective discourse about race. Campt stepped through the details of his R.A.C.E. Method, developed using best practices of non-violent communication and the neuroscience of persuasion. Campt and WFDD's David Ford role-played how this method might unfold in a conversation. We also answered listener questions, some submitted in advance of the event, and some submitted through the live stream.
Watch the full recording of our Virtual Community Conversation: Race and the White Ally Toolkit below.