Greensboro has a large population of people displaced from their homelands, a fact the city celebrates annually on World Refugee Day. The event has long included an annual soccer match with players showing off skills they learned in different parts of the world. This year's game in June included something new — a local team.
Adamou Mohamed is a native of the Republic of Niger. He came to America as a college student in New York, and moved to Greensboro to get away from the cold weather. Here, he's an organizer for Church World Service, helping refugees and asylum seekers like himself find their way in their new country.
Many of the newcomers he meets share a passion of his – a love for the game of soccer, or football, as it's called in most of the world.
"Soccer also for us, you know, coming to get in place a way to distress and to forget about some of the traumatic experiences that some of our refugees have experienced," he says. "And so also a way to connect with the community. Because when newcomers come and meet others that have been here for, like me, for years, I mean, they find friendship, they find somebody they can maybe connect with, and also help them in their integration."
According to the latest census figures, more than 10 percent of Greensboro's population is foreign-born. Many come for a variety of opportunities. Others are here escaping trouble in their homelands. The Montagnards of Southeast Asia began arriving in the 1980s, and the city has since taken in refugees from all over the world. Some of the more recent arrivals are from Afghanistan. 
As part of its World Refugee Day celebration, the city of Greensboro has included a soccer match among refugee teams, made up mostly of players native to Africa, but also representing other countries. Mohamed says this game is a chance to broaden the understanding of the city's international community.
"Refugees come with talents, with experiences, and they are always willing to give back. And we've seen how they are contributing, you know, tremendously to these to their new home," he says. "And yeah, I think it's a good thing to have refugees bring in socially, culturally and economically."
Many on the refugee team aren't exactly newcomers to the area. Some have been here for years, including Alou Kamara, who's been here more than two decades.
"I came and I loved it and I stayed," he says. 
Civil war drove Kamara out of his native Sierra Leone on the West African Coast. He came to the United States and settled in Maryland for a while. He eventually moved to Greensboro, where he has family. He's a veteran of this annual game.
"For me it is always an opportunity because we have younger Africans come in that came through the refugee program," says Kamara. "And I'm happy that the city of Greensboro have this initiative because it's an opportunity to see we actually have a bigger refugee community, you know?"
Also on the field this year was a new challenger: A team comprised of athletes who work for the city of Greensboro. It consisted of police officers, firefighters and other Greensboro staffers.
"Soccer is almost like, it could be considered an international language," says Deputy Police Chief John Thompson, one of the player's on the city team. 
Unlike most of his opponents, soccer hasn't been a lifelong passion. He's more of a basketball guy. He says he stopped playing soccer around the age of 12 and has only picked it back up in recent years. Yet even if his skills are a little rusty, he still has a keen sense of what friendly competition can do.
"There really isn't I think a better way to connect with somebody," he says. "The refugee team has a lot of experience playing soccer, they like it, they enjoy it. And so it kinda kind of brings down any uncomfortableness of not knowing each other and really just allows us to connect. "
On game day the two teams squared off at Hester Park in southeastern Greensboro, where a nice breeze made the sunny field more comfortable.
The refugee team was clad in royal blue uniforms. The city staff wore green. Daniel Stanley, Greensboro's survey supervisor, worked the sidelines for the city team. Mohamed was his counterpart for the refugees.
Initially, the game was close. The first half ended with the refugee team leading by only a goal. Their defense shut the city team down in the second half, and they went on to win 5 to 2.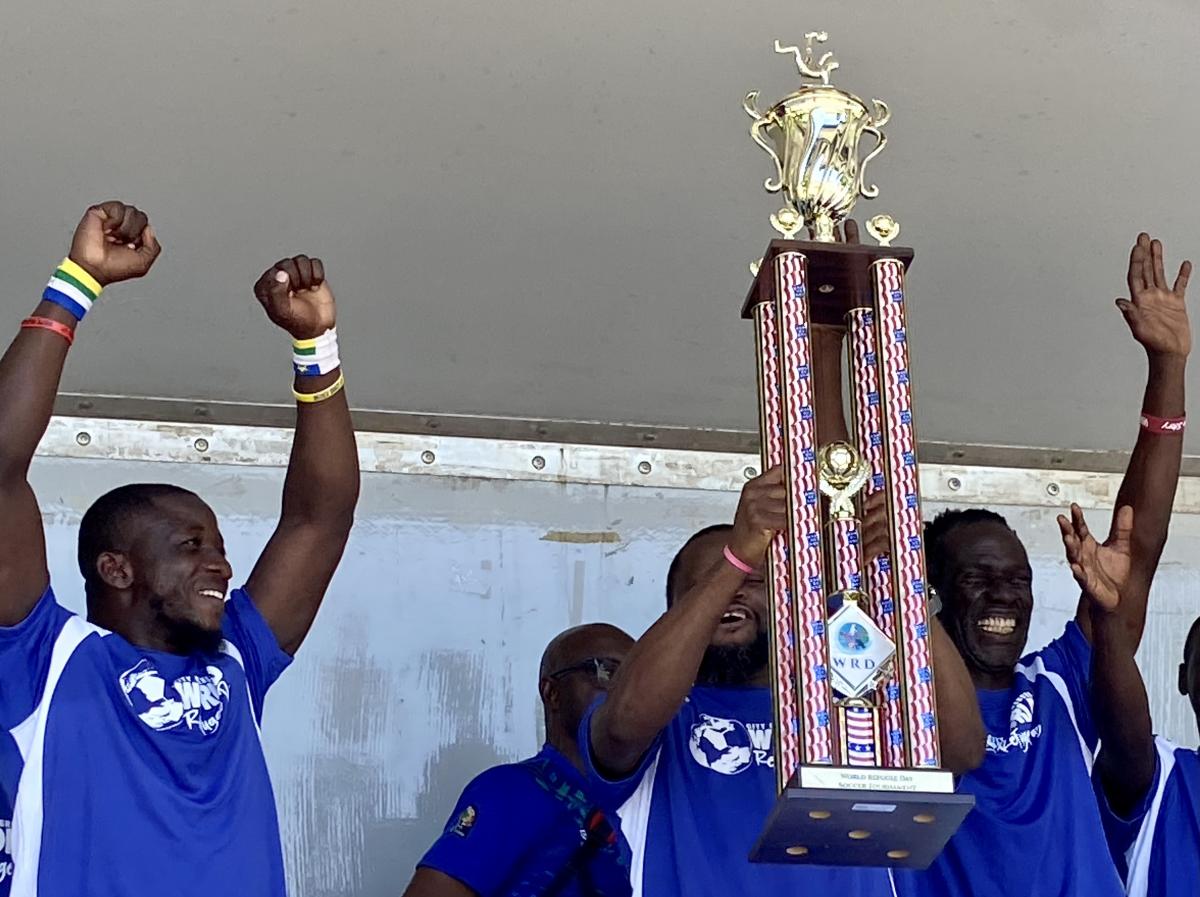 To celebrate the victory each member of the team crossed a small stage to hoist their new trophy and tell the crowd their country of origin.
The players met at midfield to share handshakes and laughs. Mohamed says his team appreciates that the city wanted to play against them.
"Seeing how the city staff are coming together and supporting this game, particularly, and how motivated they are, I think it's something that is really dear to my heart," he says.
The city staff will have another shot. Next year will be a rematch for the chance to claim the trophy. A friendly competition between two squads with players from different backgrounds but a common bond: Both teams call Greensboro home.
Support quality journalism, like the story above, with your gift right now.