For the latest in our series Carolina Curious, listener and newly-minted teacher Madelyn Rindal wants to know:
"How has the North Carolina Public School System changed in the last decade and how does it compare to our neighboring states?"
This is one of those questions where you don't know where to begin. In the last ten years, there has been so much change – new technology, higher nutrition standards for school lunches, and increased security, just to name a few.
But when we talked to educators, one theme up came over and over again: funding. WFDD's Keri Brown reports on how money (or the lack thereof) has shaped the state's public schools in the last ten years.
Now And Then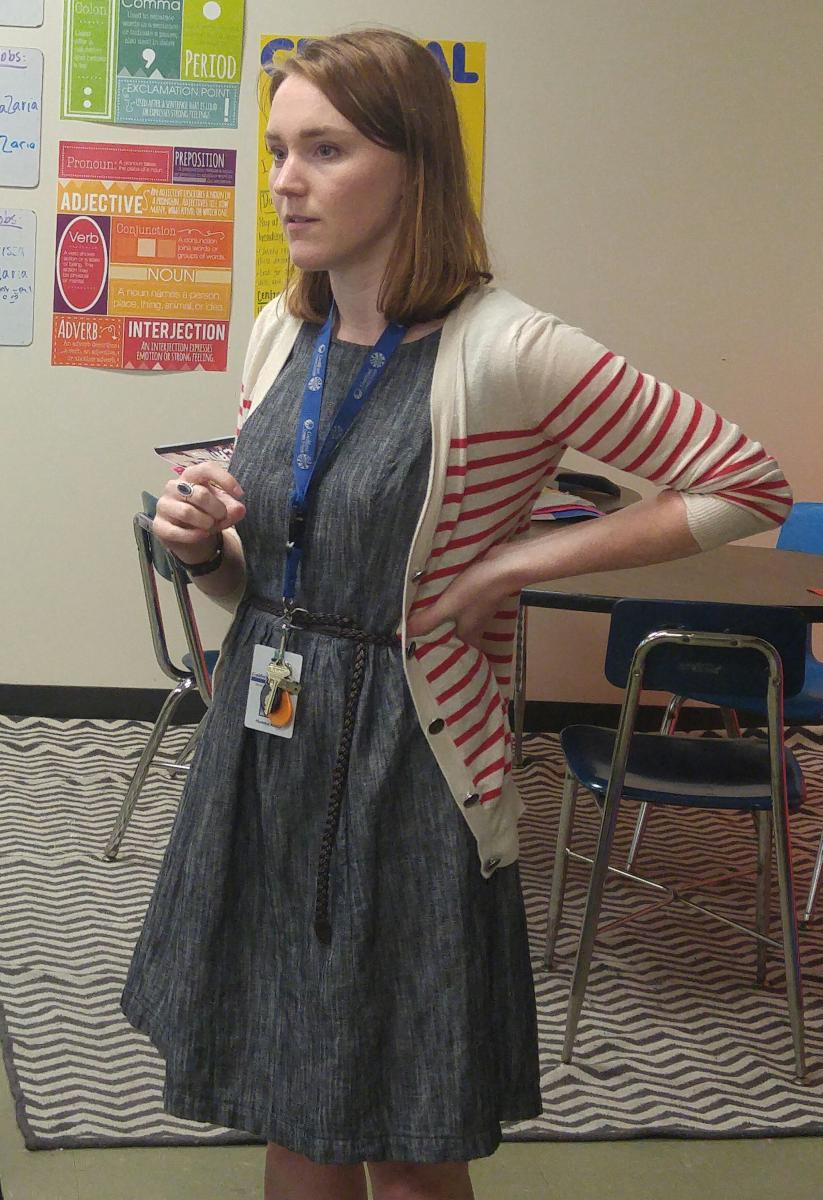 Madelyn Rindal's English class at Allen Middle School in Greensboro looks like what you'd expect a classroom of today would look like. The walls showcase their latest project – filled with bright posters, selfies of the students, even empowering hashtags to encourage them. She has to remind her class to take their eyes off their tablets during instruction.
This is all new to Rindal. She's a first-year teacher and only 22 years old. She's starting out her career and wants to know what she's getting into.
"I hear people in public education and outside of public education say 'it's gotten worse over the years' or 'it's gotten better,' so I submitted this question hoping we can take an objective look at what has changed."
To find out, we have to wind back the clock ten years.
In 2006, North Carolina was regarded as a leader in the Southeast, both for teacher pay and quality of education. But shortly after that, the recession hit. Foreclosures were at record highs, stocks around the world tanked because of the crisis on Wall Street, and millions of people lost their jobs.
With folks out of work and many losing their homes, there was less tax money coming in and less money for state and local governments. Services were cut, including public education. Things have gotten better since then, but funding still isn't at pre-recession levels. Meanwhile, North Carolina's population has grown by more than a million people.
More Students, More Schools
"It seems like every year things are being cut," says Michelle Turner, a sixth grade English/Language Arts teacher at Allen Middle School.   
Turner has been teaching in the state for eleven years and she says there is less money for students these days. "Money for extracurricular activities for students or teachers are [sic] being cut but class sizes are growing. It's a trickle-down effect and the children are the ones that suffer in the end."
A recent report from the National Education Association ranks North Carolina in the bottom ten states in the country for per pupil spending. Policy experts estimate it's down around $350 when inflation is taken into account. At the same time, nearly 76,000 more students are expected to enter North Carolina's public schools in the upcoming school year compared to 2008.
We also have more schools competing for the same pot of money. Over the past few years, state lawmakers expanded the number of charter schools and adopted private school vouchers in an effort to give parents more choices in their kids' education.
But the funding follows the child, putting public schools in a tight spot, according to Abu Zaeem, an assistant principal at Allen Middle School. He says it forces public schools to act more like a business. Guilford County is even considering marketing itself to enroll more students.
"Public school was the way to go, but now people are out there looking at different options for our children." says Zaeem. "Before, we didn't have that competitor out there who are attracting our children away from public schools."
Teacher Pay Slides Downward
In the last few years, lawmakers stopped funding step increases and incentives for earning a master's degree. Eric Houck, an education policy expert at UNC Chapel Hill, says North Carolina continues to lag behind the rest of the country for teacher pay.
"A beginning teacher is making about $4,000 more a year now than they would have been in 2006 and that's a very slight increase. It's a dollar increase for sure, but relative to what other states are doing, it's dropped us from 25th to 42nd in national rankings," says Houck.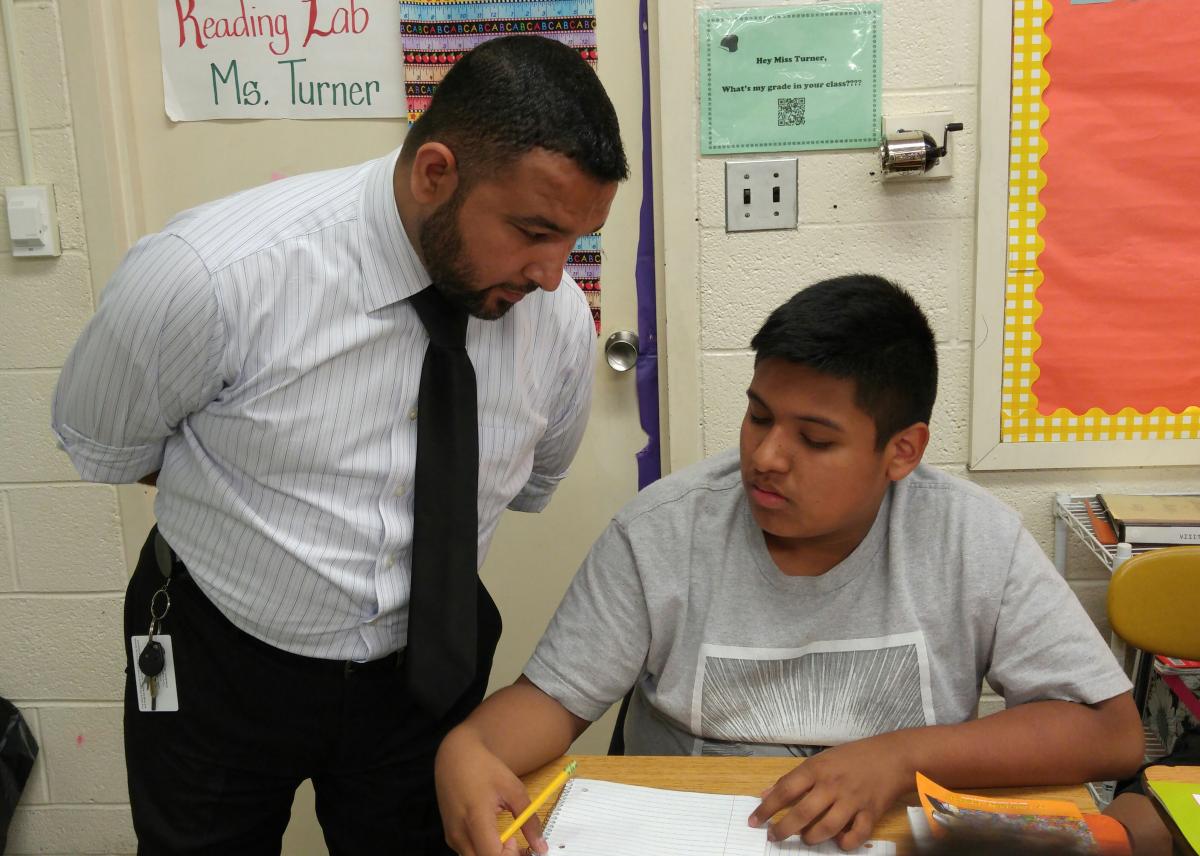 Lawmakers say education funding already accounts for nearly half of North Carolina's spending plan. And they're promising more. Teacher pay is a centerpiece in their upcoming budget. There could be up to a five percent increase, based on experience.
"[The Senate budget proposal] lays the groundwork for a bold plan for teachers to see their see their average pay surge to nearly $55,000 within two years for the first time in state history," says Senate leader Phil Berger (R-Rockingham).
Teacher Madelyn Rindal says she'll be paying attention to what happens next. But she says it's not her salary that gets her up in the morning.
"I hope it's not what gets anyone up to go to their job. I hope it's because you love it and you're making a positive impact on the people around you and, in this case, my students," she says.
When it comes to the future, though, Rindal isn't sure. If teacher pay and funding don't catch up with the rest of the country, she may just end up taking her passion for education elsewhere.
Tomorrow, we'll look at another important issue as part of this Carolina Curious edition: We'll explore how standardized testing has changed over the past ten years in North Carolina's public school system.
*Follow WFDD's Keri Brown on Twitter @kerib_news.
Support quality journalism, like the story above, with your gift right now.