Business 40 Changing Lanes: What To Expect From Improvements
5:00am Jun 12, 2017
Beginning in the Fall of 2018, a mile-long portion of Business 40 in downtown Winston-Salem will be closed to traffic for two years. The improvement plan has engineers and designers working to modernize the decades-old roadway. Even before the highway's groundbreaking ceremony back in the 1950s, the expressway transformed Winston-Salem. It's the spine off which every major thoroughfare extends; roads that have in so many ways defined the city.
State and local officials are bracing for the inconvenience of detours and traffic delays. In the first installment of our four-part series Business 40: Changing Lanes, we explore how the proposed improvements will impact a new generation of Triad travelers.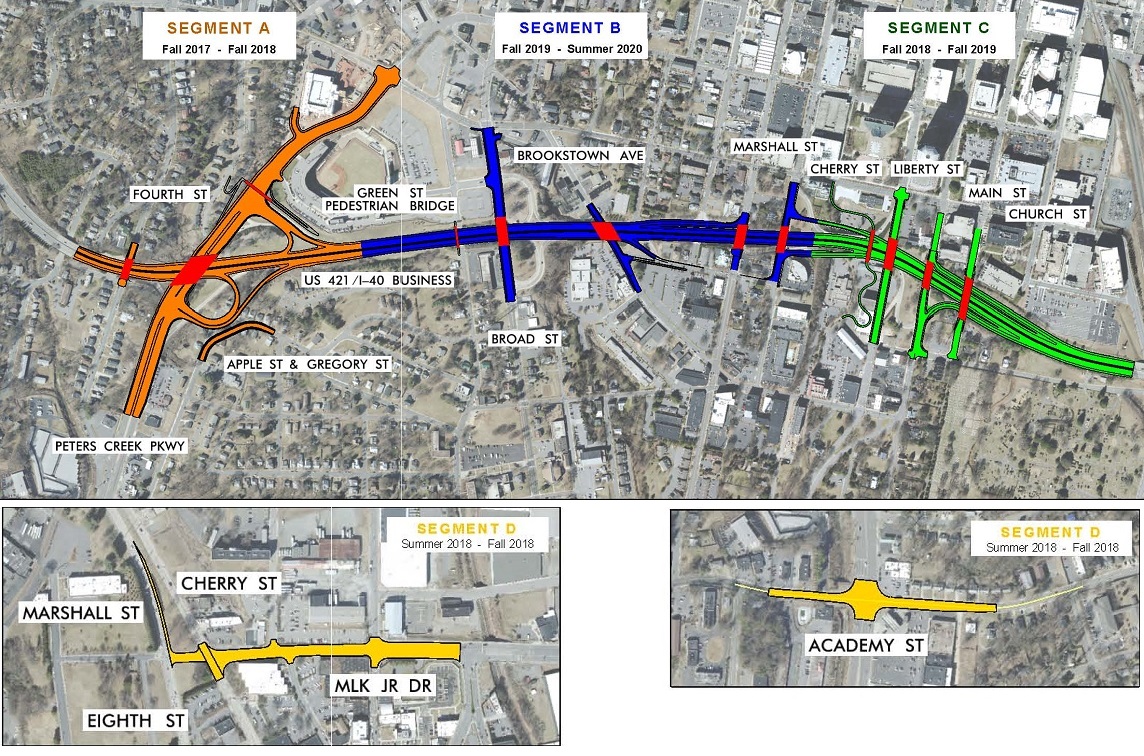 Division Engineer Pat Ivey says it's an overhaul that's been in the works for a very long time. Ivey oversees every road maintenance and construction project that falls within his five-county area, and he's been involved in almost every aspect of the Business 40 Improvements Project.
He spoke with WFDD's David Ford. 
Interview Highlights:
On the project's early beginnings:
Back in 2004 is when we first started talking about the Business 40 project [downtown] and we recognized early on that this was going to be a project that required innovation, thinking outside of the box, and more importantly, getting with the public and getting their feedback on what the community actually wanted Business 40 to be.

The roadway's problems were exemplified when an over-height truck hit the Green Street Bridge downtown [in 2006] and low clearance issues on all of the bridges in that area really came to light. But the Business 40 project actually started when the bypass was opened in the early 1990s, and since that time we've been making small, incremental improvements to the Business 40 corridor. This now is the last 1.2-mile segment of Business 40 to be improved from basically Fourth Street to Church Street — the segment that goes right through the middle of downtown.
On the roadway improvements and what we'll see:
Just the safety changes is one thing, the new pavement — it's certainly going to ride so much smoother that what's out there today. You're going to have longer ramps. You're not going to have those tight weaves between Cherry and Liberty Street that you do today. All of that will be completely redone, and it'll be much safer. We're going to replace all twelve bridges, all of the pavement, modernize the ramps, and everything out there will be completely new and reduce congestion on this section of Business 40.

But then you talk about the visual enhancements that the community has set forth to the tune of about $10-million dollars to add to this project to make it look better. They told us from the very beginning that they wanted this section to be a true gateway to downtown Winston-Salem. With the new pedestrian bridge on the west side at the ballpark, to the strollway bridge on the east side around Liberty Street, you basically have two bookends of two incredible bridges that you just don't see anywhere in North Carolina.
On what's being done to help local businesses during the two-year shut down of Business 40 downtown: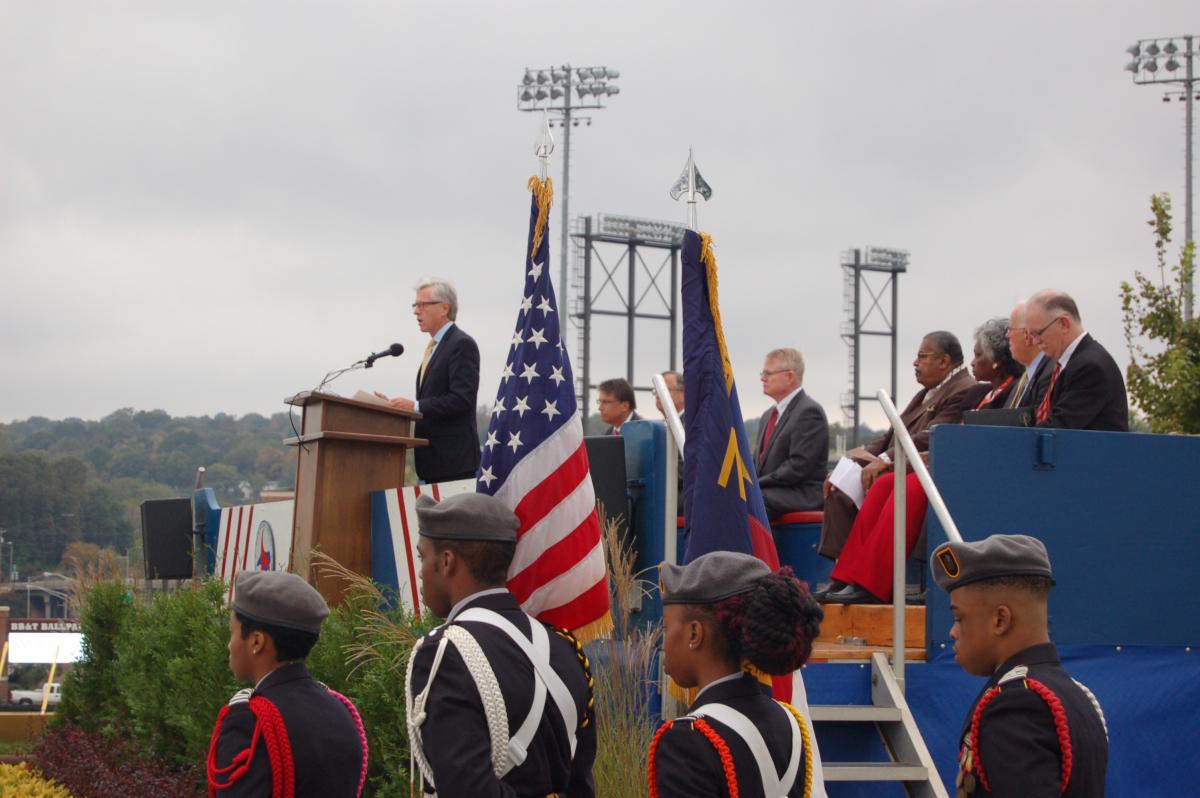 You know in downtown Winston-Salem, there's been a tremendous investment in the past decade, and it has paid off. The last thing we want to be is a stumbling block to that. So, we have actually partnered with those folks to work on a marketing and communications plan for those businesses to make sure that people know that even though this section of Business 40 is closed, downtown is open for business, and this is how you get here.
On plans for commuters through downtown:
First, we want to make sure there are options for people to choose from whether it's using PART (Piedmont Authority for Regional Transportation), Park & Ride lots, mass transit, or the city bus system. People are likely to change their thought patterns on what they want to do based on the reality of what they see once they get out there and the closure starts. So, over the next twelve months, really start thinking about how you're going to get through downtown once Business 40 closes. Start experimenting with different routes.

Some of the larger routes that will be used for detours will be Interstate 40, U.S. 52, Peters Creek Parkway, Silas Creek Parkway, and University Parkway. We'll also have smaller detour routes when contractors come in to replace bridges like at Broad Street, Cherry, Marshall, Liberty, and Main. You've got to be able to get around town when those cross streets are cut off as well. Those detour routings will be publicized and become part of the information that we'll provide to the public on our website on a daily basis once construction begins.
On public involvement for this project:
Of course, if you've been in the Winston-Salem area for any period of time, you've seen some of the feelings that many in the [African American] community have is that Business 40 originally, along with U.S. 52, really segmented the community. It split communities in half and really divided the city. One thing we're trying to do with both the Business 40 project and projects we've already done on 52 is trying to knit those communities back together. That's what we've heard loud and clear from the community is that that's what they want to have happen, and we're playing a part in that. The public involvement is what received the award from the Federal Highway Administration. It was based on the process that DOT and our consultants (Neighborhood Resources) used to reach out to communities — African American, Hispanic, business — all of that was looked at under the plan we put together.