It's quite a coup for actors and filmmakers to say that they've worked on a Best Picture Oscar nominee. Over the past few years, the University of North Carolina School of the Arts has assembled a growing list of alumni who have joined this exclusive club, and this year's Academy Awards will be no exception.
Since 2012, UNCSA graduates have been up for Best Picture Oscars in fourteen films. That trajectory continues this weekend with four nominations: Three Billboards Outside Ebbing, Missouri, Lady Bird, Coco, and Dunkirk.
2015 Film School graduate Austin Elliott was Office Production Assistant for Dunkirk, where he was responsible for everything from providing lunches to emergency management. He spoke with WFDD's David Ford.
Interview Highlights
What's one of the key lessons at UNCSA that best prepared you for work in the film industry?
The film school, like a lot of other film schools, teaches you how to tell a story, and about budgeting, film history and things in that area. But what sets the film school aside at the School of the Arts is that they also teach you about the minute paperwork that goes into making a movie. They teach you about what a call sheet is, and what a one-liner is, and things that you really wouldn't know unless you worked here. And after going to the school for four years and making my own call sheets and making all this paperwork for the films that we produced there, I was able to come to Los Angeles, and during my first interview they asked if I had known about any of that, and I was able to tell them, "I know everything." And that really helped me get my first job because the last thing my boss wants to do is have to teach me how all that stuff works while they're also doing their own job.
How do you go about landing a position in such a major motion picture just two years out of college?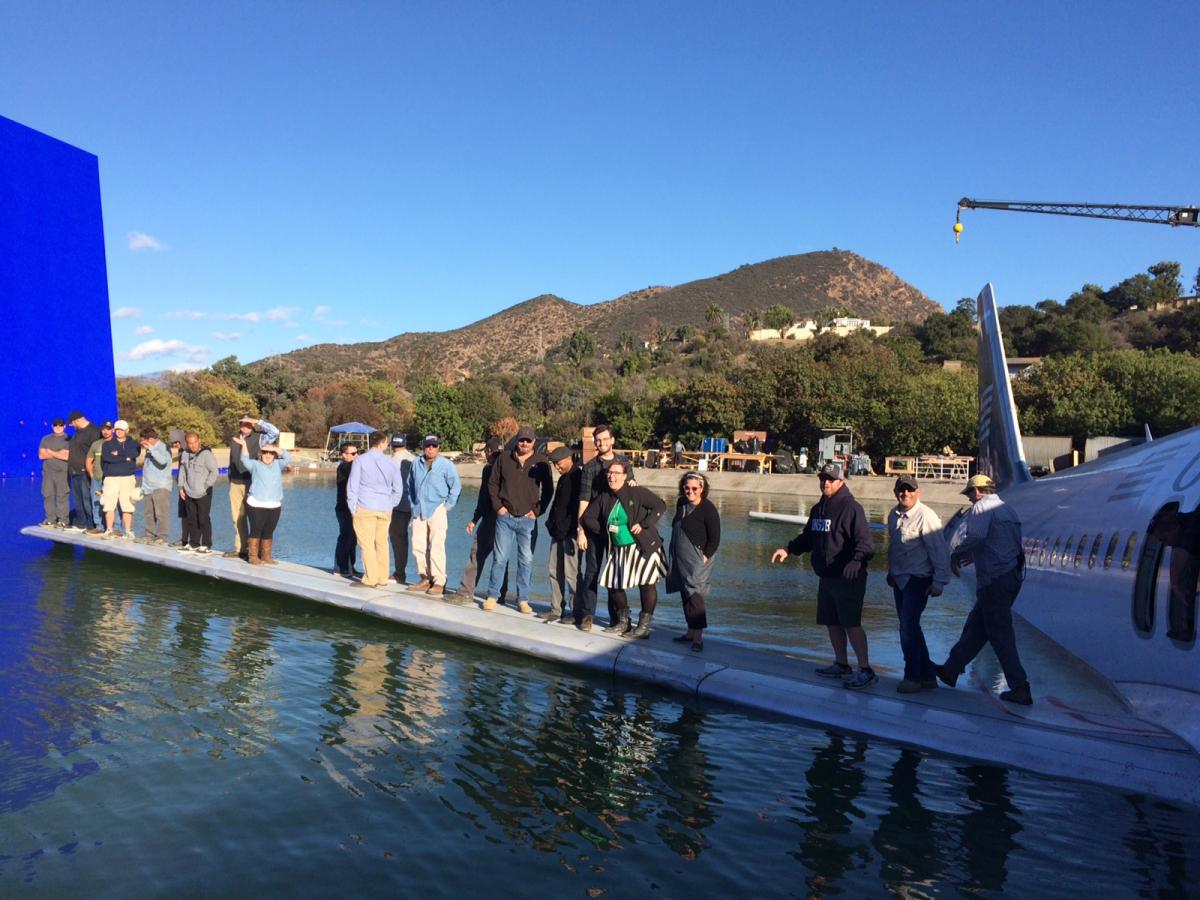 The first thing is luck. I was very, very lucky just to be in the right place at the right time. But then on top of that, also, I was prepared for it. I listened in school and I learned as much as I could. So, when I was asked to be in that position, I could perform really well. Also, when I first moved out here, the alumni base was really great. I stayed in touch with a lot of people who graduated before me, and when I came out here, [I was] lucky enough to have some things available to me to start off. My first few positions I took were office PA (production jobs) for re-shoots. The fantastic thing about re-shoots is that every two weeks you are jumping onto a new production with new people and meeting everybody, and that really helps you get your foot in the door. With Dunkirk, I had a friend who I'd worked with previously who was working as the office production assistant for Dunkirk. I told her I was looking for work, and she reached out to me and said, "Hey, Austin. I don't have an office job for you, but they are looking for a fire watch."

You're out on the concrete work yard where they're building these massive WWII ships, and you're just watching the welders with a fire extinguisher in case something catches on fire, and then you put it out. But while I was doing that job, I made sure to go and pick up my paycheck from the actual production office instead of them mailing it to me, so I'd have a chance to introduce myself. And every week I went in to pick up my check and I let them know that I had previous experience in offices and if they had an opening I'd love to move into that position. And of course I got very lucky and got that job once somebody left. So, I sort of weaseled my way in!

One of the boats being constructed for "Dunkirk" while Austin Elliott was a Firewatch. Photo by Austin Elliott.
What's something else you've learned from this experience that you'll take with you moving forward?
One thing that's really great about working on Dunkirk was that I walked away from it with a sense of pride and accomplishment for the big picture movie that we were making. I've worked on a lot of different productions that I didn't really care too much about the story. I just loved that I was working in the film industry and getting paid for it. But the actual movie, or the show, or the short film, I wouldn't actually find myself watching it in my spare time. The great thing about Dunkirk was that me and everybody else on it had this sense of importance, like they were doing something great. And after watching the movie I was sure that it was something great. And that was a really wonderful moment for me.
What would winning Best Picture at this year's Academy Awards mean to you?
It would mean that my dad would be very proud. He is a huge fan of the Oscars, and for me to be able to tell him that I worked on a Best Picture winner this early in the game would be so much fun for me. I respect him a lot and he's so proud of me, and so being able to have that would be a really great trophy of mine.
The 90th Annual Academy Awards takes place Sunday at the Dolby Theatre in Hollywood.
Support quality journalism, like the story above, with your gift right now.