When it comes to treating mental illness, there's a clinical approach: getting a diagnosis, the right medication, and therapy. But there's another link in the recovery process that is often overlooked. Peer support can reduce hospitalization, improve health, and decrease the overall cost of care. This kind of service isn't usually covered by insurance. 
The Greentree Peer Center in Winston-Salem is trying to bridge the gap. The small space on South Broad Street looks like a cafe on the inside. But it's more than a social gathering spot for people facing mental health issues. It also serves as a place for them to find support and help with the recovery process.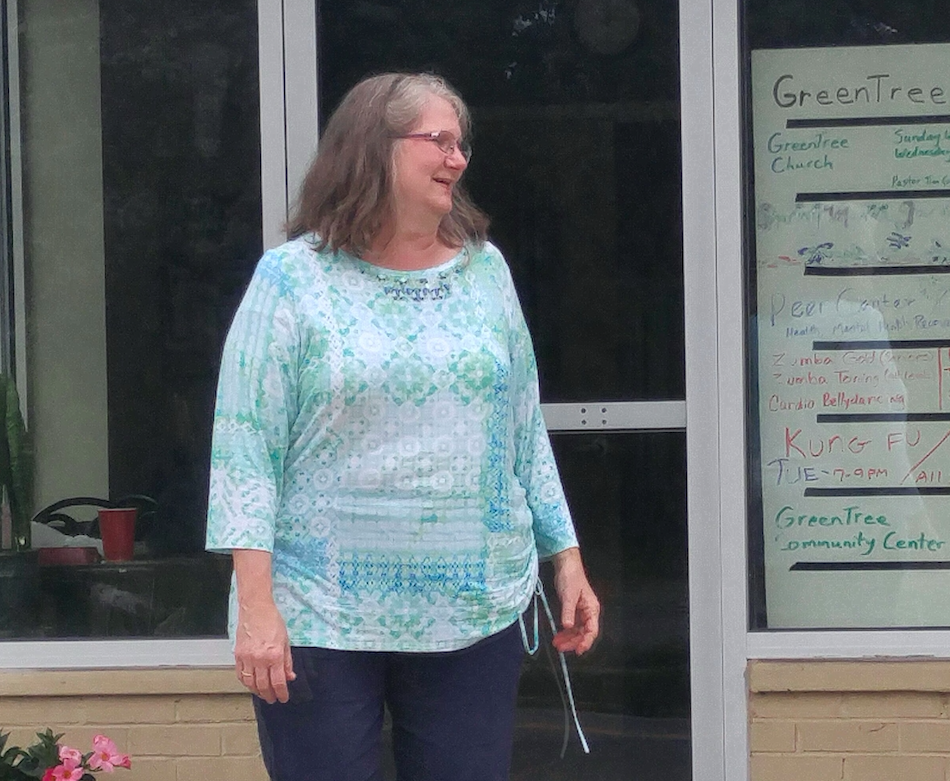 The center was started by Laurie Coker about five years ago. It is her passion, and the work is deeply personal. Her son, Peter, was diagnosed with bipolar disorder and took his life at just 27 years old. Coker says her son struggled financially and didn't have health insurance.
"I think one of the biggest problems for all of us who have psychiatric labels is that stigma and discrimination are incredibly big problems in our culture," she says.
After her son's death, Coker wanted to find a way to help. It started as a small group meeting at a coffee shop. Then a local pastor agreed to donate a more permanent space. The nonprofit center is supported by small contributions from participants and donations from the community.
"North Carolina has become an island," says Coker. "While all of this progress in practice models is going on that's more recovery focused, we've been focused on just trying to be sure this mental health system is somehow working and not falling in the hole with Medicaid that we've missed out on a lot of the opportunities to develop the innovations that can help people."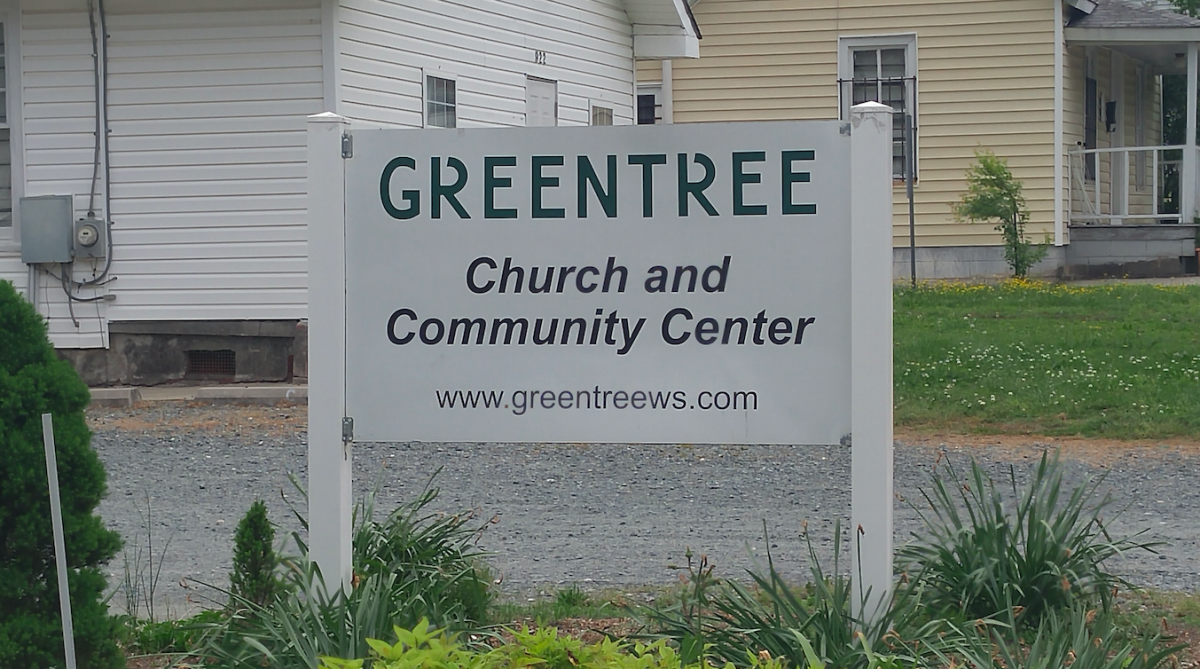 Greentree currently serves around 12 to 15 people each week. The staff is made up of peer support specialists, who have also struggled with mental illness. The care picks up where Medicaid and other insurance stops, offering help to patients outside of the hospital.
"They don't know where else to go to for help, so they go to the emergency room," says Coker. "These days if you have a peer center in your community, folks develop relationships so they have friends to call, people they can share their fears and anxiety with and they don't usually rise to the level of crisis anymore."
That was the case for Natasha Carroll, who says she was hospitalized almost monthly before coming here. Now it's been a year since she's been back. Carroll suffers from schizophrenia, and says Greentree is a place where she feels safe and can be herself.
"I was always ashamed and hiding and I wore a green coat that I never washed and when I first came here I never spoke to anybody or looked anybody in the eye," says Carroll. "And then one day, I tried it and I felt so comfortable showing my real feelings and stuff because the people here are not going to run me away and say, 'you're crazy I don't want to hang out with you.' They actually rallied around me and I have a great support system here."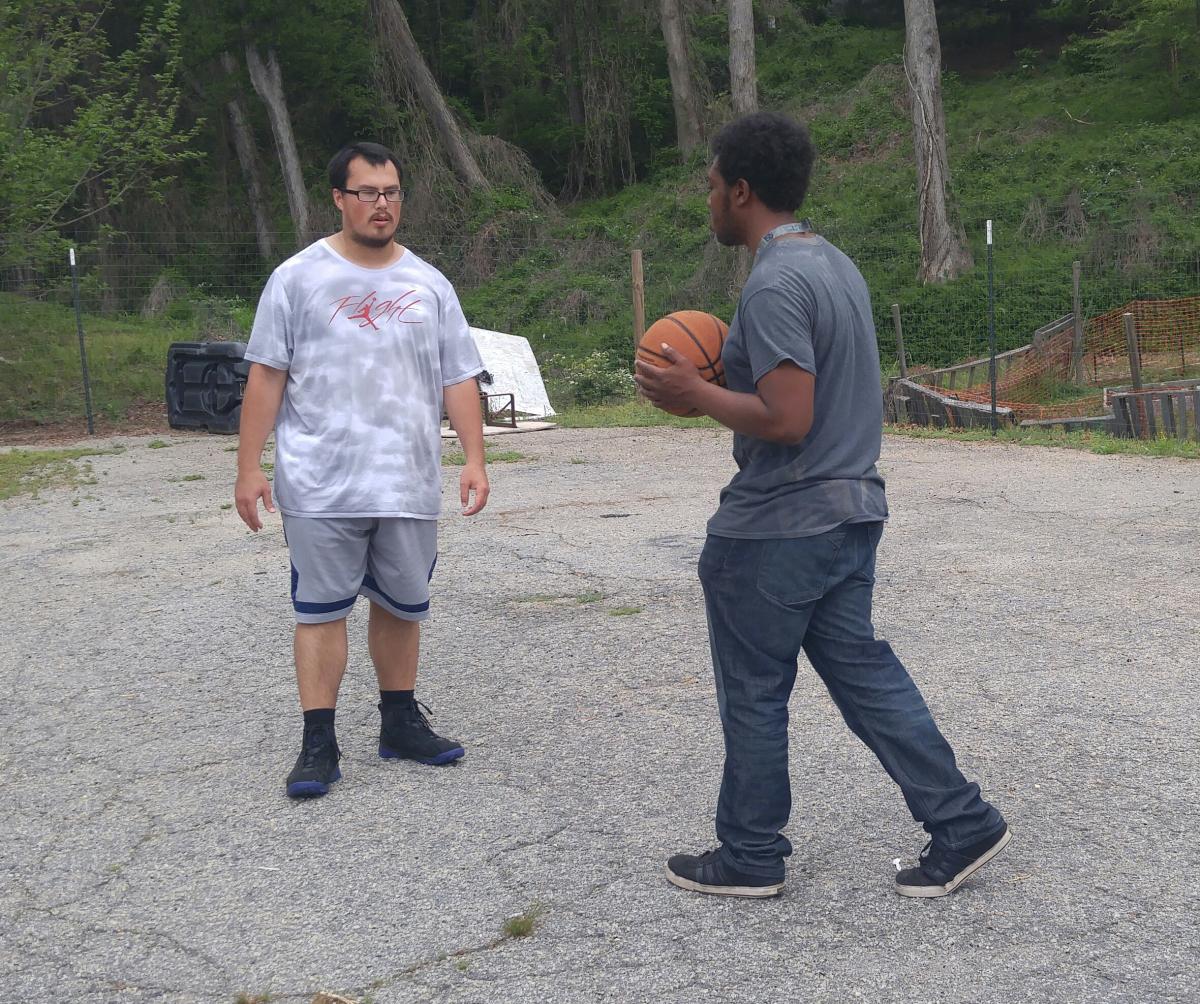 Abby Helton, a petite young woman, started coming here two years ago after struggling with substance abuse and depression. Now she's one of three peer support specialists at the center.
"Recovery is all about being with people and having people who support each other," says Helton. "We learn more from each other as peers. It even feels like a family sometimes. We have a lot of fun together."
Greentree also offers classes on things like nutrition and participants there plan a monthly meal together. Community partners often volunteer their time to teach some of the classes. Participants also go on outings together, like a recent trip to Hanging Rock State Park.
In the back of the building, two young men, Kerry Johnson and Aaron Sofley, are playing basketball. 
"I've lost weight since I started to become active at the center," says Sofley. "It's made a big difference in my life."
Johnson says he's also made a lot of progress. For him, it's a chance at starting over.
"I usually just spend all day at home and now after coming here it gives me something to do. It motivates me. It motivated me to go back to school," says Johnson. "It's going to help me learn how to deal with people at other places like school or a job. It just teaches you how to be part of the community again."
Coker says she hopes to replicate programs like Greentree in North Carolina, and is pushing for state and federal support to help in the process. She says it's an important link to other programs and services.
"Our community is resource-rich but it's disconnected and peer support can offer that connecting piece," she says. "We just have to know who is out there and help people get there."
Right now, the center is open three days a week, but if she can secure local funding, Coker says they may hire more staff and keep their doors open longer.  
WFDD will take a closer look at access to mental health care during our community conversation on Wednesday, May 3rd from 6:00-9:00 p.m. at the Barn in Reynolda Village in Winston-Salem. You can join the conversation on twitter by following the hashtag #wfddconvo. Also, follow WFDD's Keri Brown on Twitter @kerib_news.
Support quality journalism, like the story above, with your gift right now.