Trump Supporter Says President's 'Refreshing' Style Earns His Trust
4:45pm Feb 06, 2017
This week, we're hearing from people across the Piedmont to find out their feelings about the new president. In our series "The Road Ahead," WFDD's Keri Brown went to King, North Carolina, a small city in a county that overwhelmingly voted for Donald Trump.
On the main drag that runs through the heart of King, a shopping plaza marquee still displays a Donald Trump campaign sign. This is the home of the coffee shop Java Junction. Ty Parker froths a carafe of milk in one hand, and has a gun on his hip.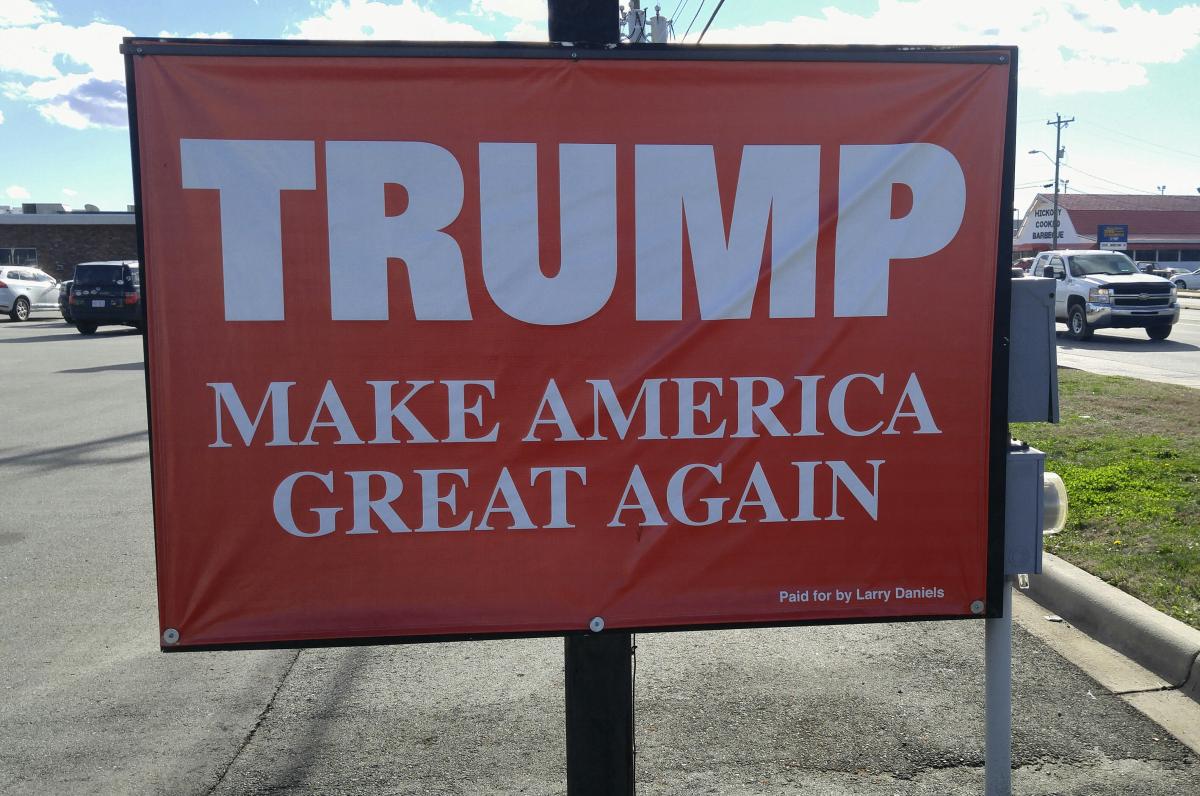 Parker was born and raised here. His shop serves more than coffee. Move your way down a short hallway, and the air is thick with the smell of suntan lotion.
"We have a unique situation. We have a tanning salon here. We have ten tanning beds," says Parker. "We do movies. We still do movie rentals just like they did years ago. We're not a Red Box, we're better. You get to come inside and actually touch the movies and read them and stuff."
Parker is a lifelong Republican, and this last election was no exception. He voted for Donald Trump.
"What drew me to him is that it seemed like he was different. He was beating all of the odds [and] everybody said he couldn't do it. He's not the establishment and I felt like he would be someone who could stir up everything and get the economy moving," says Parker. "Politicians, it's stagnated, it's like they've lost the real world of what's really going on with cities and in small towns like right here."
Parker is a strong supporter of gun rights. But one of the issues he cares about the most is the economy. That was a major stumping point for President Trump on the campaign trail. He promised to bring back jobs in places hit hard by the loss of manufacturing.
Trump's message of "Make America Great Again" really resonates with Parker. He remembers a time when things were better.
"I remember the '80s. The '80s were unbelievable and the early '90s were really great. I had another business at one time, a dump truck business. I was brokering 38 to 40 trucks a day and I couldn't find enough trucks. Everybody was begging for trucks. In 2007, it really changed and you couldn't give a dump truck away." 
Parker adds, "There's no work out there for anyone and so that's what I want to see is go back to the building industry and let's manufacture stuff. Quit having other countries manufacture stuff and let's do it here. I'd rather pay more, a little extra for a product if it was made in the United States."
Parker says he's following the news of Trump's first days in office, but he doesn't trust the media. He's not bothered, for example, by several claims that the Trump's administration made in his first week in office that have been proven false or not supported by factual evidence. But it's exactly Trump's style that Parker finds authentic.
The thing is he just says what he thinks and that's refreshing. He's not politically correct every time and he does say some things that are controversial. It's kind of getting old to watch the media nitpick apart every single word that he speaks and analyze every little word that he's talking. I think the social media is great because once he posts it out there it is there. They can't twist it or turn it around. It is what it is. And there's always going to be that little bit of "I'm not going to come out and tell you 100 percent everything you want to hear or the truth." But at least with him just blurting it out like he does, you know it's off the cuff, you know it's not rehearsed. He's just saying what he feels.
As for all of the recent protests over President Trump and his policies, Parker says he's saddened by what he calls the chaos.
"It's still early in the game. He's been in it for days now and you would have thought ... [with] the media and everything, that he's been president for a year now already, and let's hang on. What's the worst that could happen? Four years from now, we could vote somebody else in. It's not going to be the end of the world, it's not going to be the end of the United States. Give the man a chance. Let's see what he can do," says Parker.
Whatever happens, Parker says he and his wife Robin are focusing on their small business. They have work to do. There are tanning beds to clean, new movie releases to stock on the shelves, and a customer is heading toward the coffee counter.
*Follow WFDD's Keri Brown on Twitter @kerib_news