More people were killed in car crashes last year, according to recent data, continuing an upward trend. But it's the rising rate of pedestrian deaths that is particularly alarming.
228 pedestrians were killed last year in North Carolina — 13 percent higher than the year before, according to a report from the Division of Motor Vehicles.
While Mecklenburg County tops the statewide list, Forsyth and Guilford come in at 3rd and 4th highest, respectively. 
Nationally, pedestrian deaths had been on the decline for decades until 2009, and the numbers have been inching up ever since. Based on an estimated total, in 2018, there were over 6,000 pedestrian fatalities across the country.
While tough to pinpoint the exact reasons for the increase, the Governors Highway Safety Association has some theories, like rapid urbanization, the number of SUVs on the road, and more people on foot in general.
And Kara Macek, Senior Director of Communications and Programs with GHSA, says there's another factor: distraction by both drivers and pedestrians. 
"We see people every day out and about paying more attention to their phones than their surroundings," says Macek. "And that's really dangerous when you're crossing the street and there's a 3,000-pound object coming at you that could kill you. But it's even more dangerous and more critical for drivers because they're the ones that are controlling those vehicles, those potential deadly weapons." 
Macek says that improving infrastructure to reduce the amount of potential conflict between vehicles and pedestrians is key, alongside education, law enforcement, and personal awareness.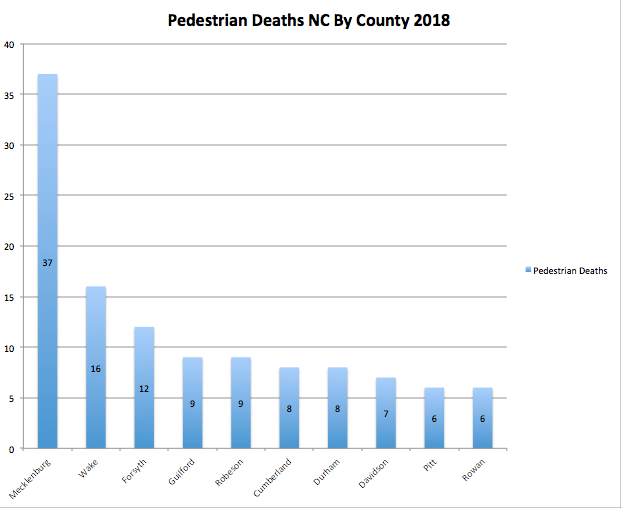 Chart: Eddie Garcia. Source: N.C. Division of Motor Vehicles
Support quality journalism, like the story above, with your gift right now.