WFDD has a college-level internship program, in cooperation with area colleges and universities. The goal of the internship program is to provide practical experience in the radio broadcasting and nonprofit industry, and to teach skills that can only be learned on the job.
A quick look at WFDD's college intern program:
WFDD offers internships year round: during the academic year and summer.
All potential interns must complete the internship application.
Our internship application deadline is rolling and positions are open until filled.
Each internship will begin with the student and supervisor creating an outline of goals for the internship.
On average, interns should plan to work 15-20 hours a week during normal business hours. Some weekend and evening work may be required.
Business casual attire and professional conduct are expected at all times.
Currently WFDD offers only unpaid internships.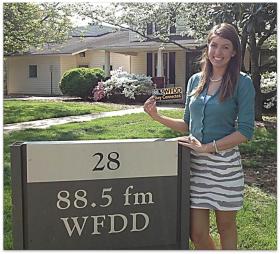 Students may apply for one or more of the following areas:
Fundraising
Operations and Production
Marketing and Engagement
Underwriting/Sales
News
Note: WFDD News accepts a limited number of internship applicants each year.
David Ajamy, News intern during the 2018 summer, said this about his experience:
"As a young journalist, experience is everything. With this, I was looking for an internship that truly encompassed what it was like being in a newsroom. While in many internships feeling micromanaged is the norm, what I gleaned from being an intern with WFDD was that the life of a journalist is one that is self-led in many ways. None the less, I had support from everyone in their work to prepare me for the world of radio journalism. From going out in the field and seeing the endless tasks required of a journalist to the daily work life of splicing audio to produce the most striking and hard-hitting pieces to continue informing and supporting the community, the knowledge I gained from this experience I would have never gotten from a book or class. I will never forget my time with WFDD;it has been an experience I am truly thankful for. Not only this, but because of Neal's infamous phrase, 'Please use your turn signal,' I now am also a better driver from my time with WFDD."
Erin Patterson, marketing intern for the spring 2016 semester, had this to say about her experience:
"I have spent the last semester interning with the Director of Marketing at 88.5 WFDD, and it has been one of the most valuable experiences I've had to date. Not only was everyone on staff incredibly friendly, but they let me get my hands dirty with real work. I was able to sit in on meetings and learn about how a public radio station functions. I got to record spots to go on air, and I learned miscellaneous skills, like InDesign. Since I was working at the station in the spring, I had the opportunity to be involved in the spring fund drive. I was given a lot of freedom to manage the email marketing campaign, which truly was an invaluable experience. And to top it all off, I was working with some of the most talented and wonderful people I've ever met. My only regret about my time at WFDD is that I didn't begin it sooner. " 
Delaney Hobbs interned during the spring 2014 semester, and said this:
"I was fortunate to be able to spend a semester at 88.5 WFDD as the marketing intern.  Throughout the internship, not only did I learn new skills, but honed the ones I had begun to develop.  The projects I was assigned were both challenging and interesting.  This is easily one of the most, if not the most, beneficial internships I have had.  I worked directly with the Director of Marketing and her guidance and instruction not only included my current projects, but also for finding an internship for the following summer.  In fact, when I interviewed for my future internship, the employer was impressed with the skills I had gained while interning at 88.5 WFDD.  The staff at WFDD was friendly and always ready to answer any questions I had; my time here could not have been more enjoyable.  Each day was different, whether it was attending meetings, writing a newsletter or press release, designing ads, planning an event, or any of the other tasks this semester included, I always felt that I was needed and learning.  This is not an internship that you will be making coffee or completing busy work; I was given responsibility for tasks and therefore, I left with a sense of accomplishment after completing this internship. I loved my semester here and I highly recommend an internship at 88.5 WFDD for anyone." 
In addition to our college internships, WFDD also offers these education programs: