Public School Funding And Lottery Dollars: Where Does the Money Go?
2:51pm Sep 22, 2016
The North Carolina Education Lottery is having a record year, with more than $2 billion in sales. Take out prizes, taxes and administrative costs and that left more than $630 million for schools and education programs. But the numbers don't add up for listener Susan Washinsky of Clemmons:
I had heard many stories of how some educators were using their own funds to buy supplies and things in their classrooms, and understanding and hearing all of these stories about the lottery and all of this money coming in, there was a disconnect," says Washinsky. "If the lottery was so great then why are we still having trouble?"
In this edition of Carolina Curious, WFDD's Keri Brown finds out where the money goes and whether or not the lottery is living up to its promises.
The Game of Chance Then And Now
At a gas station in Winston-Salem, the gentleman behind counter rings up my purchase. Now, I don't usually play the lottery. But on this day, I try my luck with a couple of tickets.
This may be my big moment, but there's more here at play then what happens right now.
I hand over a few dollars to the cashier. Each month, state lottery officials collect that money. It goes to the state budget office where it's divvied up, and then it finally goes to public schools across North Carolina.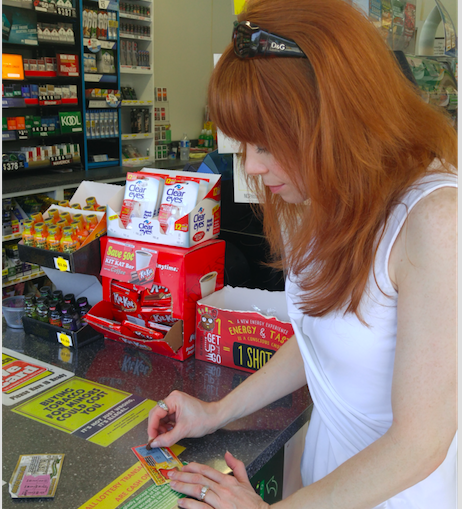 When the lottery bill was signed in 2005, former Gov. Mike Easley said it would give a big boost to public education.
"When the lottery is fully implemented, we will be adding another half billion dollars for education."
Fast forward to 2016.
"Depending on the program, it's making a difference in every county in the state," says Van Denton, the communications director for the North Carolina Education Lottery.
"Because of the lottery there's money for college scholarships that wouldn't be there otherwise, because of the lottery there's money for school construction that wouldn't be there otherwise," he says.
Follow The Dollars
The funding also goes to pre-K education, and some school personnel. But is it the extra half a billion dollars a year that was promised for public schools? UNC Greensboro professor Carl Lashley says not really.
"These lottery dollars were intended to be additional funding for education, but when times get tough as they often do in public budgeting, that money sometimes gets used for other purposes. Sometimes it gets used to fill holes in the state's budget."
Republican Rep. Paul Stam says that hasn't happened in the last few years. He's on the education appropriations committee. Stam says while $600 million sounds like a lot of money, it's only about five percent of the state's education budget, and if it wasn't there, they'd find some other way to get it. He says the lottery is basically a kind of tax.
"They would just be paying other taxes, sales tax, income tax, so it's just pulling out of a different cookie jar the same amount of money," says Stam. "But it's a way for people who are more well-to-do to push off on the poor more of the burden of government."
School Construction
How does this all affect local schools? Well, let's look at school construction for example.
The legislature capped funding at $100 million. That leaves local governments on the hook to raise more money through bond referendums. Kevin Leonard with the North Carolina Association of County Commissioners says when people think they're already supporting schools by playing the lottery, they may not be as willing to vote for schools at the polls.
"The counties believe that in 2005 when that deal was made that we need to revisit that discussion and go back to where we were if not more," says Leonard. "We are reaching a crisis level on the state of school construction in North Carolina where we have counties that can't build new schools."
"The lottery funding is a Band-Aid. It helps, but it's never going to completely cure the problem that we have," says Lashley.
Back at the gas station, I'm about to find out if my game of chance paid off.
The lottery is expanding games like this one and getting more and more players every year. It's likely we'll see the profits continue to grow.
But until there's more funding for schools from the lottery or from the statehouse come November, districts across North Carolina will place their bet on voters.
*Follow WFDD's Keri Brown on Twitter @kerib_news