It's 15 minutes til showtime, and the basement level theatre of Geeksboro Coffeehouse Cinema is teeming with pre-bout excitement. The temporary green room is filled with costumed characters making last minute touches, taking photos, and preparing for battle. Tonight is truly a bipartisan event, where both sides of the aisle are ripe for roasting.
The politically and comedically charged competition comes courtesy of The Greensboro Ladies' Arm Wrestling League, or GRAWL for short. Tonight's event, Grawl Brawl 3, is one part sports, one part theatre, and one part fundraiser. The audience is encouraged to buy "Grawl Bucks" in support of their chosen competitor, which they can then use to bribe judges. The proceeds will support the YWCA of Greensboro Family Shelter.
GRAWL takes a page out of the professional wrestling playbook when it comes to characters. Every arm wrestler has an outlandish costume, entrance music, and a tendency to talk trash to the audience and their opponents. They also have back stories.
The first match of the night is Polly Purebred The Politician vs Annie Archy.
Polly is played by Kim Diop.
"Polly is a throwback to the 50's housewife. She has a petulant son named Norman, and she's got a husband who's publicly supportive of her political life, but privately is a philanderer. She wants to bring good manners back to politics."
Annie Archy is a punk-inspired hellion, played by Lacy Sharpe, who has a history with another niche sport.
"Yeah, I used to skate roller derby; it's a little too invasive on my body as I get a little older. But honestly, it's like lower impact roller derby in some ways. I don't have to fall down as much, that's for sure."
But tonight's most hotly anticipated match is a comedic take on the presidential candidates themselves: Donna Tramp and Hellary Rotten Clinton.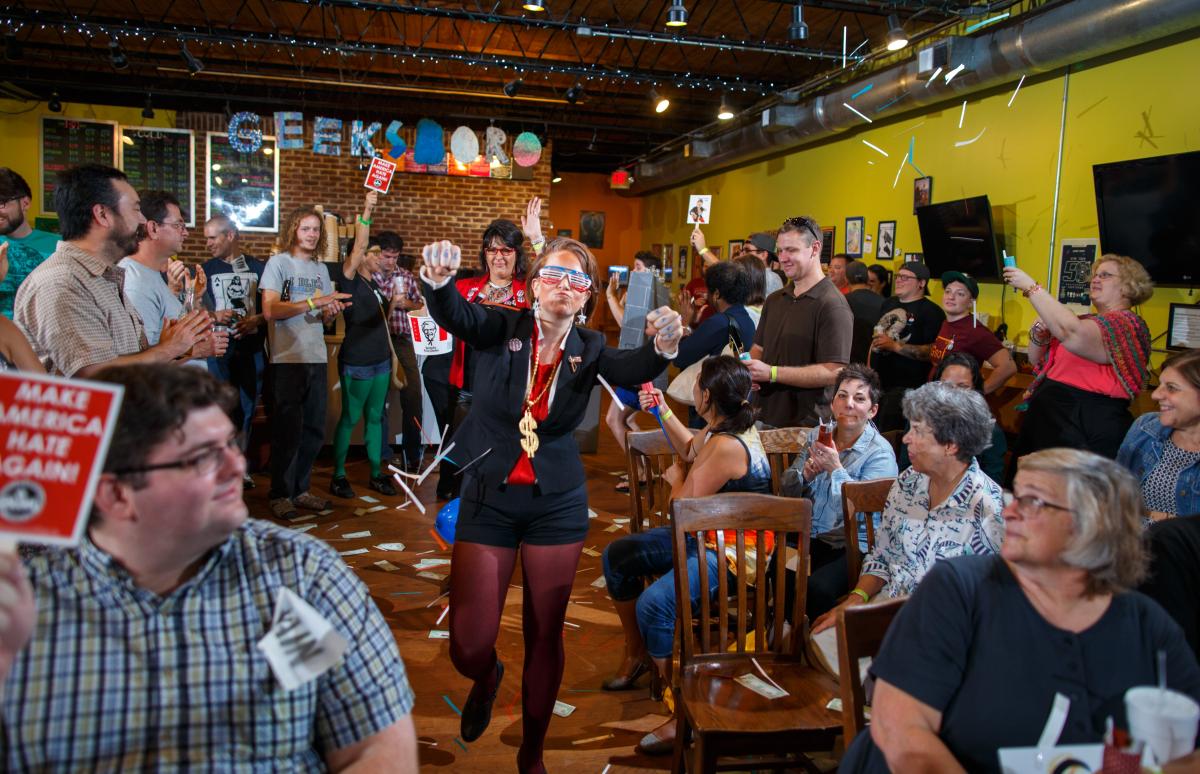 As they approach the arm wrestling table, they have a few choice words for the audience. First, GRAWL co-founder Rachel Scott as Donna Tramp, riffing on a familiar line from the Trump campaign:
"...all you losers out there, I'm building a wall and Mexico's gonna pay for it."
And a thirsty Hellary Rotten Clinton, who tries to order a PBR beer from the stage and is told she has to go wait in line: "Oh, that's fine, I have my own private server."
All kidding aside, only one of these competing caricatures can be victorious. The women throw down their elbows, lock arms and eyes, and await their countdown. The crowd roars as the over the top face-off begins. The combatants both give their all, and after three rounds, Donna Tramp is determined to be the winner.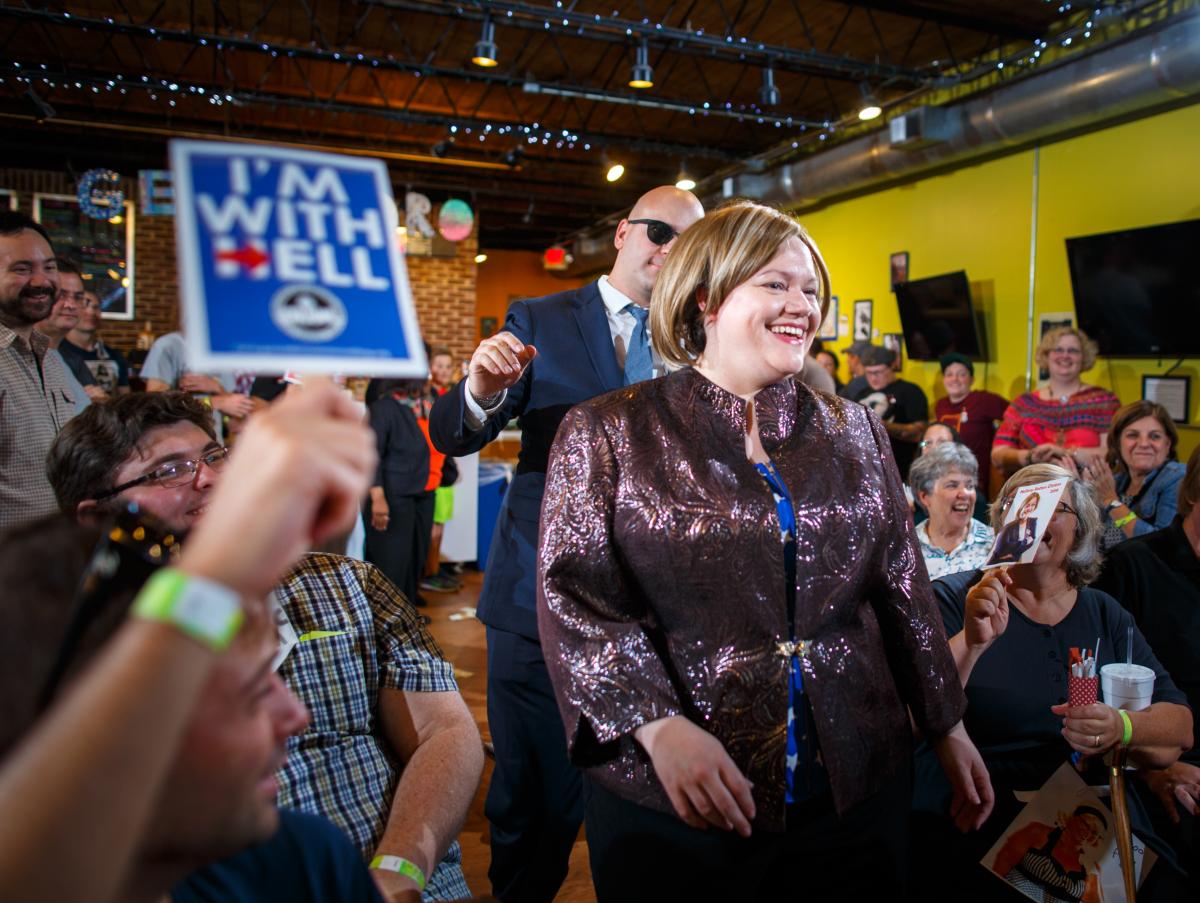 Though Hellary Rotten Clinton lost, the woman who played her, Kitty Lowrance, says she was not defeated.
"Well, ya know, it's a disappointing loss, but at the end of the night we're all raising money for charity, and so it was still fun and still a great opportunity."
This is the last event of 2016, but GRAWL will be back next year, with new characters in tow. Co-founder Amanda Killian says the women's dedication to the organization took her by surprise.
"You know, one of the great things about GRAWL, and something that we didn't - I didn't anticipate, was just how creative the women would be. And they came with theses amazing costumes, and recruited friends to help them, and made all this crazy merchandise. And it is just amazing, this sisterhood, this family that we've created with this organization."
As for the real world, we'll have to wait for the election results to see who comes out victorious. But in the world of GRAWL, the whole event was a victory as they raised over $8,000 for The YWCA of Greensboro Family Shelter.
Support quality journalism, like the story above, with your gift right now.