The UNC School of the Arts in Winston-Salem has a new chancellor — sort of. Brian Cole was recently elevated to the permanent position after having served as interim chancellor since August of 2019. He takes over his official duties amidst a pandemic, leading an educational tradition built around artistic collaborations done in close proximity. Cole spoke with WFDD's David Ford.
Interview Highlights
On the unique challenges UNCSA faces from COVID-19:
So much of what we do in the arts is predicated on a certain proximity to each other and contact in some cases. And so, it might have been an easier transition for other kinds of institutions. For us it was a difficult one, but it's amazing how smoothly it went. Certainly I don't mean to indicate that there weren't a lot of difficulties for people and for our students in terms of not just the experience, but, you know, going back to their homes. And there's a lot of equity issues of being able to — just an Internet connection or accessing online things — so, we worked really hard. A lot of the early part of this was figuring out the difficulties that individuals had — helping students and parents deal with the very difficult sudden departure from the campus. But then once people got back, what do they need to be able to access all these things? So, in some cases, it was pushing out technology and devices to people. There's a lot of different things. And then, of course, supporting the faculty in the same way. They're creating that content and having to get that out to students. 
On remote learning in a conservatory setting: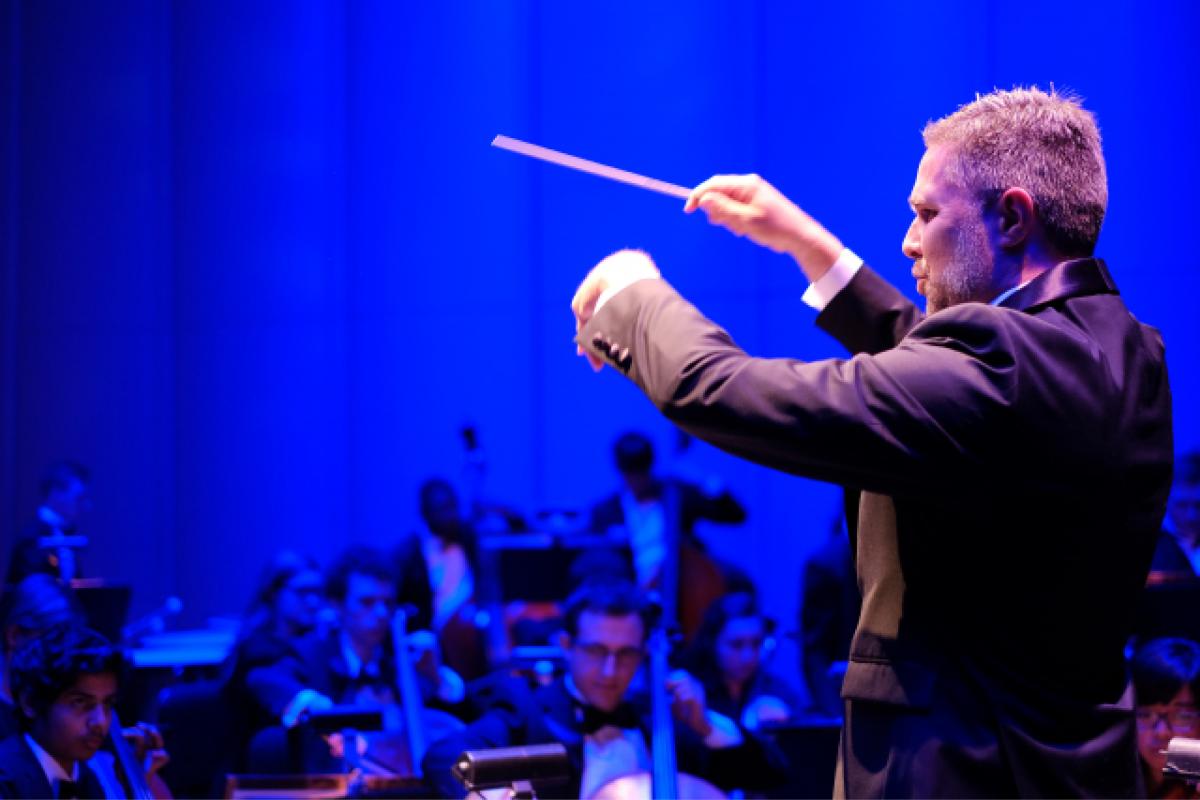 From a music standpoint, hooking up at a given time with cameras is one thing, but then there's also the audio. And how do you create audio connections on both sides for the teacher and the student to where you can really hear each other? And in terms of dance, which would seem to be one of the most difficult things because of the space involved, just what the dance faculty and under the leadership of Susan Jaffe have done is just extraordinary — some through video assets that teachers will record and send to students so that they at any given time kind of asynchronously can watch and take on their own. Students recording themselves and sending that to teachers. And then there's times where it's synchronous feedback, whether it's technique, classes or style or in some cases, you know, warm ups throughout the day. I think some of the most interesting examples were in things that are more asynchronous. It kind of makes you to ask the question, what are the things, the core things that we absolutely have to be together for? You know, there's no substitute for. And of course, we would like everything to be. But when you ask the question of how am I going to do this, how are we going to do this, what are the things that we absolutely have to be together for? And let's figure out a way to do that synchronously. And then what are the things that we don't have to be together for, the things that are processing information or reading or viewing media, things like that. And let's figure out a way to do that and support people. 
On surpassing its $65-million capital campaign goal and future fundraising efforts:
Now we're presented with an entirely extra new set of needs related to not just the institution and resources we'll have to plan for in the fall and beyond, but the needs of students, which have changed in a lot of cases. Scholarships have always been incredibly important, but they're even more important now because the financial situation of students has changed because of what's happened to their parents potentially and their employment status. There are other technological things that we want to increase our infrastructure for the future. Once we get past this, down the road, something else that happens, you know, all of our lives are going to be different in terms of how we approach things and how we approach cleaning and sanitizing and disinfecting things, not just in terms of the pandemic, but from now on. I think we're all we look at things differently and those all have a cost, not just money, but other kinds of resources that we have to find and people and expertise to help us do it. So, we're in a good place. The campaign has helped us go a long way in addressing some of those needs and challenges. But there are more. We're going to keep going and then we're working very hard to address all these new challenges that have come up because of COVID-19. 
Editor's Note: This transcript was lightly edited for clarity.
For the most up-to-date information on coronavirus in North Carolina, visit our Live Updates blog here. WFDD wants to hear your stories — connect with us and let us know what you're experiencing.
Support quality journalism, like the story above, with your gift right now.