The Forsyth County Sheriff's Office is continuing a campaign to register residents' security cameras to aid in investigations. But the volunteer program could raise privacy concerns.
Here's how it works: interested residents fill out an online form, register any exterior cameras they choose, then on a satellite map, place markers showing where on the home they're located.
Registration does not allow Forsyth County Sheriff's Office — the first sheriff's department in the state to launch such a program — unfettered access to people's video cameras. In the event law enforcement needs footage, the resident will be contacted by an investigator from the Real Time Intelligence Center (RTIC). 
Christina Howell is the public information officer at the sheriff's office. She says other agencies with this type of program have seen an increase in both community and officer safety, but she acknowledges the privacy concerns.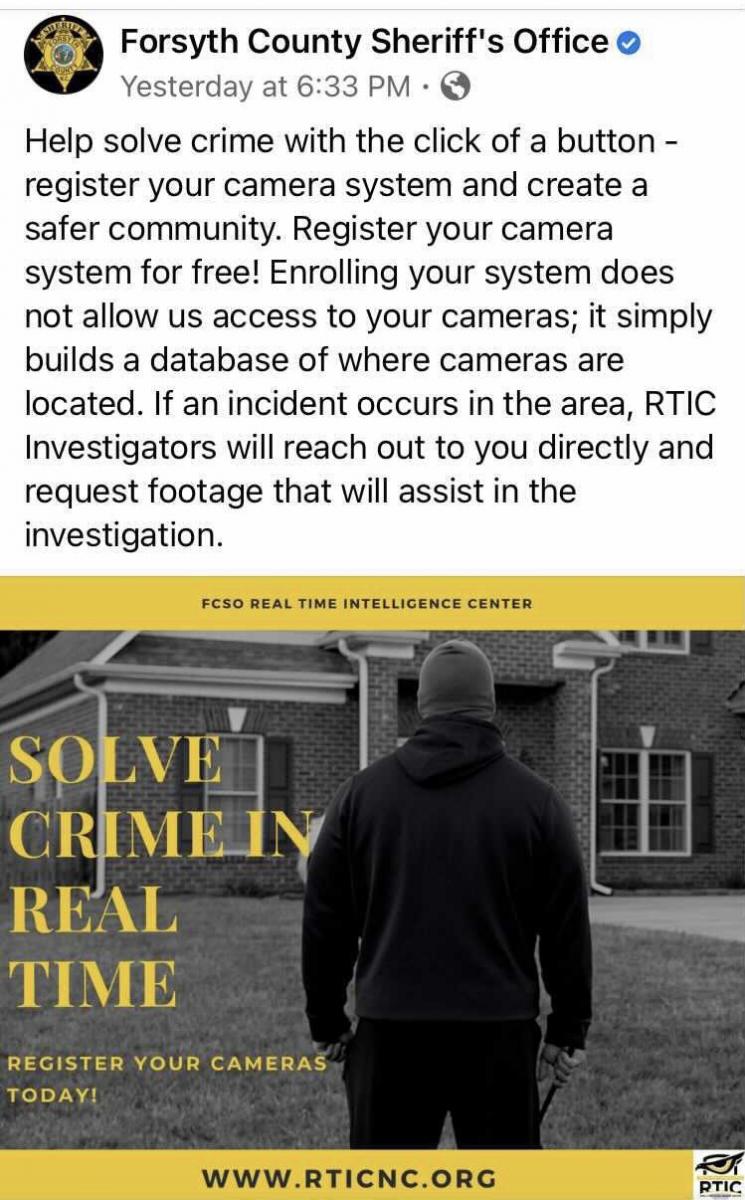 "We understand that our relationship with our community is built primarily, and only, on trust," says Howell. "And that's why we strive to be as transparent as possible. And we want our community to know we are here to help them. And frankly, we don't have time to try and tap into people's feeds and look to see what they're doing."
This is a trend that's proliferating across the country. But law enforcement access to private cameras has raised concerns in terms of privacy and racial profiling.
Evan Greer is the director of Fight for the Future, a group that advocates for protecting people's basic rights in the digital age. She says that police directly requesting residential footage steps around the democratic process.
"If police wanted to put up a camera in front of every house in a neighborhood, they would have to go to city council, they would have to have some hearings about it," Greer says. "With a registry like this, it's sort of an end run around these institutions. And law enforcement will often say, 'Well, we can't tap into a camera without the homeowner's consent.' That may be accurate, but that doesn't mean that the kids playing in the playground across the street have consented to having their footage collected."
Greer says that residents could consider pushing for policies ensuring oversight over how collected footage from cameras is used.
According to the Forsyth County Sheriff's Office, a few hundred renters and homeowners have already enrolled their cameras in the program.
Support quality journalism, like the story above, with your gift right now.