When I first met investigative reporter Mandy Locke in a lunch line at a conference, we didn't know that just over a year later, we would be embarking on a new partnership that would change a local newsroom and give back to the community in a deep, meaningful way.
Locke wanted to bring her expertise into a news operation that needed resources and the capacity to do investigative work. Her question: what could an infusion of rigorous training bring to a group of journalists already providing quality journalism? I was eager to find ways to build that knowledge within the growing and driven WFDD news team. Locke brought on University of North Carolina Journalism Professor Ryan Thornburg, whose work with Carolina Data Desk was seeking to bring more data reporting to newsrooms. Wake Forest University Professor Phoebe Zerwick then entered the mix and brought Locke on to teach a small cohort of Wake students to aid in the endeavor and learn real journalism happening in their own back yard. 
The project airs this Saturday at 1 p.m. on 88.5 WFDD. On The Margins is a one-hour documentary, including three in-depth pieces reported by Bethany Chafin, Eddie Garcia, and David Ford. The station also solicited questions from listeners on housing, and the documentary includes those answers and the discoveries made throughout the reporting process. 
We Want To Collaborate! Now What? 
It began with data. The Triad was topping some notorious lists on housing inequities, and there was data to show that there are many issues in this area, whether it's affordable homes or eviction rates or the legacy of redlining. 
Public radio investigative program Reveal identified Greensboro and High Point as having a high rate of mortgage discrimination, showing up intensely in areas that were historically redlined. Thornburg used the same federal lending data as Reveal and drilled down on it locally. From that, the team found a neighborhood on the edge of downtown Greensboro, where they spent months digging into the stories there. 
In addition, the team accessed the North Carolina Administrative Office of the Courts, which has an enormous database that has every civil and criminal case from the past five years, and the group focused on eviction cases. A graduate student at UNC-Chapel Hill cleaned the data to get a better idea of what was happening. 
"You can begin to see, not just one court case, you can step back and see how each individual court case fits into this larger picture when you have that data," says Thornburg. "You sort of have the federal, state, and local data layers that were sitting on top of each other and seeing how they all interrelate." 
"Reveal" data reporter Emmanuel Martinez led a workshop for journalists from across the state in Winston-Salem in 2018. Photo courtesy Rachel Ross.
Locke, WFDD reporters, and Wake Forest University students then spent hours in Forsyth County eviction court, finding the key information for what would later become an investigative piece on the Housing Authority of Winston-Salem. 
"Data is never enough, and it will lie to you," says Locke. "So what you have to do is get on the ground the same way you would for any type of story."
All along the way, training was a leading component in the collaboration. Last June, a two-day intensive data workshop was held in Winston-Salem and offered free to the community, with support from Wake Forest University and UNC's Reese News Lab and led by Emmanuel Martinez, a data reporter from Reveal. With the WFDD staff and students, Locke spent countless hours training on how to use the data in reporting, filing Freedom of Information Act (FOIA) requests, and bolstering their reporting skills in investigative journalism. 
The Stories 
Reporter Bethany Chafin followed redlining maps to a neighborhood adjacent to downtown Greensboro. These maps are often predictors of where gentrification happens in a city, and that's what she expected to find. Instead, she found something else — a complete lack of investment. Her story, "Balancing On The Edge: Growth And Affordability In Ole Asheboro" asked: how do you lift a neighborhood stained by years of lending discrimination? How does that change the cultural legacy of a place? Is it even possible to do? 
WFDD's David Ford brought the data to life in his story, "Eviction's Cost: It Won't Be Home Anymore." He, along with Locke and Wake Forest University students, spent months going to eviction court to find the stories behind the numbers. The story details what happens during the process which, while routine, leaves a lasting mark on one's credit and financial health.
Eddie Garcia also used the data and the experiences in eviction court to uncover his story. He and the team found that one of the leading evictors in Forsyth County is the government agency tasked with housing the city's most vulnerable citizens. The result was his piece, "Housing Authority Major Player In Winston-Salem Evictions."
Locke says the hours in eviction court were the reason Garcia's story came to light because in the AOC data, the name of the housing authority was entered in multiple ways. 
"If not for being in eviction court and seeing a day in which they dominated the cases, we would have missed it entirely," says Locke.
Throughout the reporting process, WFDD invited listeners to ask their housing questions, and reporters were able to answer many along the way, either in their stories or stand-alone pieces, as well as in the On The Margins documentary.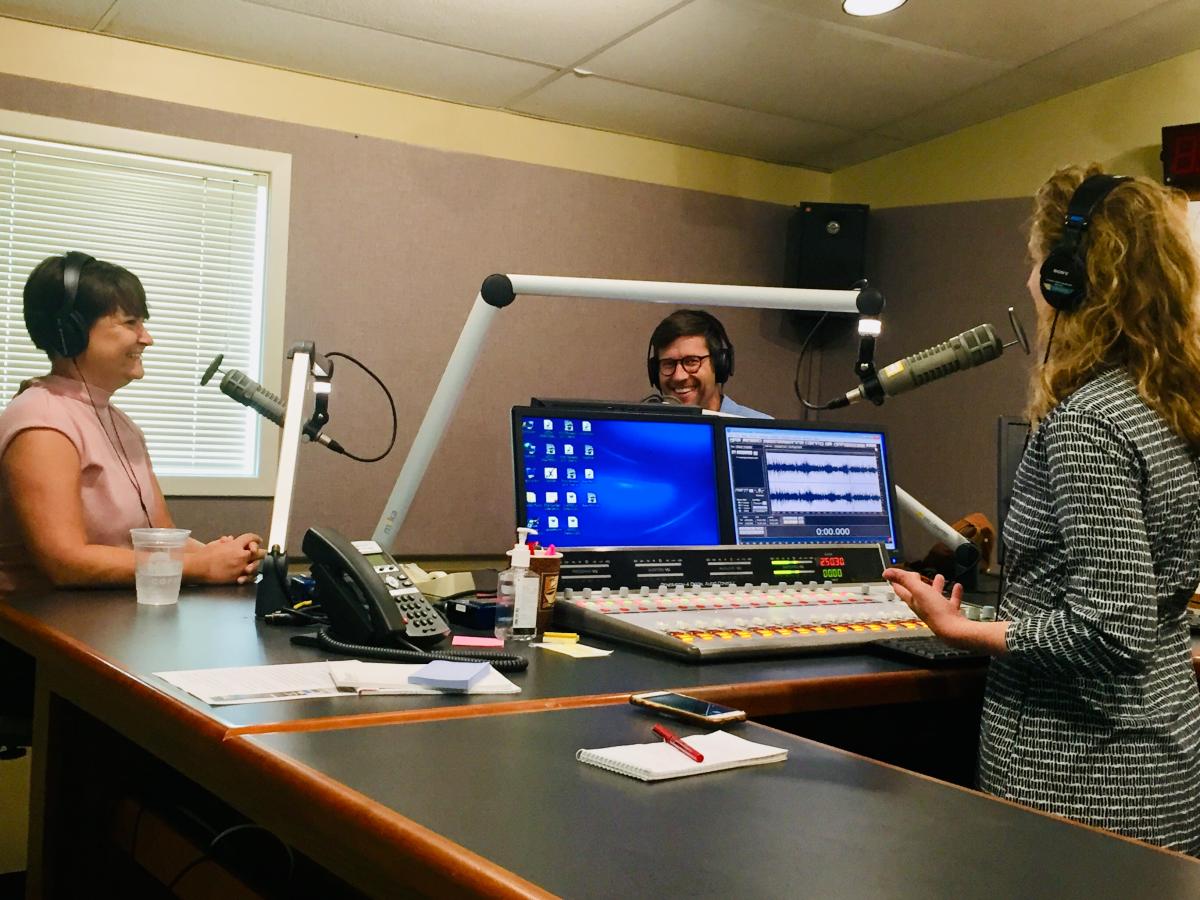 Investigative reporter Mandy Locke, Journalism Professor at UNC-Chapel Hill Ryan Thornburg, and WFDD News Director Emily McCord. Photo courtesy Shea Thornburg.
The Lasting Impact
There's no doubt, in regards to the WFDD newsroom, that this collaboration stretched our team, sharpened our skills, and allowed us to take on more difficult stories than we were able to do before. The reporters involved all spoke about the increased confidence they have and the feeling of ownership in the work we were doing. As an editor, I share in that feeling, as well. 
This was a different experience than a training workshop. It was a chance for the news team to put their new found skills to the test, day in and day out.
"Journalism is a lot like the practice of law and surgery. You don't attend a lecture and then know how to do it, " says Locke. "With this project, the team and I were able to develop the muscle memory so that every single story they're going to be doing from here on out is going to benefit from what they learned doing this project."
There were many moving parts to this collaboration, from the data resources and expertise to the shoe-leather investigative reporting support. One of the most exciting parts was seeing the student involvement in the project. Their work wasn't always visible — whether it was cleaning the data or pulling eviction records — but it was crucial to its overall success. 
Wake Forest University Director of Journalism Phoebe Zerwick adds that it was an invaluable experience for them, as well. 
"Students certainly learned some critical skills working on WFDD's housing project, including the interpretation of data, digging into public records, and breaking an enormous subject into manageable parts," says Zerwick. "But most importantly, with Mandy Locke's mentoring, they learned how to translate what they found in the data and in the records into human stories. They found those stories in the Forsyth County courthouse and on the streets of Greensboro, in interviews that pushed many of them way outside their comfort zone. These are experiences, life-changing ones, that we can't provide in a traditional classroom."
Thornburg says this project may pave the way for others to do similar work and is making the data available for other newsrooms and reporters to hunt down other stories in their own communities. 
"It really symbolizes the future of what journalism is going to be doing. It's a lot more collaborations where you have experts in different areas coming together to be the avengers of journalism," says Thornburg. "Why that's important is because you never can do everything on one staff, but if you've got a lot of different experts and bring them all together, you can do a lot more."
As for me, I'm thinking about what's next. How can we build on this skill to bring better journalism to our community? We are, after all, a public service and deeply committed to bringing you the news that's relevant, revelatory, and ours. We want to do more. 
I hope you'll feel free to contact me with your ideas and questions — or maybe even a new partnership. My line is open. 
Emily McCord: emccord@wfu.edu
Support quality journalism, like the story above, with your gift right now.