Centuries ago, thousands of Moravian and Quaker settlers came to the Piedmont in search of a better life, and their legacy lives on here in countless ways. WFDD listener James Sims had one specific contribution in mind and asked this question for Carolina Curious.
"What are the oldest streets in the three Triad cities that are still in use today?" asks Sims.
WFDD reporter David Ford set out for answers beginning in the Wachovia Room at Old Salem's Moravian Research and Archaeology Lab. Martha Hartley directs that research and says the answer is complicated, with many layers of history.
Wachovia in the Backcountry. Photo courtesy of Martha Hartley, Old Salem's Moravian Research and Archaeology Lab.
"Now, if we think about the time when the Moravians came to North Carolina to begin their colony — they had purchased the land and they came in the fall of 1753 — and they came from southeastern Pennsylvania where they were settled in Bethlehem and Nazareth," says Hartley. "And they came along a colonial highway, The Great Philadelphia Wagon Road, and it started in Philadelphia, came through the valley of Virginia, and into North Carolina, and crossed the Yadkin River in what we know as the Shallowford today. But when the Moravians came this was not a road, it was more a path known as Morgan Bryan's Road."
Hartley says through diaries, we know the trip wasn't easy for the early Moravians. For starters, they were forced to narrow their enormous Pennsylvania wagon in order to accommodate the small pathway.
"They had to cut trees and make way for themselves because it was a path, but it did become a colonial highway," she says. "And if you're in Virginia — if you're in the Roanoke Valley for instance — there are highway markers about this road, but it's called the Carolina Road because it was on the way to Carolina. But we typically call it The Great Wagon Road or the Great Philadelphia Wagon Road. So, this road is what I know of as the earliest road that Europeans were using here in what we know of as Winston-Salem, Forsyth County."
And the first major roadway here is still going strong.
"Parts of this road are certainly currently in use, and if you're in northern Forsyth County right as you come down Highway 8 and it breaks off into Stanleyville Drive, there's a huge road cut that you can see that's enormous, and that is the vestige of the Wagon Road," says Hartley. "And so, Stanleyville Drive parallels the old roadbed, and it comes through sort of urban Winston-Salem. But we know this road very well in the Lewisville area because from Lewisville out towards the river is the Shallowford Road."
Hartley says The Great Philadelphia Wagon Road — the path pioneered by Quaker Morgan Bryan in the 1740s — was a crucial part of North Carolina's backcountry settlement in the colonial period. It's the granddaddy of Winston-Salem area streets, but there are plenty of other centuries-old roadways still with us today, many of which developed along the ridges of waterways like Muddy Creek and its tributaries where springs provided a ready source of clean water: Indiana, Akron and Old Walkertown Roads; parts of Reynolda in the north, Miller Street in the south, and Polo Road in the west.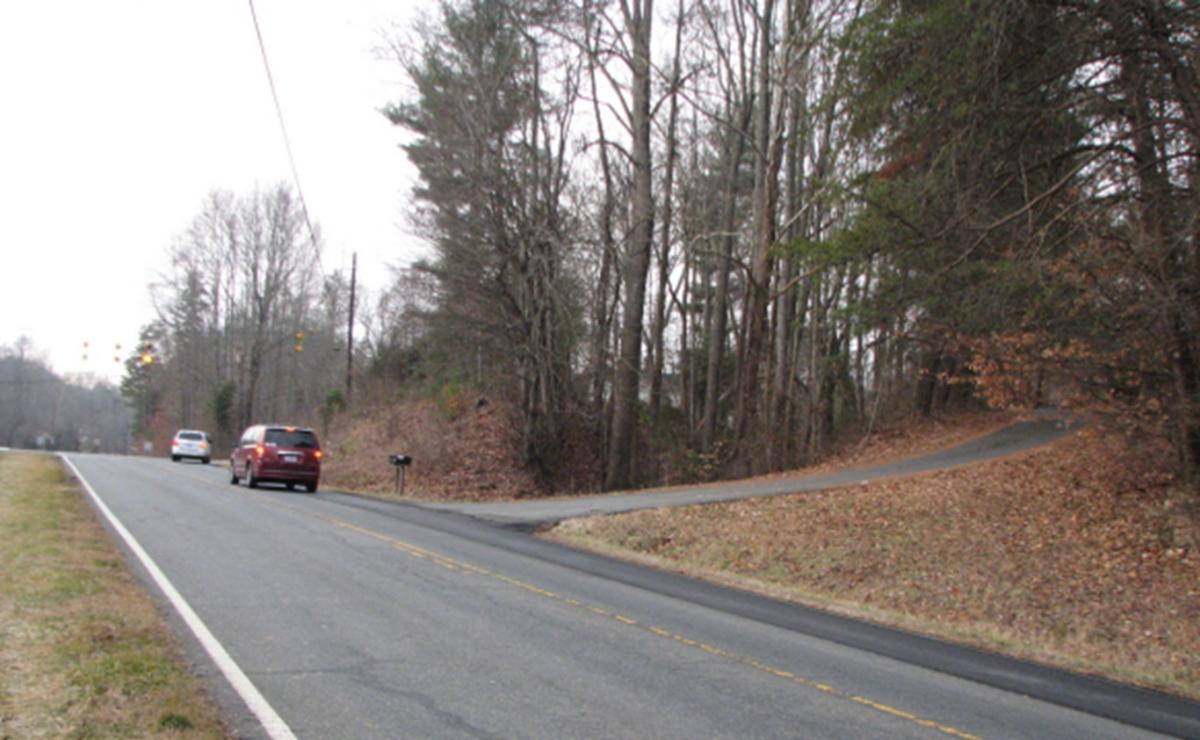 Highway 8 at Stanleyville Drive, view south, Wagon Road cut (2015). Photo courtesy of Martha Hartley, Old Salem's Moravian Research and Archaeology Lab.
And what about the earliest street in the Gate City? Greensboro History Museum Curator of Community History Glenn Perkins says it's hard to say exactly — commuters there are still probably unwittingly following trading paths of the Indigenous Keyauwee and Saura peoples from centuries ago — but he says one of the most important colonial roads still in existence today is New Garden.
"It ties so much to Guilford County history," says Perkins. "So, right now you know one stretch of this road is a multi-lane expressway almost between Guilford College and the Guilford Courthouse National Military Park. But that was an old route by which the Quaker settlers who founded the New Garden Meeting in the 1750s traveled and connected to what would become in the 1770s the administrative center of the new Guilford County."
Perkins says the New Garden Quaker Community thrived and the roadway that made it possible eventually supported other Quaker settlements, providing a means for travel and commerce. Even the city's namesake, Quaker General and Revolutionary War hero Nathaniel Greene, was likely familiar with New Garden Road.
"Because there was a skirmish before the battle of Guilford Courthouse called the Battle of New Garden that occurred in 1781," he says. "So, you have both the British and the colonial troops traveling along that road and making their way up to what would become the big battle at Guilford Courthouse. Then about ten years later, George Washington came to visit the area, and he would have traveled up that route as well because he stayed at a tavern that was near what is today Guilford College and would have wound his way up New Garden Road to see the courthouse site."
The road's impact was felt strongly in the 19th century as well, providing the pathway to Guilford College founded in 1837, and before that, leading enslaved people from bondage.
"In the early 1800s, it becomes known for its connection too to the Underground Railroad of course because the New Garden community was so critical in helping freedom-seeking enslaved people to find their way north to freedom," says Perkins. "So, this highway where you might even see a coffle of enslaved people walking along is also going to become a point from which people can depart and go off onto the Underground Railroad trails and find their way to Indiana or another free state."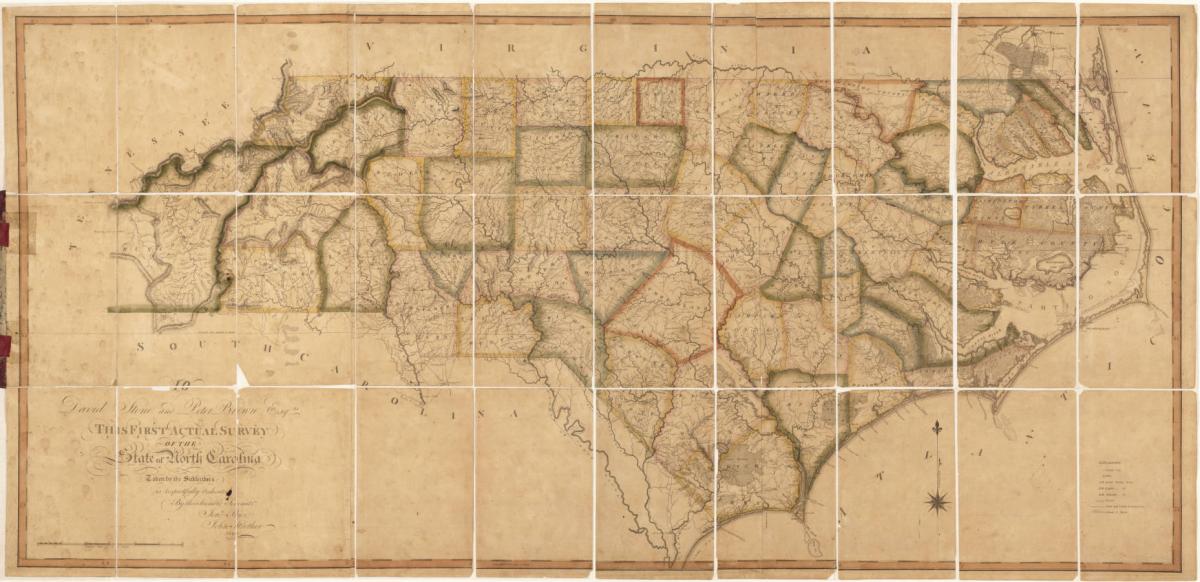 The Haley House which is located on the Museum's campus and is the oldest house in Guilford County still on its original foundation was located on the Petersburg-Salisbury Road and appears on an 1808 map of North Carolina. Public domain. Image provided courtesy of High Point Museum.
So, Greensboro's New Garden, a road for travel, commerce, education, battles for independence, and freedom. And in High Point? According to Marian Inabinett, the Curator of Collections at the High Point Museum, one of the most important historic roads still in use is what is now Greensboro Road and Lexington Avenue. She says today the road comes from Greensboro, connects with Gate City Boulevard, continues straight to northern High Point, and arrives there as Lexington Avenue. But it dates to the mid-1700s.
"And it was the Petersburg-Salisbury Stage Road," says Inabinett. "Jamestown's main street was also part of that road, but it was one of the most important north-south routes through North Carolina, and it started in Petersburg, Virginia, on the James River and came down and obviously met up with Salisbury in North Carolina going through what was in Martinsville, the county seat of Guilford County, and catching New Garden and going down through Lexington. Well, High Point wasn't here then as a city. So, it connected all those places and once it got to Salisbury, other roads led out to the western part of North Carolina to Charlotte and down into upstate South Carolina."
Inabinett says the Petersburg-Salisbury brought settlers here from the coast of Virginia, circumventing the dangerous fall lines and cliffs near Raleigh. And unlike most of the Triad's oldest streets, Petersburg-Salisbury has a clear marker dating back to the road's early beginnings.
"For us here in High Point and the High Point Museum, the 1786 Haley House is actually sitting on that road," she says. "And it's still sitting on that road. The Haley House is the oldest house in Guilford County still on its own foundations, and it appears on early maps. In fact, the first official state map in 1808 of North Carolina shows the Haley House sitting on that road. And Mr. Haley was a sheriff, a landowner, a blacksmith, so it was to his advantage to be sitting on the main road that's going through — one of the main roads — going through North Carolina."
Curious to learn more? The public is free to view the Haley House in person on Saturdays on the High Point Museum campus and learn about the New Garden community — including its connections to the Underground Railroad and the life of one of its most famous residents, Dolley Madison — at the Greensboro History Museum. And beginning in August, The Old Salem Visitors Center will reopen with the new exhibit "On the Road Again," exploring travel and transportation in 18th and 19th century Salem. 
Support quality journalism, like the story above, with your gift right now.