It's been one year since the murder of George Floyd and a time when protests erupted around the world, including right here in the Triad. Black Lives Matter demonstrators marched demanding a wide range of reforms, from an end to chokeholds to increased funding for education.
By early June, Black Lives Matter protests were becoming an almost daily occurrence in Winston-Salem — people of all ages and races coming together wanting justice for Floyd's family. They rallied in parks, marched through neighborhoods bearing signs, crying out against racism, and calling for systemic changes to policing.
Among the many organizing groups was Black Lives Matter Winston-Salem, a collective of area activists co-founded by Tony Ndege.
He's been involved in activism for more than 20 years and says the movement that arose following Floyd's death was a perfect storm: lots of young people out of work, uncertain about their future, who felt that even despite all the cell phone and bodycam footage available today, the system had once again failed them.
"It's not just good ol' boys," says Ndege. "It's totally tied into mass incarceration and the history of our nation, imperialism, and empire. All of these are interconnected because this kind of violence of the state is necessary to ensure dominance."
Ndege and the coalition want immediate action, including the release of low-level drug offenders, an end to so-called "routine stops" in black and brown communities, and increased public access to police body camera footage. He says serious change is systemic change, and so far, he's yet to see that happen.
"In terms of mass incarceration, we've not really budged," he says." In terms of bail, we haven't budged. You know we want bail for nonviolent crimes to go down to zero. So, in terms of the police, there have been some changes but they've been mostly cosmetic."
Ndege also wants to address a wide range of disparities made even more apparent during the pandemic, including education, affordable housing, and mental health care. And he'd like to see full community control of how city and county dollars are spent.
The allocation of that money has been a rallying cry for activists across the country: move funding away from law enforcement into social services.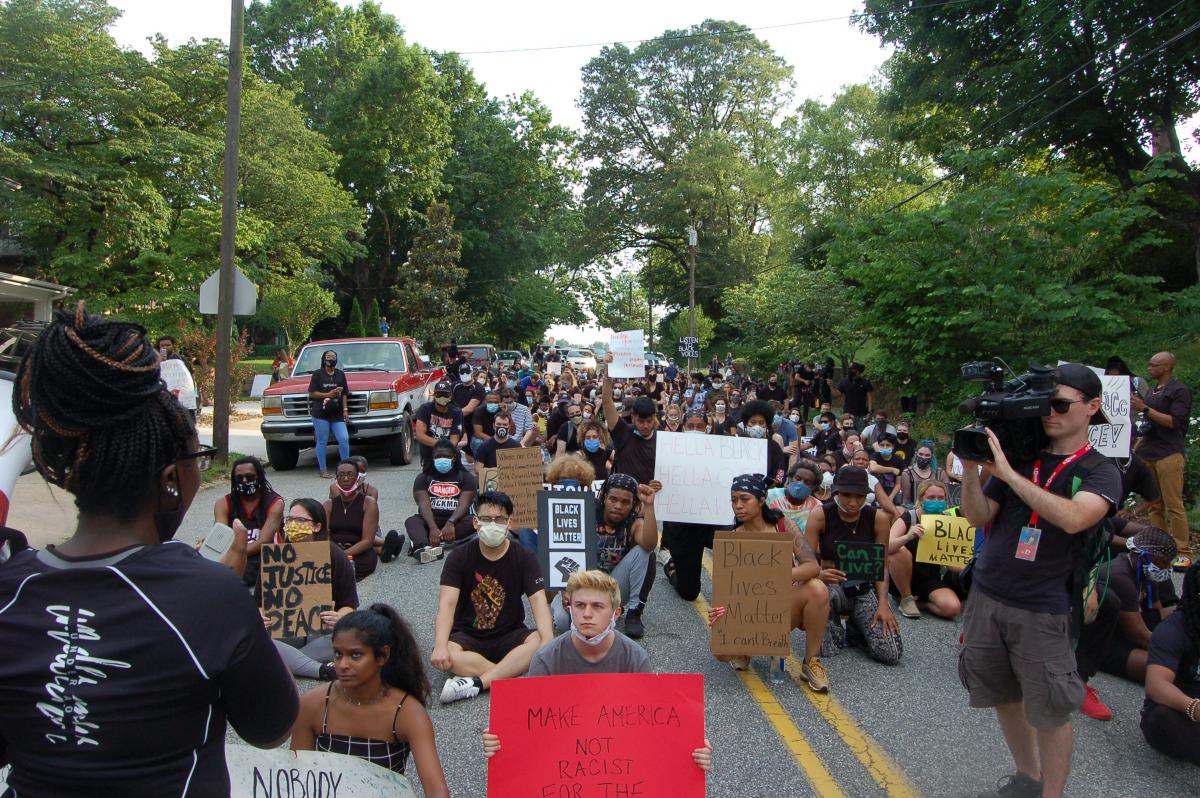 In June 2020, demonstrators in Winston-Salem's West End neighborhood pause their march and take a knee in protest over the murder of George Floyd. DAVID FORD/WFDD
Forsyth County Sheriff Bobby Kimbrough says his current training budget has already been cut to the bone, forcing him to take on training, supervisory, and community liaison duties on top of his role as sheriff. He says steering even more money away from the department would be bad for the community.
"If you defund the police, you will get a lesser quality officer," says Kimbrough. "Because right now the basic requirement is a high school diploma. A guy coming out of Wake Forest, App, Winston-Salem State with a four-year degree, he or she is not coming to work at what an officer is being paid. You're not."
City Council Member Kevin Mundy says he was encouraged by the multi-generational, multi-ethnic outpouring of support for the Black Lives Matter movement. He says law enforcement officers and agencies alone cannot address the enormous disparity that exists here.
"It's going to take churches, and schools and neighborhood associations and city and county government and state government," says Mundy. "It has to be a joint effort to really change what has been in our DNA unfortunately for hundreds of years, in not treating people of color the same way we treat Caucasians."
Demonstrations in several North Carolina cities were marred by vandalism and violence, but Winston-Salem was largely spared. Many credit the early actions of Police Chief Catrina Thompson. In June, prior to a Black Lives Matter rally she addressed a large group of protesters prior to their march. Thompson's speech was videotaped by Appalachian State University student Stefan Saponja and spread on social media. 
"I want to thank each and every one of you, because as I stand here in the center of downtown of Winston-Salem in Forsyth County, North Carolina, I want to show the rest of America that our voices can and will be heard," said Thompson.
After praising her officers, many donating their time for the event, Thompson joined the marchers. As an African American with 27 years in law enforcement — she sits at what she calls "the intersection of black and blue," and says she gets it.
"If East Winston looked the same as Northwest Winston, then people would have more of an opportunity to feel like equality is coming their way," she says.
Thompson is quick to point out that her department is abiding by all of the 8 Can't Wait campaign demands, designed to bring immediate change to police departments nationwide. Among other things it bans chokeholds, requires officers to de-escalate situations where possible, and to intervene to stop excessive force by other officers. She's also in agreement with activists that law enforcement should not be put in a position to have to respond to mental health calls.
"And that's not something I just started believing since the death of George Floyd, because we're not the professionals trained to deal with the root problem of mental health issues," says Thompson.
She says the job has been a lot harder this past year and retaining officers continues to be an enormous challenge. She sees it in her recruiting efforts, in mounting resignation letters among in-service officers, and even veteran officers opting to retire early.
"So, it cuts all the way around," she says. "And it's extremely tough right now in the law enforcement profession. But then you'll also have some advocates to say, you know, it's tough — especially in the African American community — it's tough being an African American in America. And I can't disagree with either one."
But activists aren't backing down. It's George Floyd now, other days there's a local spotlight — like the Greensboro man John Neville who died in Winston-Salem police custody. This has to stop, they say, and until then the names may change, but the protests will continue. 
Support quality journalism, like the story above, with your gift right now.