Gaston County signed off on a plan this week to relocate a century-old Confederate monument. It's the latest in a movement across the country and here in North Carolina to take down the statues. And the debate surrounding their removal cuts deep, highlighting the tensions felt between honoring the past and the glorification of systemic racism.
The Civil War took the lives of one out of every three white North Carolinian males of fighting age. Even months after the war ended, there was no official policy for reburying and honoring them. Shallow graves were plowed up and desecrated. The North began moving Union dead from southern battleground sites to national cemeteries where they were reinterred. But the legislation passed by Congress specifically forbade any money to be spent on removal, reburial, or identification of the Confederate dead.
Dr. Douglas Butler is the author of North Carolina Civil War Monuments: An Illustrated History. He says the one-sided federal response infuriated many Southerners.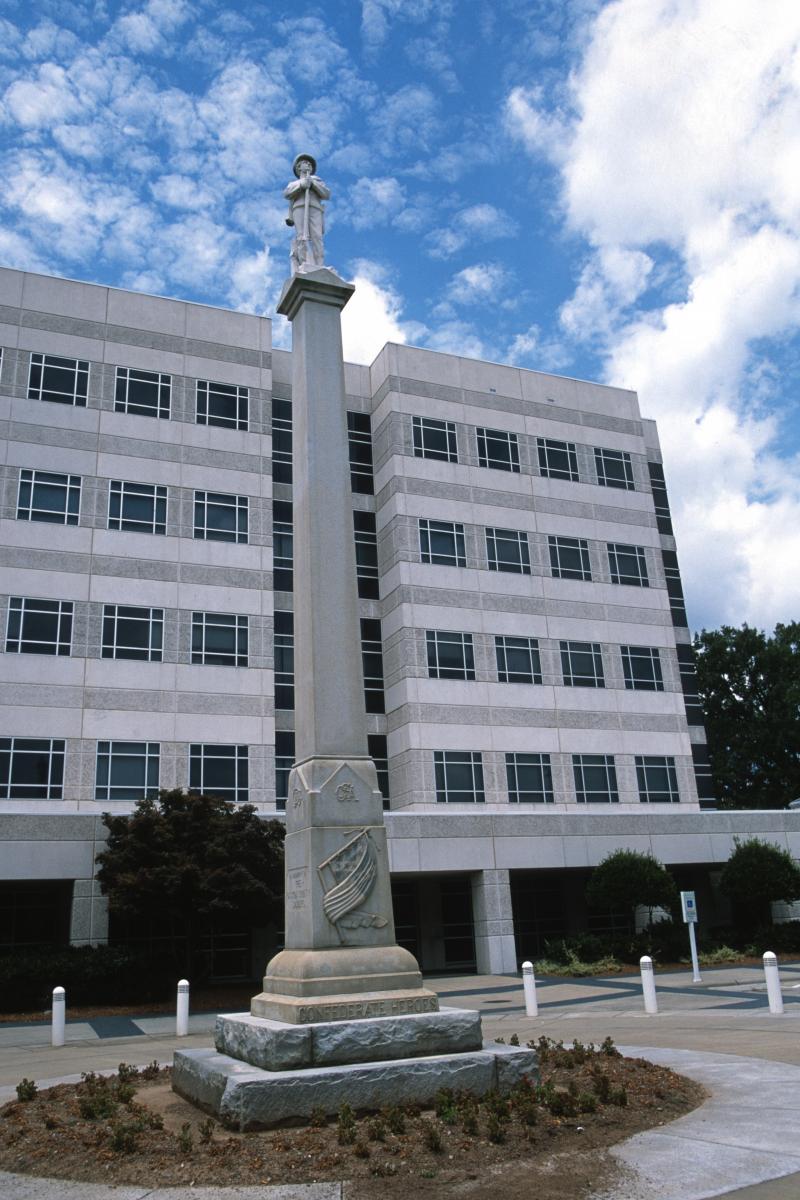 "And so, well-off women took the lead," he says. "They gathered the dead together and paid for it themselves to gather the dead and have them reinterred in Confederate sections, as they were often called in some of the public cemeteries." 
It would take nearly three decades and the end of another war — the Spanish American War of 1898 —before permanent Confederate monuments were placed in civic spaces in North Carolina. The vast majority were built between the 1890s and early 1930s, which coincided with increased reconciliation efforts from the North and the Jim Crow era of segregation. That's what UNC Greensboro Professor of African American and African Diaspora Studies Dr. Tara Green sees when she passes Confederate soldiers made of marble standing high on stone pillars in the public square. 
"It represents a threat, a reminder of being policed, of the need to be controlled," says Green. "It's a reminder of a time when even physical freedom to leave a space such as a plantation was not allowed for people of African descent. So, you know, this is also the time in which we began to see the formation of what becomes the modern-day police, where we have the paddy rollers who are going around looking for black people to punish them in some way. And then later on, we continue to have that." 
Douglas Butler crisscrossed the entire state photographing and chronicling the histories of every Civil War monument in North Carolina, including here in the Triad.
"I think the monument in downtown Winston-Salem, like many of the prominent civic space monuments, were important to acknowledge the veterans," he says. "These men had fought. They had answered the call of duty that North Carolina asked them to do, and they were honored with that. And I think it's important to maintain sort of that implied social contract that we could honor the warrior even if we did not agree with the war."
But Tara Green says while visitors to North Carolina frequently see those tangible acknowledgments, missing are the countless sacrifices made by African Americans who built the South.
"For the most part, the only thing that they see and run across is they're walking around downtown or wherever they may happen to be is the voice of the Confederacy in the United States of America in 2020 — not in a classroom where they may learn, 'Okay, the Confederacy this and the Union Army that' and so on — but walking down the street," she says. "This is the long narrative that represents the city? I think we need to rethink that narrative." 
Butler acknowledges that while white Northerners and Southerners eventually did achieve reconciliation after the war, African Americans were not a part of that rapprochement. 
"It is important to include all aspects in memorialization and nobody should be left out. Memorialization can expand and evolve, and I think that's important, but I think rather than destroying one side, we need to add to it, add depth," he says. "And I think this is a great opportunity that we can do that and people of goodwill can come together. Because I think that's the way we will learn from each other. That's what we have to do." 
Green says for African Americans, Confederate monuments can be painful reminders of the racial inequality they experience every day, connecting the past with the present, "And so, then the larger question becomes: what can we do to work together to disrupt that long history and to make this country what it should be, what it says that it is for everybody? How can we do that?"
With Black Lives Matter protests showing little signs of abating, those conversations will continue. With more than two dozen of North Carolina's Confederate monuments removed or toppled since June, their fate is less certain.
Support quality journalism, like the story above, with your gift right now.