Triad Shelter Offers Power And Peace Of Mind To NC Evacuees
12:12pm Sep 14, 2018
As Florence batters the Carolina coast, thousands of residents have fled the region for shelters farther inland, including here in the Triad.
On Friday morning, the Lawrence Joel Veterans Memorial Coliseum in Winston-Salem was home to about 60 evacuees, with Red Cross staff and volunteers providing food, water, medical staff and shower facilities. That number increased to nearly 80 by 2 p.m.
Robert Talbot from Wilmington came to seek shelter since a lot of those in his area are full. His family took a bus to get to Winston-Salem. Friends and family say they're seeing flooding in Wilmington, so his mind is also there.
"Some are staying at the shelter, and they are full down there and are sleeping on the floor, and I hear that some places are flooded," Talbot says. "My vehicle is up there and I don't know what will happen."
William Mingo from Mooresville was able to get a ride to the shelter. "I left my apartment. Some people went to other shelters and others stayed behind. It concerns me because I have stuff that I'm renting. I have a system and TV, so I'm hoping they will be alright when I get home."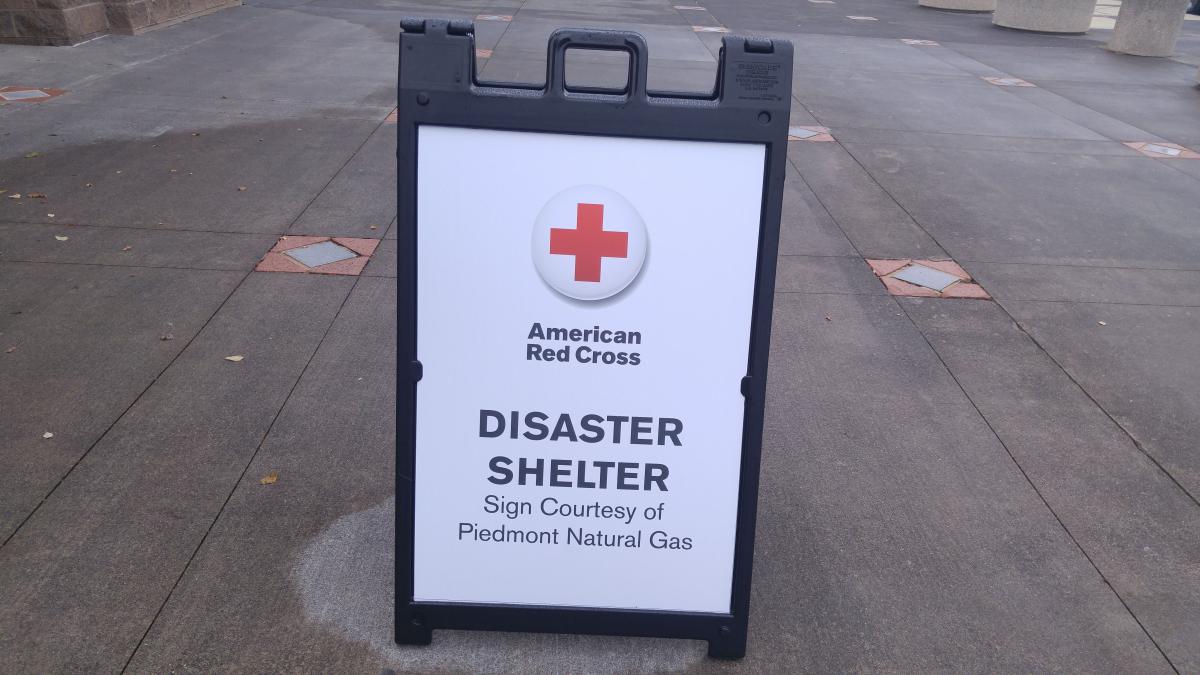 Hundreds of thousands of people in North Carolina are already without power from Hurricane Florence.
Some residents in the Triad anticipate it will happen here too, and they're not taking any chances. Carrie Russell from Winston-Salem is staying with a family member at the shelter.
"My sister is on oxygen 24/7 and we were afraid that if we had a power outage her concentrator wouldn't give her oxygen and she doesn't have enough containers to last her one day, so we just want to make sure we have a place to stay and food to eat - and safe."
Officials at the shelter are anticipating the number of evacuees to climb due to the threat of flooding. Sherry Thompson and Cristien Farrior from Winston-Salem came to get shelter for their children.
"The power, the flooding, also being able to stay away from the windows and stuff, that's why I came here," says Thompson. Farrior adds, "And also, their little needs and stuff. They are going to be hungry and you can't cook without the power, so it's best to be here."
Walmart, Krispy Kreme, Deweys and other local businesses have donated food and supplies to the shelter. The Red Cross says it welcomes volunteers and monetary donations. The organization says those who are interested in volunteering their time should register on their website, instead of coming down in person.
The organization says anyone who wants to donate clothing or other items should drop them off at the Goodwill located beside the Joel Coliseum on University Parkway and specify that they are for the shelter.
Red Cross officials say the Winston-Salem site is also pet-friendly.
The shelter is prepared to serve up to 1,000 people. Red Cross team leader Jaici Murcia urges residents to stay vigilant and to remember that recovery could be a long road.
"Not only is there the immediate disaster, but sometimes in heavily impacted communities, there's the disaster after the disaster, which is the economic impact."
Murcia says she's not sure how long the shelter site will be open. The Red Cross has access to the Joel Coliseum until September 26th because of the local fair that's held on the grounds. If needed, Murcia says they will find another location in the area to help those impacted by the storm.
To find the nearest American Red Cross shelter click here.
*Follow WFDD's Keri Brown on Twitter @kerib_news