In August, alarming levels of the chemical 1,4 dioxane were detected at a wastewater treatment plant in Greensboro. Officials there measured levels 2,700 times the state's health advisory. Another industrial release in Reidsville in October was even well above that. 
The chemical is used as a solvent in the manufacturing process for textiles, plastics, and other products.
In Reidsville, the discharge of 1,4 dioxane was linked to two companies, DyStar and Unifi, and in Greensboro, to Shamrock Environmental Corporation.  
RELATED: Greensboro Company Responds To Chemical Release In The Cape Fear River Basin 
All of this lands downstream along the Haw River, which is the drinking water source for communities like Pittsboro where Karen Styers lives. She says she's worried. 
"It's scary to me to think what the Haw River is going to look like in five years with all of this stuff coming down. You just don't know, and health is something that I'm not willing to take a risk on," says Styers.
"What's happening to the plant life? What's happening to the animal life? That will ultimately have impacts on the rest of our lives as well. It's not fair," she says.
The Environmental Protection Agency calls 1,4 dioxane an emerging contaminant, but researchers found it in the water as far back as the 1980s.  Scientists say the Cape Fear River Basin has some of the highest levels of the chemical in the country.
"1,4 dioxane is known as a likely carcinogen by all routes of exposure," says Detlef Knappe, a professor at North Carolina State University who studies pollution in the watershed.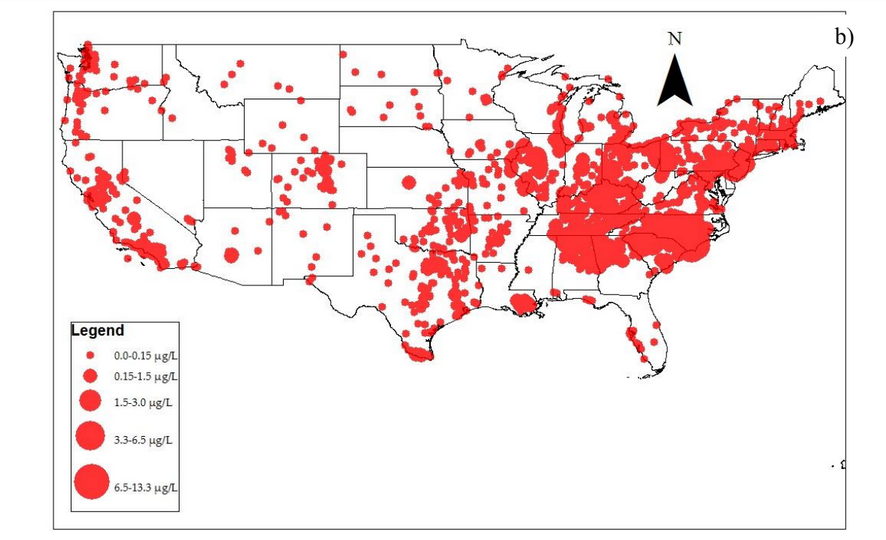 1,4 dioxane concentrations in U.S. drinking water derived from surface water. Map by: USEPA (2016)
Knappe says 1,4 dioxane doesn't break down easily in the environment, and even with advanced treatment, it may not remove all of it. He says he wouldn't drink Pittsboro's water.
"Putting a likely carcinogen into the water when it could be treated at the source is something that we really need to address from a regulatory perspective," he says.
And it's that regulation that's causing friction between the cities and the state.
Greensboro and Reidsville are receiving violation notices for exceeding the Environmental Protection Agency's health advisory for 1,4 dioxane. The violations also say neither city informed the state Department of Environmental Quality of the discharges within a 24-hour period.
Michael Borchers with Greensboro's Department of Water Resources says municipal wastewater plants are overloaded, and there's confusion about knowing which chemicals pose the greatest threat.
"It is a very complex issue and knowing which contaminants are out there and what concentration and — just as importantly — how much of a hazard they are to us makes one scratch their head and try and deal with what we can, what we do know," says Borchers.
RELATED: State Regulators Bring Violations Against Cities After Chemical Releases 
He says they need what's called a maximum contaminant level (MCL) — a definitive limit on how much 1,4 dioxane can be in the water safely. Right now, that doesn't exist. But environmental groups say the federal Clean Water Act provides the tools needed, and state and municipal governments simply need to use them.
The state administers what's called NPDES discharge permits to cities to protect water quality. Those permits list what needs to be treated from industries and at what level. That's why Sharon Martin with the Department of Environmental Quality says the cities need to take the lead.
"Our permits are with those pre-treatment programs. So it's the responsibility of the cities and the permit holders, as the permit holders, to investigate and deal with their industrial dischargers," says Martin.
But WFDD spoke to water officials with many municipalities in the Cape Fear River Basin who say 1,4 dioxane isn't even on their permits. DEQ has yet to approve their renewal applications. In fact, some 45 percent of these major discharge permits are expired, and cities are operating on old ones. DEQ sent letters to these cities requiring them to monitor the chemical and plan ways to reduce it. But Martin says the agency's hands are tied.
"There's been a major backlog of NPDES permits for several years because the permitting program, like many DEQ programs, is underfunded and understaffed," she says. "North Carolina has never established its own MCL for a chemical for drinking water. The authority may exist in state rules, but the process and more importantly, the resources to do so are not in place."
Greensboro and Reidsville could face fines and have 30 days to respond to the state.
Both cities are now required by DEQ to test for 1,4 dioxane at their wastewater plants on a weekly basis. State regulators say that will continue for as long as necessary. But that's not fast enough for Karen Styers, who's had a filtration system professionally installed in her home.
"It's not cheap, and it's not something that everyone is going to be able to afford or be willing to afford, and it's really not fair to push the cost down to the consumer from businesses way upstream who know they are doing this," she says.
Researchers say there are only a few communities that have the expensive technology to effectively treat 1,4 dioxane. For Pittsboro residents like Styers and others, for now, all they can do is take matters into their own hands. 
Follow WFDD's Keri Brown on Twitter @kerib_news
Support quality journalism, like the story above, with your gift right now.