Many factors have contributed to historic jumps in home prices on the rental side of the housing market, and the impacts have been felt in major markets across the United States including the Carolinas. But there are some positive signs that double-digit rent hikes here in the Triad may be in the rearview mirror.
Carl Whitaker is the director of research and analysis for RealPage, providing data analytics and property management solutions for rental housing. He says this region has been capturing an increasingly large share of new housing investment and development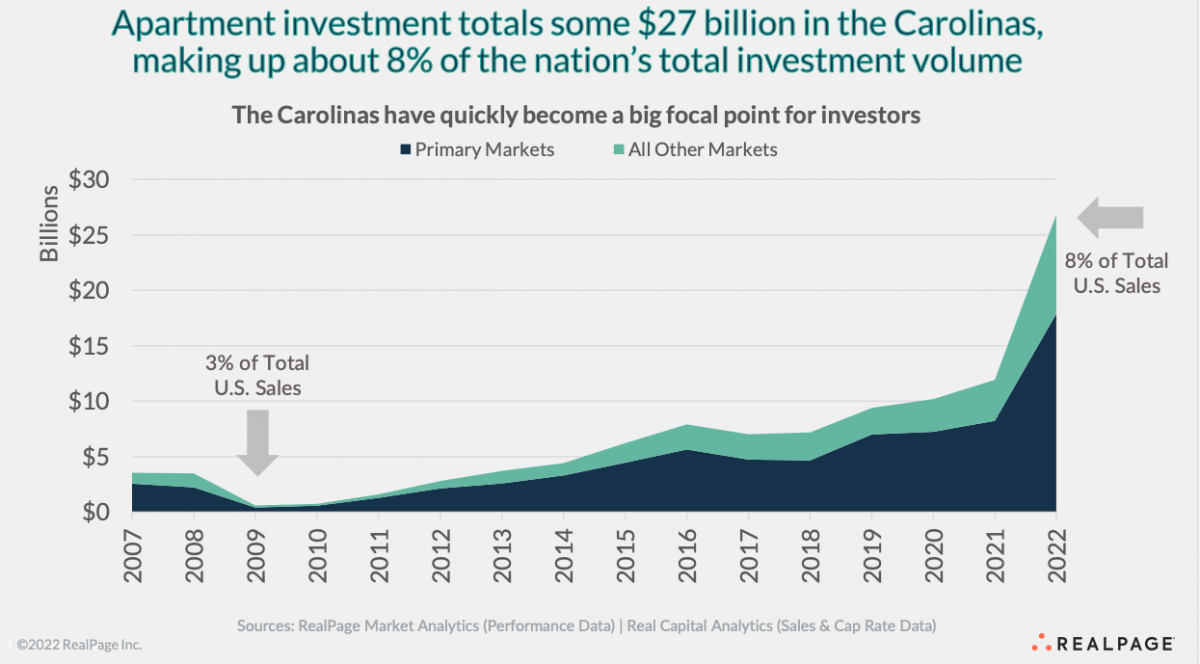 (Courtesy of RealPage Analytics)
"Over the past 12 months, about $27 billion worth of properties have traded across the Carolinas region — and that includes both North and South Carolina, of course, but just to give you kind of an idea — that made up about 8% of total U.S. investment," says Whitaker. "If you go back a little bit over a decade ago, the Carolinas only comprised about 3% of national investment."
One big reason he says is the pandemic pulling forward a lot of new migration — especially to markets like Asheville and the Research Triangle. The recent arrivals came to take advantage of new economic expansion across a variety of industries, and developers are taking note of the demand tailwinds in those regions with plenty of growth potential ahead. In fact, the Carolinas ranked number four in the nation for apartment construction, behind Texas, Florida and California — each with much larger populations.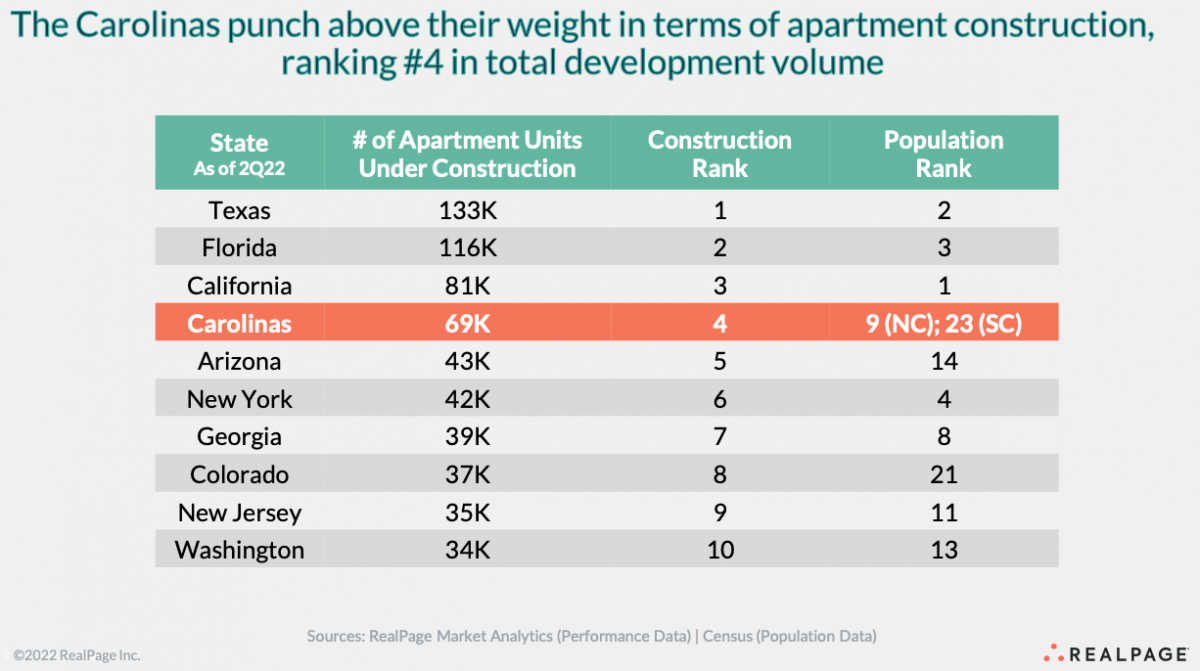 (Courtesy of RealPage Analytics)
Why then are renters in the Triad continuing to feel the pinch, with a recent study by Rent.com showing rents for one-bedrooms in Greensboro up by 74% year-over-year? In a word: location, says Whitaker.
"If we look at Greensboro, Winston Salem, in particular, the local economic makeup, largely blue collar — of course, a lot of colleges and universities in the area — that segment of the economy, I should say, isn't typically the group that developers are targeting simply based on what it costs to build a new multifamily housing," he says. "And that's not to say that there hasn't been some development in the region, but you know, Greensboro, Winston Salem, relative to Raleigh, Durham or Charlotte — where you have more of those big corporate style headquarters, research and development, banking, jobs, etc., — that part of the state is where a lot of the new development has channeled towards."
Another embedded component of the recent growth in the cost of rent is inflation. But here, Whitaker offers some good news.
"When we look at many of these markets, despite the fact that they've seen record rent growth, we see that most instances, wage growth is keeping pace with rent growth as well," Whitaker says. "And it may not seem like it — because we're definitely seeing some sticker shock when residents see a new lease, rent, or, you know, their lease renewals — but overall, we see that nationally the rent to income ratio is about 23%. And that's only up a percentage point from last year, despite the fact that we've seen record rent growth, and the same holds for many of these Carolina metros."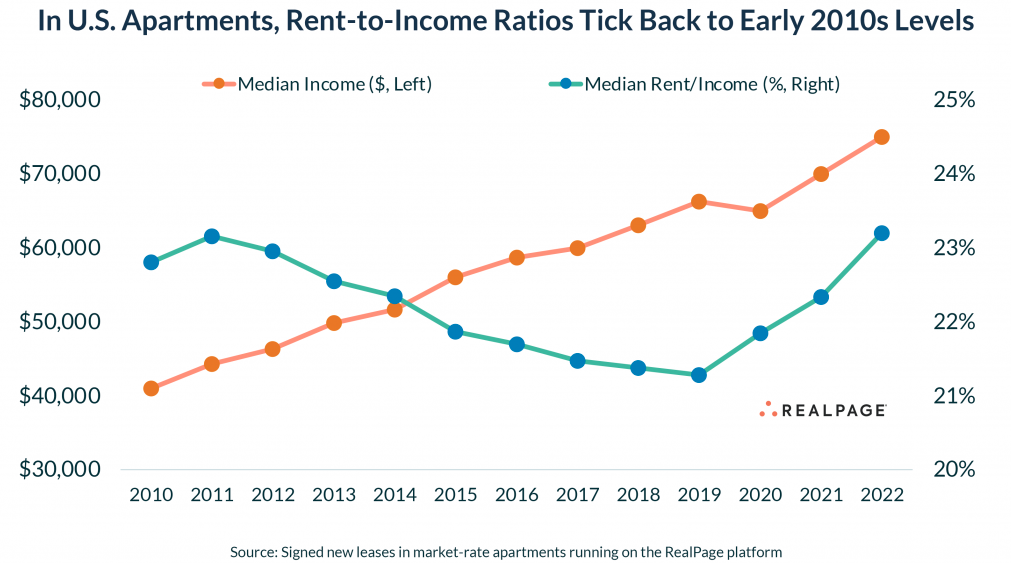 (Courtesy of RealPage Analytics)
That's from a recently released national housing affordability study by RealPage tracking some seven million new leases year-to-date this year. Whitaker says increased density — more multifamily units with a smaller land footprint — could offer some housing relief, but he doesn't see that happening in the Triad anytime soon.
"That particular market doesn't necessarily lend itself to a lot of density," he says. "In fact, in the data that we track there's only two high-rise apartment buildings in the entirety of the market."
He says the region's suburban sprawl development and the "not in my backyard" (or NIMBY) attitudes against high density may be at play, but for a market this size that number stands out, particularly given that there are multiple colleges and universities throughout the Triad.
One major concern for the region is lack of affordable housing. Whitaker says it's both a complicated political issue for our elected officials and a practical matter for developers.
"It's so difficult to build at say a class-B or mid-tier price point when you're developing new multifamily housing product because of course you have to take into account the cost of the land," says Whitaker. "We all know that especially here as of late construction costs have risen substantially through means of inflation."
He says for private developers to meet the demand for affordable housing, there will need to be offsets such as tax subsidies, or agreements with local political groups to make the economics of new construction work. He says that's probably a decade or so away, but he adds there may be some housing relief on the way in the shorter term.
"By and large, I think our expectations for renters in particular are that rent growth will come down closer to historic norms, you're not going to be tagged with a 20% rent increase in 2023 or 2024," he says. "Most markets we're expecting that to actually come down below double digits in 2023 and certainly well into 2024."
That's hopeful news for Triad area renters battered by rent increases over the past two years. But if any lesson has been learned about COVID's impact on housing markets, it's that nothing is certain.
Support quality journalism, like the story above, with your gift right now.