Operation Firecracker Seeks To Limit Drunken Driving Across North Carolina
6:25pm Jun 27, 2018
On Wednesday, Governor Roy Cooper kicked off Operation Firecracker, an impaired driving enforcement campaign running throughout the Independence Day holiday period.
At a meetup in Greensboro, law enforcement leaders thanked Cooper for supporting their efforts to reign in DWIs through enhanced education funding by the Governor's Highway Safety Program, and prevention measures like Operation Firecracker.
This new campaign will feature checkpoints throughout the state, stepped up patrols, and the new mobile Breath Alcohol Testing units (or BATmobiles) that can include a lab, magistrate's office and holding cell.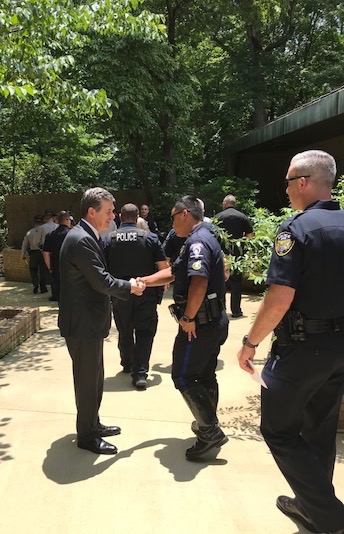 Governor Cooper says if you get caught with a DWI, the stakes are high.
"You lose your license for a year," says Cooper. "You have to pay significantly more in insurance costs. You have to pay court costs. And if it's serious enough then you can do time in jail."
Cooper added that having strong DWI deterrents in place is just as important as raising awareness.
"We have so many other avenues for people to travel that don't require them to get behind the wheel after they've been drinking. I think knowing that helps a great deal," says Cooper.
Advocate and DWI victim Shane Ramos spoke at the announcement to remind those in attendance of the human cost of impaired driving. On May 18th, the tow truck driver and his business partner were assisting a broken-down tractor trailer on the side of the road when they were hit by a drunk driver.
"I was between my truck and the 18-wheeler when I heard the sound of metal crashing like I'd never heard before," Ramos said. "When I turned around to see what had happened, I was struck by an oncoming vehicle. It also hit my partner, Jessie, who is recuperating still. That's why he can't be here today."
Ramos suffered fractures, lacerations and bruises, and he urged those in the audience to never drink and drive.
"If you've been drinking and you choose to get behind the wheel, you are toying with lives, including your own," he said.
Operation Firecracker begins today and will continue through July 8th. Law enforcement agencies will hold sobriety checkpoints in all 100 counties during the July 4 holiday week to apprehend drivers impaired by alcohol or drugs, and to reduce fatalities.