Students at Page High School in Greensboro joined others across the country in peaceful protest Wednesday morning. They walked out of their classrooms in honor of the victims of the mass shooting at Marjory Stoneman Douglas High School in Parkland, Fla.
That shooting, one month ago to the day, claimed the lives of 17 people.
Hundreds of students, many holding handmade signs, gathered in the Page campus stadium a few minutes before 10 a.m.
A handful arrived early, taking their position on the track just below the stadium's seating. School faculty set up a microphone for them. Then several students began making speeches.
"Today, I stand here because 17 students lost their lives a month ago," said senior Sienna Lafon, addressing the crowd. "Who's next?"
They talked about Parkland, and other school shootings, including Sandy Hook and Virginia Tech.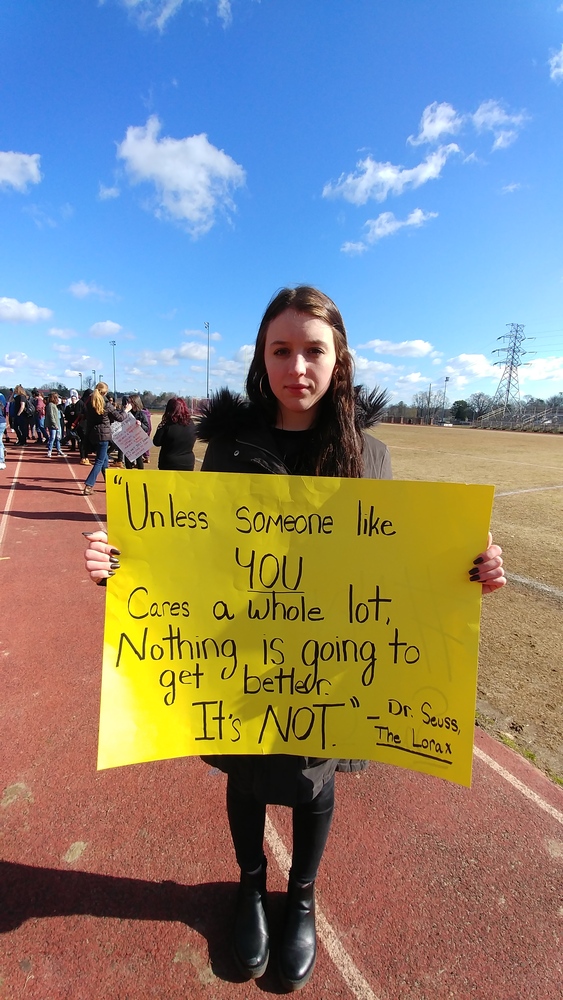 "I think that students finally have the loudest voice in a very important fight," says Roxanne Pfenning, a senior at Page.  "And I think it's coming down to us to make the biggest impact and the biggest change in such a serious issue that's been going on for far too long."
Many, like senior Kaya Simpson, wanted to voice their support for gun reform and the need for change.
"We want there to be stricter gun laws in place, so that way shootings like this are brought down in frequency," Simpson said. "We want students to feel safe, we want them focused on what they should be focused on in school, making friends and learning."
Some students specifically brought up banning assault-style rifles, and the importance of expanding background checks.
The power of the ballot was also on the mind of Sienna Lafon.
"It was really important for me to be here as someone who is about to register to vote this month and is about to start voting in the upcoming primaries," Lafon said. "To raise awareness for other students to do the same so that they can become politically active."
After the student speeches, the crowd made their way to the track. There they marched one lap, signs in hand, then made their way back to class.
Another nationwide protest organized by the students from Parkland, Fla., is planned for March 24.
Support quality journalism, like the story above, with your gift right now.