The Greensboro community is celebrating the life of Marcus Smith who would have been 41 years old this Saturday.
In September of 2018, he was picked up by police after running through traffic downtown, asking officers for help to the hospital. He was agitated and suffering from a mental health crisis. The following day, the department issued a statement that Smith had collapsed while in their custody, but video footage told a different story. He had been held in a method of restraint called a hogtie.
As a child, he was very athletic. He loved basketball and baseball, was excellent with numbers, and his mother Mary Smith says he loved to laugh and to help people — volunteering at the IRC Homeless Shelter giving free haircuts to the residents there.
"The only thing I could tell you about him is he was just a great guy," she says. "He had his problems, but he was a great guy. Any mother would love to have him for her son." 
Two and half years ago Smith lost her son, and she says she remembers that day vividly.
"Two police officers came to the house, a woman and a man. When I saw them I knew something was wrong," says Smith. "But they were saying that he didn't make it —no details of where his body was, what happened. They told us he had passed and that's all we knew."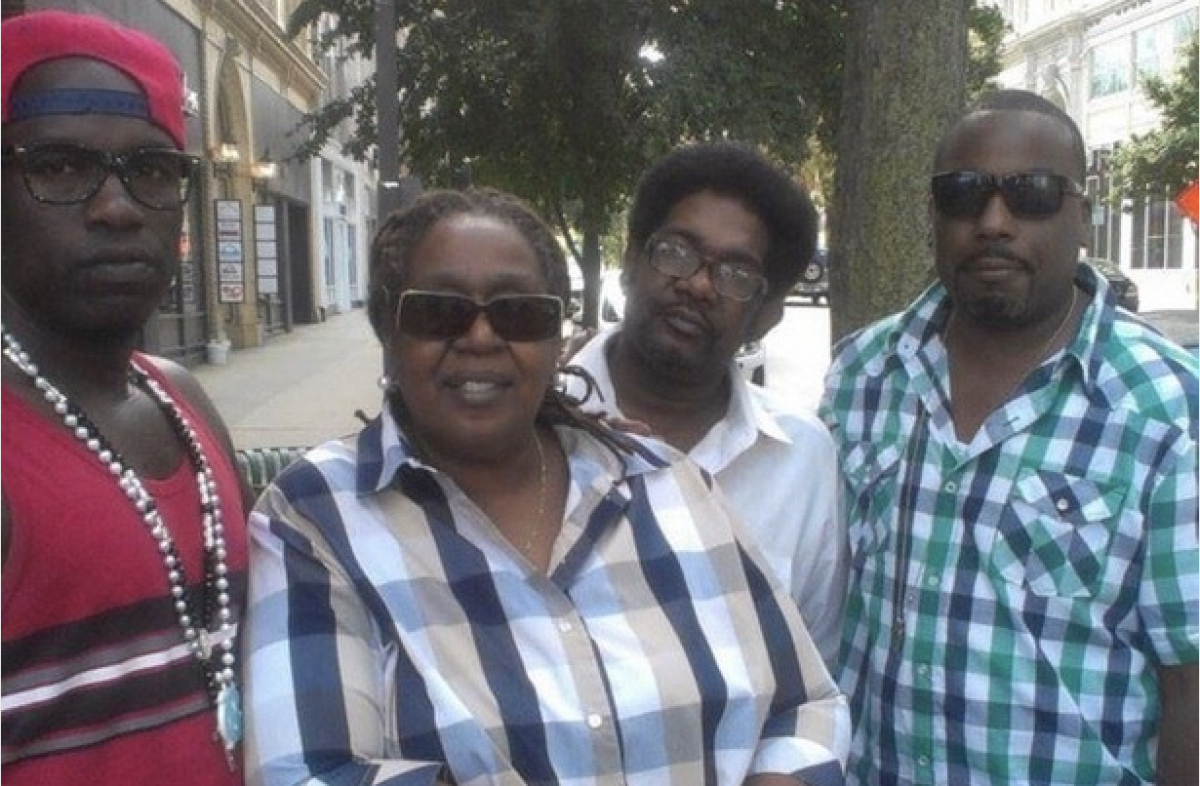 The Smith family in downtown Greensboro in 2015. From left to right: Marcus Smith, Mary Smith, Marcus' brother, and father. Photo courtesy of Kim Smith.
In a statement released from the Greensboro Police Officers Association shortly afterward, the organization expressed unwavering support for the officers involved adding that they acted with compassion, respect, and concern for the safety of Mr. Smith and others affected by Smith's actions.
Mary Smith disagrees.
"They did not tell us where he was," she says. "They did not mention that he was hogtied by eight police officers. He died on a Saturday, and his body didn't get back to South Carolina until that Tuesday, and we buried him that Thursday."
Hogtying is what's commonly used to describe the use of the RIPP Hobble device that bound Smith's feet to his hands, and the autopsy report revealed that the cause of death was cardiac arrest due to restraint. It also showed that he had several drugs in his system at the time of death and an underlying heart problem. Smith says her son's death took an immediate toll on the family.
"We cry a lot," says Smith. "Talk about him a lot. My husband got sick. He had to go on dialysis. He got a defibrillator. I mean it just tore us to pieces."
The state medical examiner called it a homicide due to prone restraint, leading to cries for reform. In 2019 after a Greensboro Criminal Justice Advisory Commission review, the Hobble apparatus used against Smith was removed from the list of allowed equipment. Police were issued a Velcro device that binds feet and knees to restrain detainees instead.
The Smith's wrongful death lawsuit filed by both parents has been ongoing for more than two years with the city spending in excess of a half-million dollars thus far in its defense. Mary Smith says her message is simple: Our justice system must be reformed. 
This weekend the Greensboro community will come together to celebrate the birthdate of Marcus Smith. Mary Smith and her family have traveled from Greenville, South Carolina to greet what she calls her new family here in Greensboro.
"From day one, they have been the greatest community that I have ever seen," says Smith. "They have protested, they have created vigils, some of them have took us out to eat. Oh, my goodness, they have just been wonderful. A wonderful group of people."
The event begins Saturday at the Beloved Community Center in Greensboro for a parade and tribute on what would have been Marcus Smith's 41st birthday.
Support quality journalism, like the story above, with your gift right now.