The $10-million-dollar Carolyn & Maurice LeBauer Park in Greensboro has only been open for a month and a half, but it's already drawing a huge cross section of Gate City residents to the heart of downtown. With the opening of a new space recently, it's welcoming another community into the fold.
It's called a Sensory Space, an interactive sculpture with a variety of stimulating and calming elements, carefully designed to engage typically developing kids, as well as children with sensory processing disorders, like autism. The new space is providing a much-needed, inclusive, oasis for the children and their parents.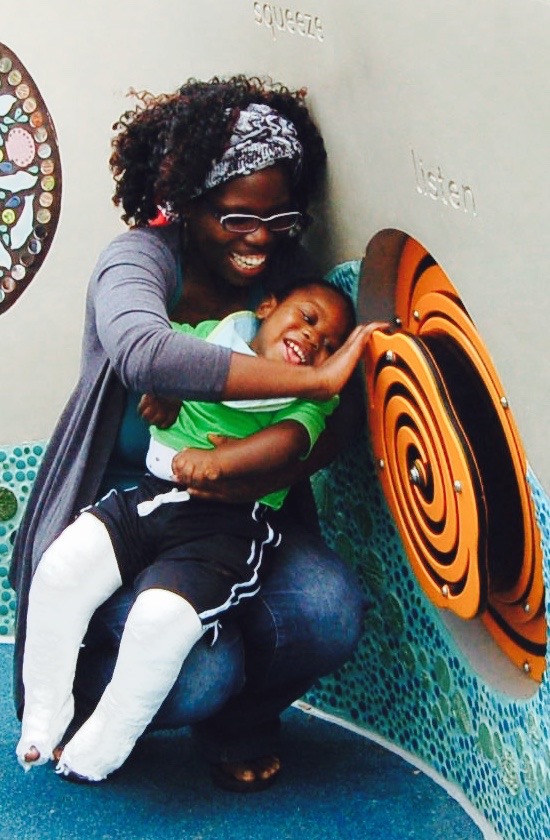 A 20-foot long wall just above waist height, winds its way into the park. It's a work of modern art. One side is covered in bright, primary colored tiles and mandalas in reds, oranges and yellows. They're bumpy, smooth, and fun to the touch. Sensory words like "squeeze," "hum," "hug," and "smile" are beautifully carved into the wall itself, and both sides hold embedded patterns of cleanly designed spin toys.
Fafa Asiseh is here with her two-and-a half-year-old son Nyamedze for the very first time. He was born with cerebral palsy. He's visually impaired, and learning to feel things with his hands. For this family, going to a park is a big deal.
"You always want to be included," Asiseh says. "And as parents of a kid with a special need, you always find yourself one way or the other left out of a lot of things. There are a lot of programs and places that you would wish you would go to but having a kid like this would not allow you to go because it has to do with the society, it has to do with the environment, it has to do with the comfort of the kid."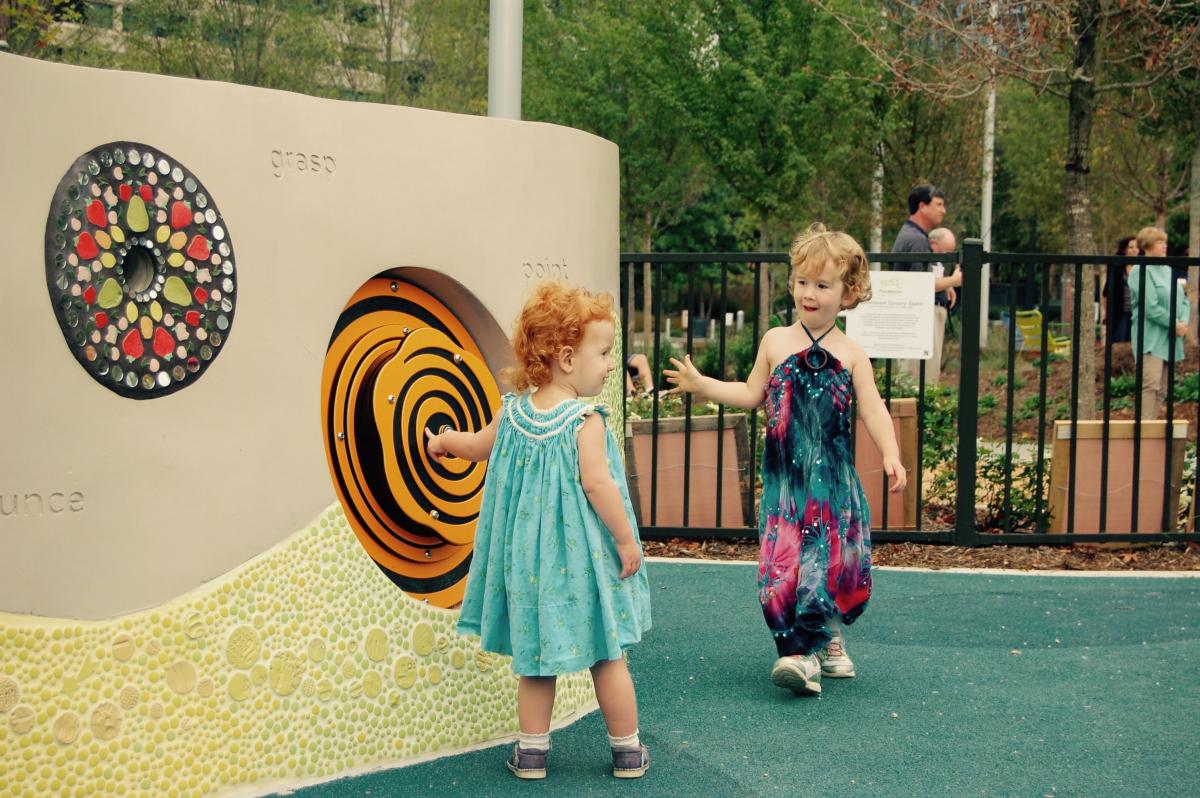 Asiseh's husband, Obed agrees. "The challenge for him is he needs a special swing. And when you go to general parks, there aren't things like this. You just have to carry your own swing, and where to even hang it is a problem. You know, so you go to the park, but for him, he will be left out."
The idea for this place was sparked by Phelps Sprinkle and his wife, Kate.  He works for Peacehaven Farms, a local sustainable farm that provides permanent housing and support for adults with special needs.
But the sensory wall is also a personal project. Their thirteen-year-old daughter Roxie has mitochondrial disease. Her sensory processing disorders make loud, ambient noise, like being at a mall, particularly upsetting, and she's very sensitive to touch as well.
"We really want people to wonder, you know, I've never heard about sensory processing disorder, or I really haven't seen kids who have disabilities and kids who aren't interacting so much around a structure," says Sprinkle.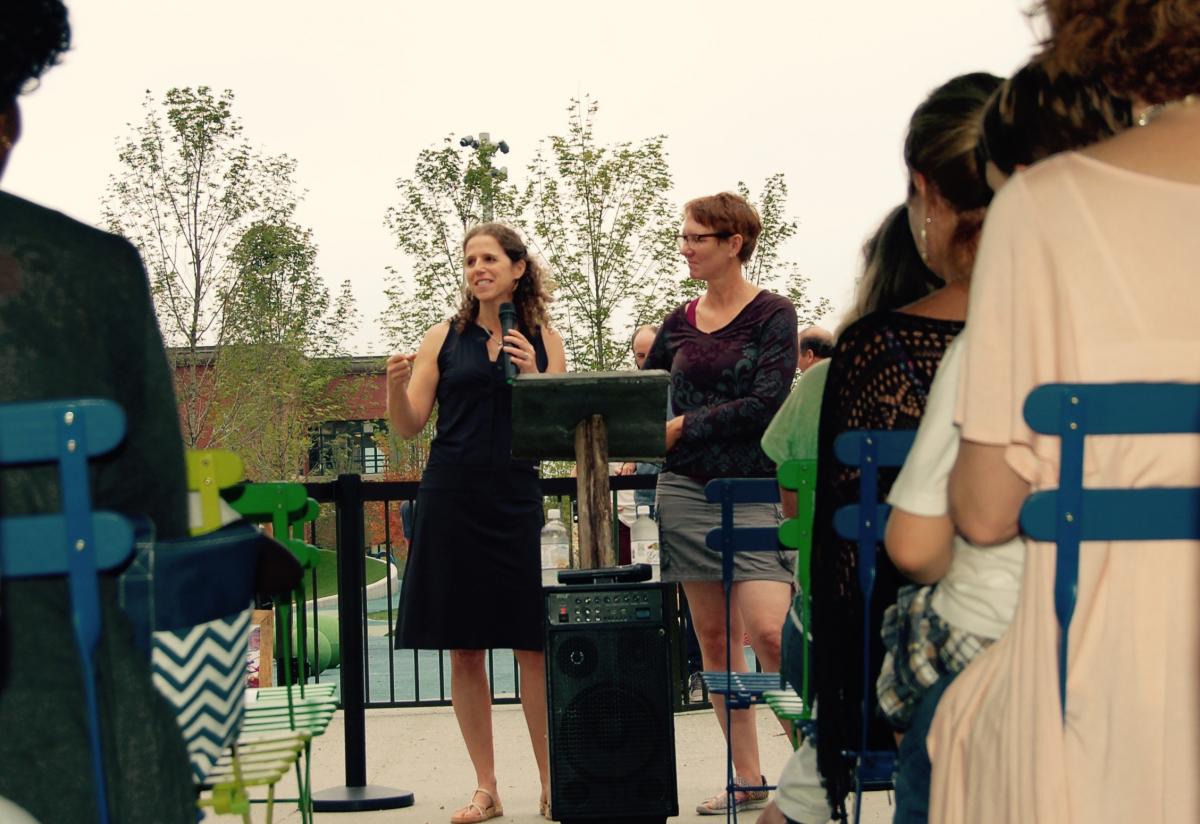 His vision is that this will prompt other public spaces, like neighborhoods, sidewalks and buildings in Greensboro and throughout the Triad, to be designed in ways that are accessible for everyone.
Occupational therapist Meg Harris says this park project began by coming up with ways to replace the typical go-to playground toys, like swings, slides and monkey bars, with activities that engage other senses including tactile, visual, and auditory.
"What you want to do is offer multiple avenues for people to meet these needs," she says. "Either to gain more information through a certain sense or be able to remove themselves from that or go to a different sense that's more calming, or more organizing for that person."
In order to be wheelchair accessible, the wall sculpture couldn't be too tall. Artist collaborator Cynthia Frank says they added a gradual downward slant in order to allow those in reclining wheelchairs to visually engage with components on the wall. The initial challenge for Frank was designing a sculpture that would meet all of the required criteria, but also stand on its own as a work of art that's valued by the community.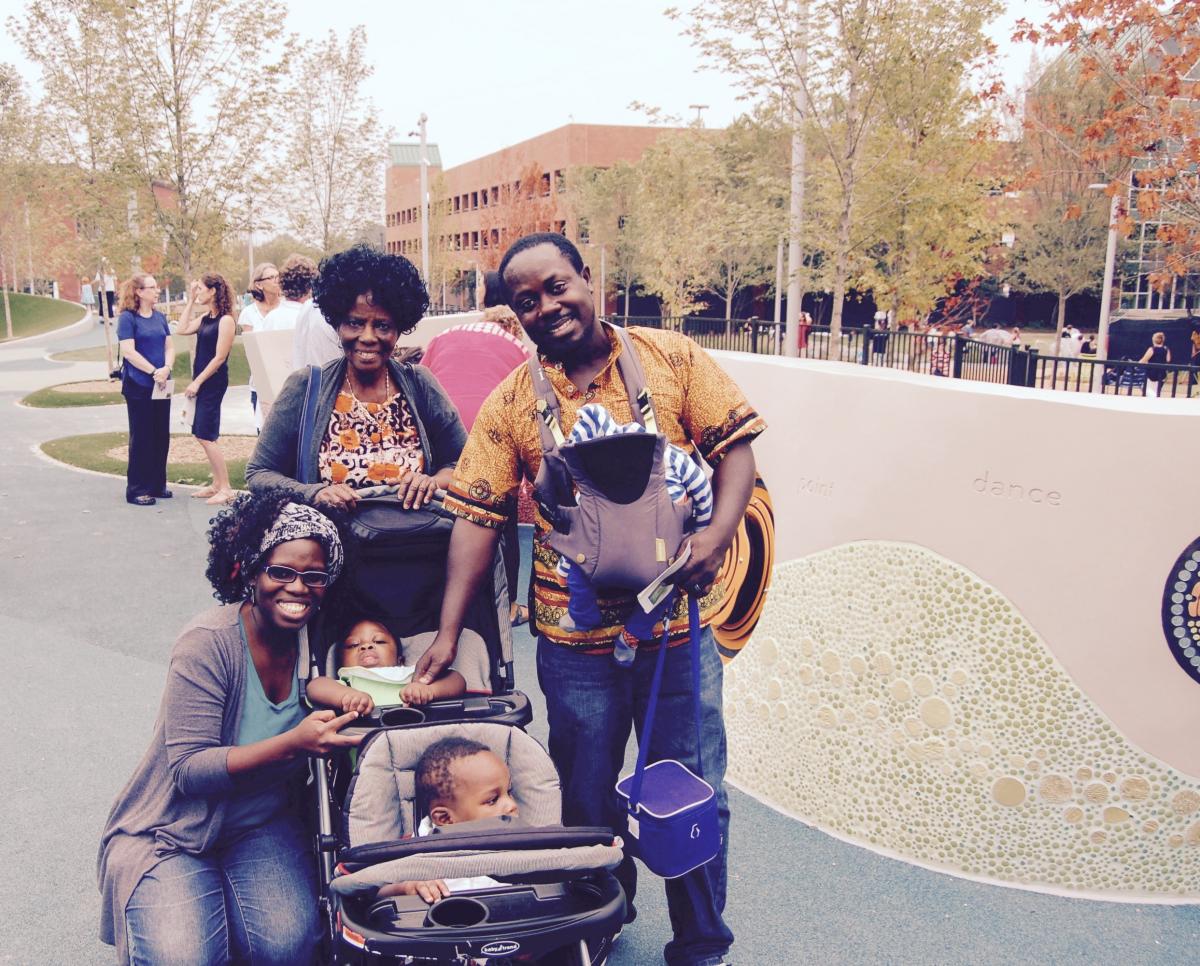 Frank says, "The idea behind this was to create a piece of art that would be in a public space that would engage everyone who happened to be in that space. And in doing so, it would bring the issues into the public realm and not make them pushed to the side or separate."
Back at the sensory wall, crouched on the ground against the turquoise colored tiles, Fafa Asiseh spins the brightly colored orange and black wheel with one hand while holding up her son Nyamedze inches away to watch and listen. The transformation of his entire demeanor is apparent instantly. A broad smile comes across his face, and soon his reaction to the wheel is visibly thrilling to both parents as well. "He loves it!" shouts Fafa, and Obed chimes in with "Look at that big smile on his face!"
Soon, the whole family is laughing together. Other families look on to share in the beautiful moment as one small boy facing severe challenges and his parents are able to finally enjoy a typical day at the park.
Support quality journalism, like the story above, with your gift right now.