A Day After Deadly Tornado's Touchdown, Greensboro Surveys The Damage
7:35pm Apr 16, 2018

The wind and rain and a "high EF-2 tornado" were mostly gone by Sunday night. And under blue skies Monday, it was time for Greensboro to take stock.
First: the fatality. Anthony George, 48, was killed Sunday evening when high winds caused a tree to fall on his car. There were other, apparently minor injuries, but so far George is the only person killed by the storm.
Preliminary estimate for yesterday's tornado in and NE of #Greensboro NC is a high-end EF-2 -- max wind of 135 mph and a path width of at least 300 yds. The hardest hit area appears to be in the neighborhoods near Hampton Elementary School on the east side of Greensboro. #ncwx

— NWS Raleigh (@NWSRaleigh) April 16, 2018
And then there are the schools, all of which were closed Monday – and will be closed Tuesday – in Guilford County. At least three were damaged so badly that GCS students will be moved to other campuses until the end of the year. Superintendent Sharon Contreras said Hampton, Peeler and Erwin Elementary sustained the most damage.
Contreras says she hopes to have most GCS schools back online by the end of the week, though some were harder hit than others.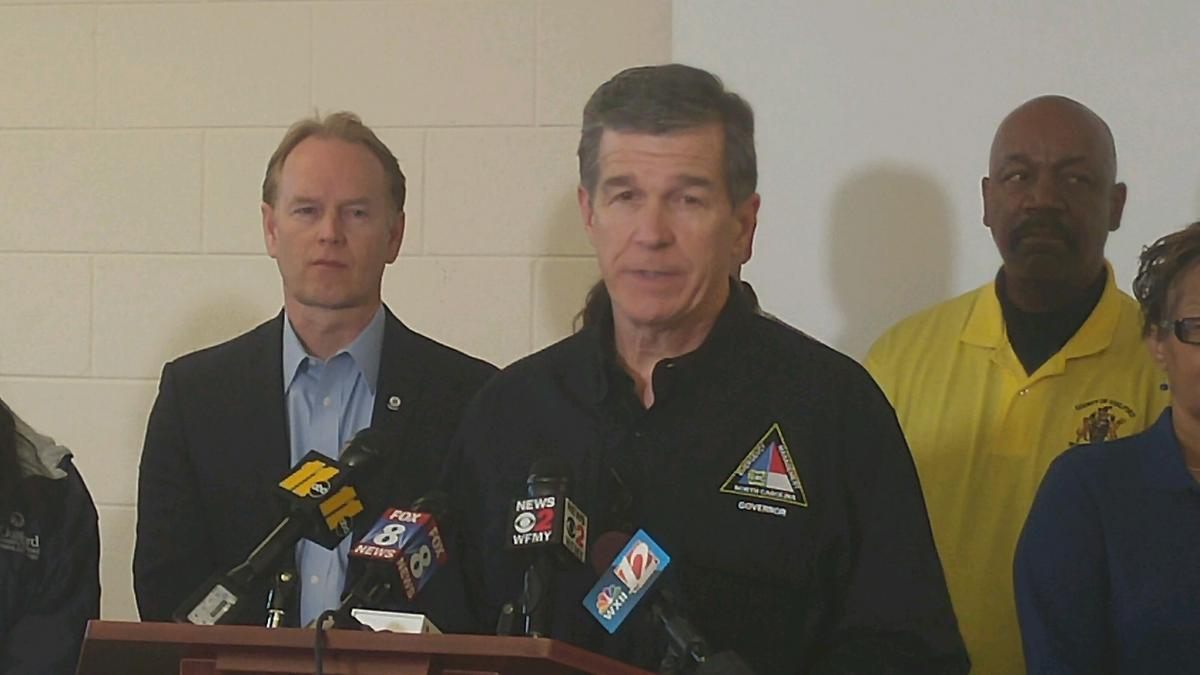 Gov. Roy Cooper personally visited Greensboro Monday to survey the wreckage, and said he's putting state assets to work to help with the recovery.
"Our Department of Emergency Management is embedded and working with all of the counties," Cooper said. "We have the Civil Air Patrol, which is now getting a view from the air of the damage that's been done, and I'm sure it's going to be very severe here in Guilford County."
Raynard Loggins, who lives in the community near Peeler Elementary, experienced the storm first hand. He says he was blown across his house by the tornado's impact.
"My son saw it touch down. I was on the back side of the house. And my doors blew open," Loggins said. "My mom was screaming to shut the door, and when I did, I got blown across the kitchen. And then when I got up, it felt like something was pulling my arm toward the door. And it just passed through."
In a press conference Monday afternoon, City Manager Jim Westmoreland said there was about a four-mile stretch of damage, mostly near the east side of the city. That includes 20 businesses or homes that have been destroyed, and another 80 that have suffered severe damage.
"It will take a while to get things back in order," Westmoreland said.
That includes electricity needs. As of Monday evening, there were still thousands of Duke Energy customers without power, including roughly a dozen schools.
Now, the city is invested in assessment and cleanup. And while people may be eager to get back to their damaged homes or businesses, Assistant Greensboro Fire Chief Dwayne Church says residents need to use caution.
"Some of these houses are unstable and we don't want anyone trying to get in and sift through debris without us doing it first and checking on the stability of the structures," Church says.
The same goes for power lines. If you see a downed line, Church says it's a good idea to avoid it, and assume it's a live wire.
Still things could have been worse, and Greensboro residents seem to have been prepared – and perhaps somewhat lucky – that things didn't break even worse.
For those interested in volunteering or helping the victims of the storm, the City of Greensboro has set up a list of resources to help residents get involved, financially or through volunteering.
The Gate City will surely rebuild. But for now, city leaders, public servants and residents are sifting through the wreckage, wondering what can be saved, and what to do if saving a site isn't an option.
WFDD's Sean Bueter, David Ford, Paul Garber and station manager Tom Dollenmayer also contributed to this report.