A rural water company in Davidson County has a new team member to help with water conservation efforts. And this leak-detecting canine is living up to her name: Puddles.
Puddles is a two-year-old chocolate Labrador retriever. She's a working dog that saves her bark for the job but greets people with a wagging tail and lots of sniffs, occasionally asking for a belly rub.
It's a weekday afternoon and workers at Davidson Water in Welcome, North Carolina are preparing to take their newest employee out in the field.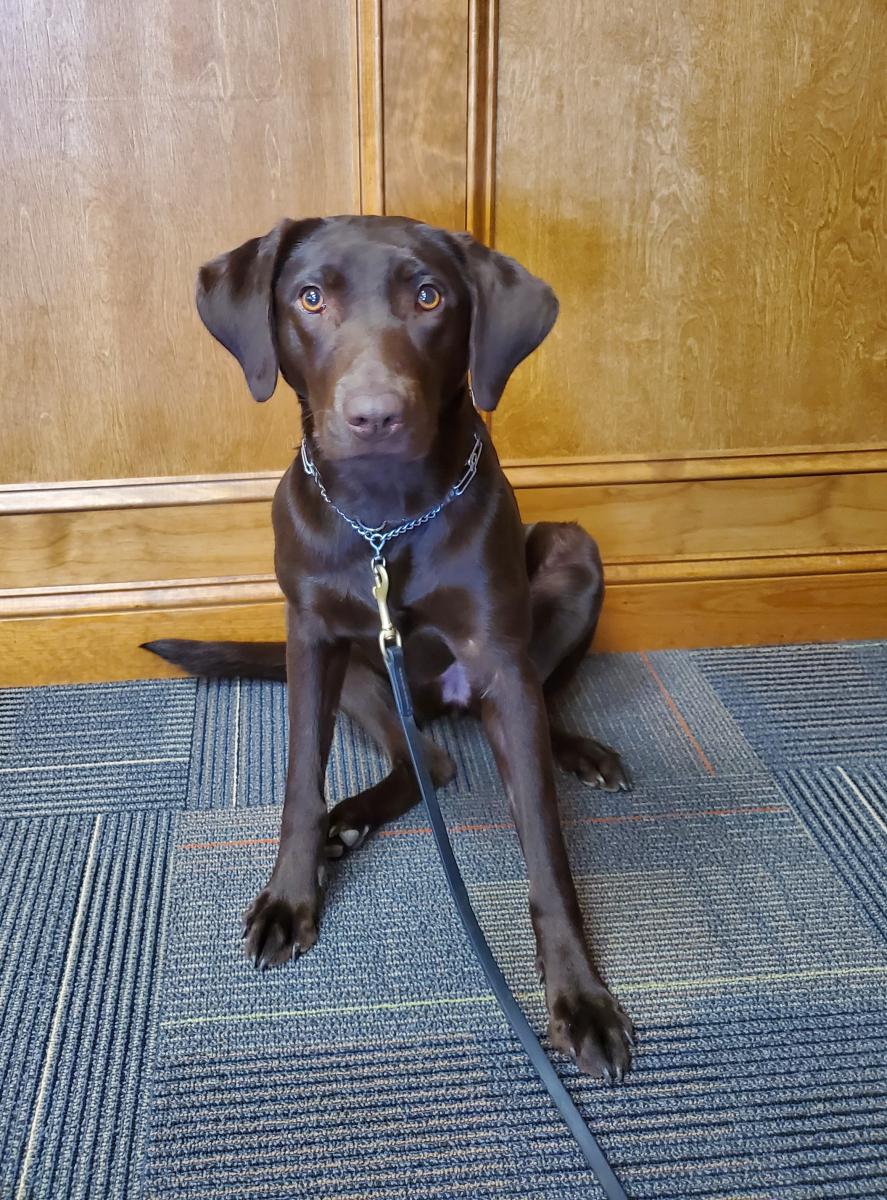 "Puddles has been trained to smell chlorine, and we introduce chlorine into our water at the water plant for disinfection," says Dale Draughn, the meter services supervisor with Davidson Water. 
The rural water system serves nearly 60,000 households primarily in Davidson and Randolph Counties.
"A lot of times a customer will have a leak that doesn't surface, so they have a high water bill and they don't know where the leak is located. So this is a great customer service to find that leak for them and to save their water bill," says Draughn.
Davidson Water officials say this all started about three years ago after a visit from the CEO of Central Arkansas Water. The utility shared their success with a new leak detecting dog. Draughn says they wanted to try the same thing, so they reached out to North Carolina-based Cultured Canine for help in finding the right dog and for training.
After a few auditions, this playful pup won them over.
Davidson Water estimates more than 60 million gallons of water are lost per year on the consumer side from leaks. Over the past year, Puddles has already detected dozens of leaks, some as far as four feet deep.
It's important to keep Puddles prepared even when there aren't a lot of calls for service.  So the crew heads a few miles up the road from the water department to an outdoor practice field. Puddles is already in work mode and lets them know she's ready for the chance to find a leak. She starts barking even before they pull into the gravel driveway.
Draughn and Puddles' handler Sean Griffin waste no time in preparing the training site. 
"What he's doing," Draughn says, "is that he's going to hook that hose to that hydrant right there and then he has a selection valve where he can choose three different locations in the yard to make the water come up. So he is creating an artificial leak, then Puddles will be able to search the whole area, and hopefully, she will hit on the one that he selected where the water is coming out of."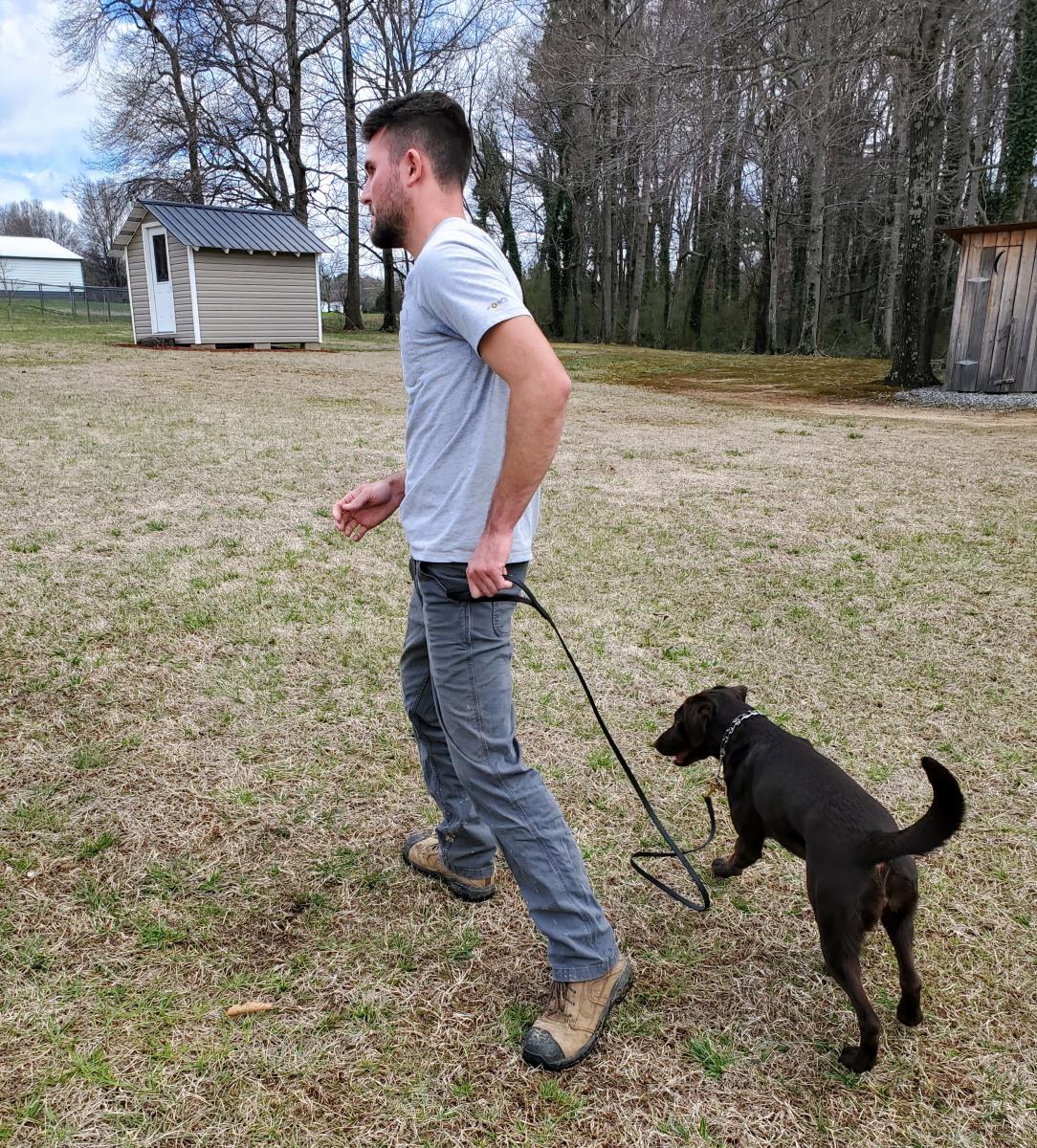 Meanwhile, Puddles is bursting with energy. Her body language changes and she's determined to find the trickle of a leak that Griffin created.
"Puddles, when she paws at the ground and she digs deeper and deeper, she's trying to get closer to the smell of chlorine and she's indicating on the smell of chlorine, so when I know she's right and she stays on it, then I will say a word that rewards her and then she knows that she gets her ball, so she comes off of it and I throw ball with her," says Griffin.
After several minutes, her sniffing becomes more intense and you can tell she's on to something.
"So she just said — that one — how she scratched at it but left it, she was saying that's not the leak. But see how she is staying on this one is her saying this is it. Give me my toy."
Puddles then begins digging wildly on the spot. She found the leak and gets her reward.
Puddles is great at what she does, Griffin says, but the job can be difficult depending on the terrain, which in a rural region can include thick woods and overgrown yards. Because it can be difficult, Griffin says it's important to stay excited throughout the process. It's a rewarding job that requires a lot of dedication on and off of the clock.
"The most challenging thing for me was not treating her like a pet," he says. "I'm always playing with dogs in customers' yards and stuff and so the hardest part for me was treating her like a working dog."
There are lots of benefits to having a chlorine-sniffing canine on the Davidson Water team. But the biggest one, Griffin says, is the joy that Puddles brings to the office and the community. Lately, she's been making appearances at schools and other events.
"Everyone loves to see her in the morning. Just coming in it's like an extra cup of coffee. It gets everyone excited and in a good mood."
After a successful day in the training field, Puddles heads to a nearby pool of water left after a recent rain. She playfully blows bubbles with her nose and paws a little to see if maybe, just maybe, she can convince Griffin to throw one more ball her way.
Follow WFDD's Keri Brown on Twitter @kerib_news
Support quality journalism, like the story above, with your gift right now.