The Winston-Salem/Forsyth County Schools Board of Education is moving ahead to resume in-person classes for more students on Monday.
All grades, including high school, will return by the end of January. Some grades will go back in cohorts, going several days a week in-person with other days remote. And students have the option to be all remote.
These decisions are confusing and scary for parents, especially when COVID-19 cases are at an all-time high in the state and locally. They, along with educators, are anxiously preparing for the coming weeks.
This is the biggest challenge that AJ Mazaris has ever faced as a parent. They have three children, who have been learning remotely since March — seven-year-old twins and a twelve-year-old.
As of now, Mazaris is leaning towards sending them back for in-person learning.
"The thing that keeps me up at night is wondering whether my decision to send my kids back to school will mean that a teacher, a janitor, or a bus driver or someone in our large blended family gets sick," says Mazaris. "And that's the piece that has me tossing and turning and going in circles about this decision."
There's no way that Tom Brown's daughter is going to be stepping inside a school building right now, according to her dad. He and his wife have preexisting conditions and their family's health is more important than any grade or test. And he says his daughter, who is in eleventh grade, is doing well in her online classes.
"When the state public health people tell us that you know you might not want to even go to the grocery store, then I think all of the activity and movement and interaction with other people surrounding in-person learning and schools is a risk we didn't want to take, either with our daughter's health or ours," says Brown.
Most large urban districts in North Carolina delayed reopening plans before the holidays because of rising COVID-19 case counts. Wake County Schools is expected to return this month after going all remote in December. Guilford County and Charlotte Mecklenburg Schools are also planning to bring back more students for in-person learning.
And all of this forces families to make difficult choices. Some have struggled to find child care and even quit jobs to help facilitate learning during the pandemic.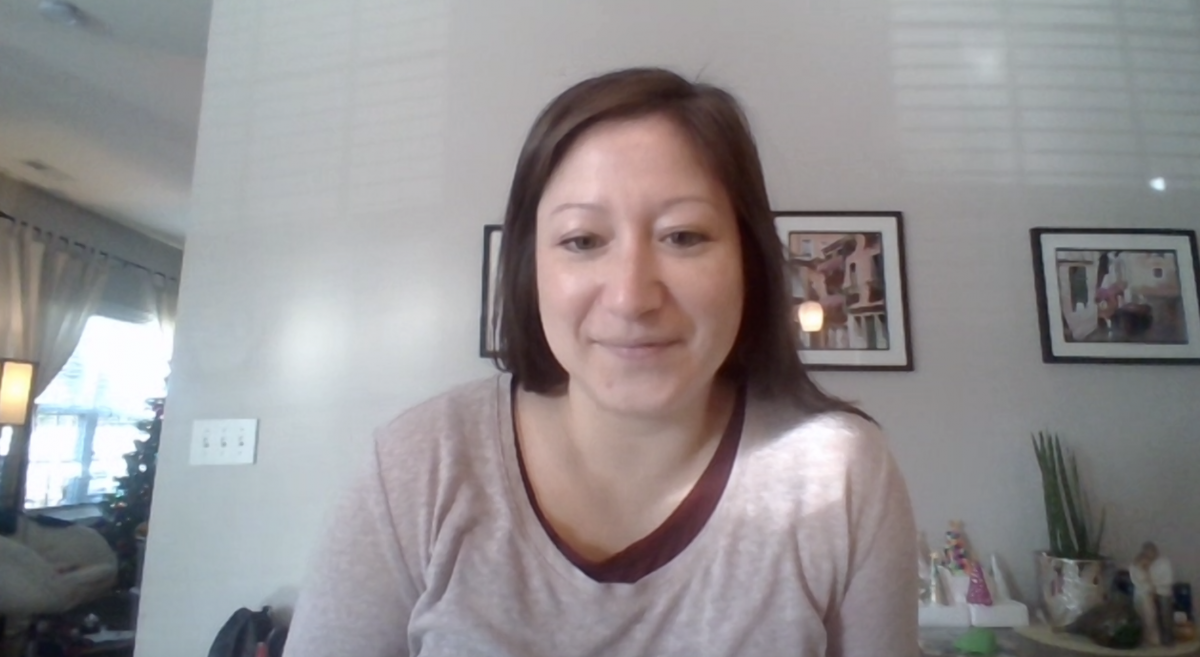 Joanna Porter says her kid needs socialization, interaction with teachers, and other positive support that in-person classes provide. She's glad she can make the choice, but she thinks it's crazy that it's up to her to decide if it's safe or not.
"I want my kids to be happy," says Porter. "I just want it to feel normal again and I'm not going to pretend that this is going to be normal, going to school with a mask on and sitting apart, but we are going to give it a try and see."
And for teachers, this mix of remote and in-person classes is hard to juggle. Jenny Easter is a kindergarten teacher at Vienna Elementary who has been doing both since November.
Even with a small class of 15 kids, she struggles with switching cameras and equipment to teach both remotely and face to face. And there are a lot of extra safety protocols.
"At the end of the day every single day, I take every single one of their baggies and I spray them down and I wipe them down," she says. "It takes me a good 30 minutes after school just to wipe down the things that they use every day.
Easter says she also has a child who has chronic bronchitis. She takes a shower or sprays Lysol on her clothes before she greets him after work. But Easter says her biggest concern right now is having enough staff if teachers have to quarantine or isolate.
"It's been easy with kindergarten and first grade having the school to themselves and the resources and extra staff, but when you start adding more people into the building it's going to take that away, and that's my biggest concern," says Easter. "They need us to make school work and there's not going to be enough of us available."
Winston-Salem/Forsyth County Schools has more than 900 substitute teachers on the roster. Around 300 are trained in Canvas, which is the online student learning platform.
The district says it's continuing job fairs and working to assign substitutes to schools permanently. Interim superintendent Tricia McManus says they're prepared for the return of students and will be monitoring safety measures put in place.
According to parent surveys, she says around 60% of students will go back for in-person learning.   
For the most up-to-date information on coronavirus in North Carolina, visit our Live Updates blog here. WFDD wants to hear your stories — connect with us and let us know what you're experiencing.
*Follow WFDD's Keri Brown on Twitter @kerib_news
Support quality journalism, like the story above, with your gift right now.