Local Designer Brings Fashion Brand For Social Change To Paris
6:56am Feb 28, 2019
Small worktables are covered in fabric and spools of thread. Mannequins — some headless, some bodiless and in various stages of dress—are strewn about the living room in a small ranch-style house.
This is Angel Fant's home, and the headquarters for No Punching Bag, a nonprofit and fashion brand that raises awareness about domestic violence. Fant and her two daughters are busy cycling through old fabrics and planning themes for Paris Fashion Week.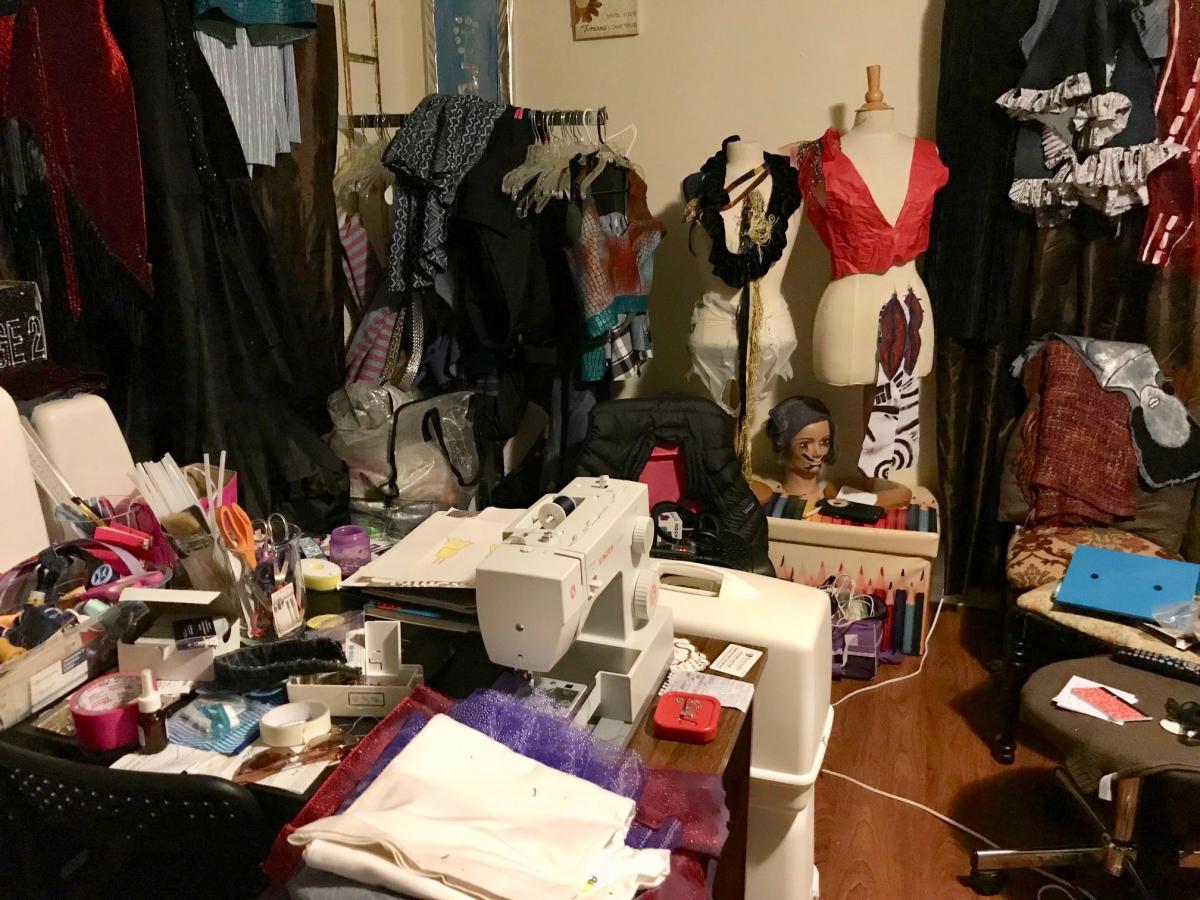 While the conversations are at times contentious as the designers argue their cases for specific fabrics, styles and accessories, it's a warm, familial scene; mother and daughters collaborating together on something they clearly love. 
But life wasn't always this idyllic for Fant. 
"My mother was a young mother, and I was her third child by age 19," she says. "So we were kind of house-to-house. Sometimes we would stay in hotels for a night, and things like that. And sometimes my mother just wasn't around. So, you know, we raised ourselves and we grew the best way we could."
And she had big responsibilities. As a child, Fant took care of her sister's two children. By 9th grade, she was also holding down three jobs to help pay the bills. All the while, she continued her education, eventually graduating from high school. Nobody knew, though, that during this time she was a victim of domestic violence.  And that cycle of abuse continued after graduation. Fant eventually fled her abuser, but certain scars remained.
"You're letting people dictate your worth, and that's something that I learned as a child," says Fant. "I let people dictate my worth. And it carried on with me and I began teaching it to my kids. And now I have to unteach it. You know, we have to unlearn some things."
Still in her late twenties, a single mom with three children, Fant took another chance, this time in pursuit of her lifelong love of art. She arranged an interview for admission into the UNC School of the Arts in wig and makeup. But she says her interview with the director of the program was almost over before it began.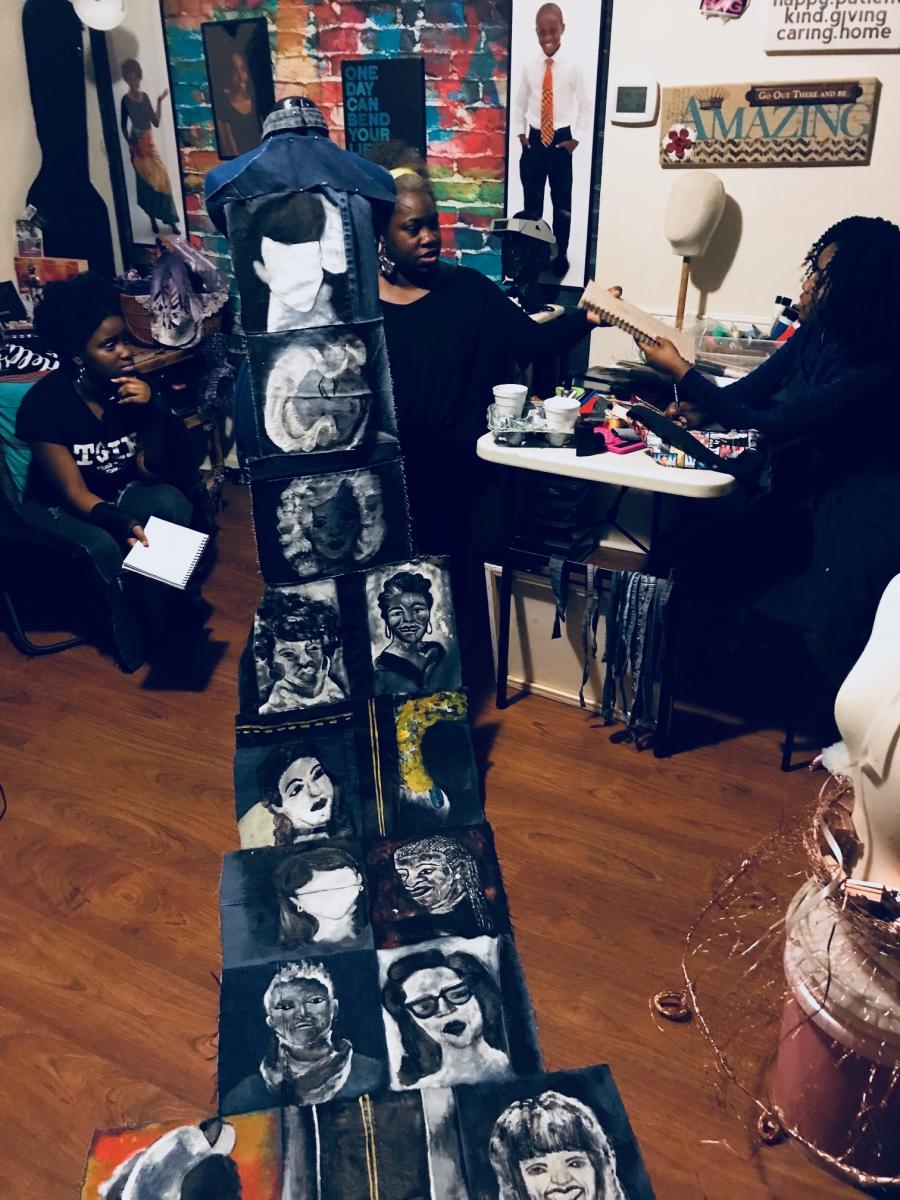 "Because of all my moving as a child, I didn't have my portfolio and he wanted me to have one." she says. "But I didn't tell him that. I created a portfolio within 24 hours and he was stuck on the first page. He was like, 'Wow!'"
Fant was accepted. She says being a single mom at UNCSA was hard and she was often the outsider. But she excelled nonetheless.
"It's just like, I am going to try and have the best life and be the best mother I could be," says Fant.  
She says much of that has been providing a solid foundation, like this home, nurturing her children's career aspirations, and open dialogue. She says it was during one such family conversation over dinner five years ago that No Punching Bag was born. 
"What are we gonna do about domestic violence?" says Fant, recalling the conversation. "And we thought, we all love fashion. And we can do art. And we said, well, we have to be a brand, something indirect where you're wearing this brand that means something. And we came up with that, and we wanted to do outreach work too."
The outreach work included speaking engagements at local schools on dating violence, holding drives for shelters across the state, and providing No Punching Bag survival kits for women fleeing domestic violence with 911 cell phones, toothbrushes, shampoo and other necessities.
And their unique fashion brand has taken off. There are big, bold colors, enormous earrings made of cloth that dance from the movement of walking, and more.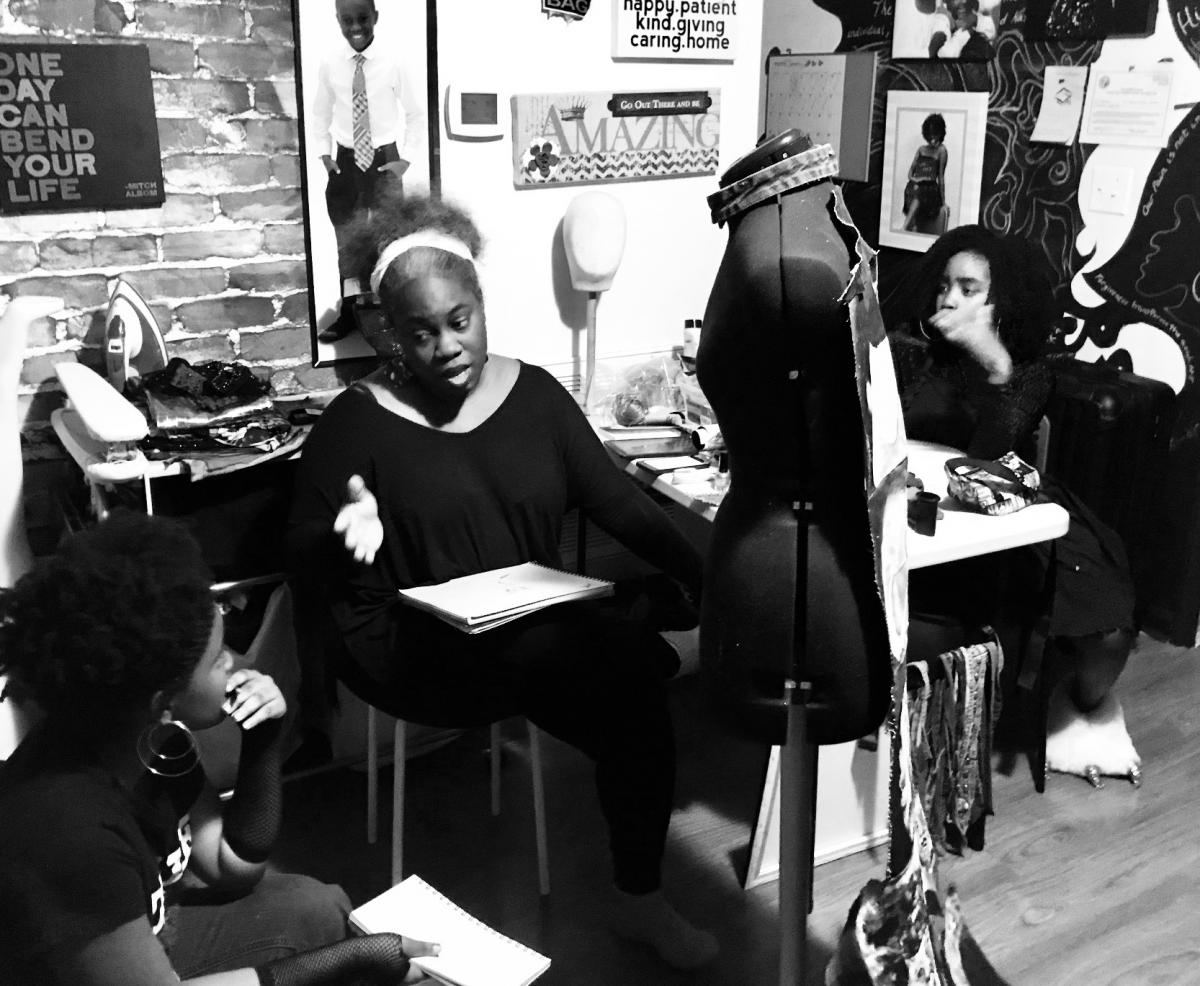 Then came the email from Flying Solo — a consortium of designers from around the world, based in New York — asking if No Punching Bag would fill in at this year's Paris Fashion Week: eight models, eight different looks on the runway in Paris. 
Arriving at a consensus about what those looks will entail is no easy task. But Fant's eldest daughter, Danielle, a college student studying fashion and design, says it's more than worth the effort.
"I'm so excited to show other people the ideas we have and to share a new message," she says. "The collection is going to be called 'Surviving Angel.' We plan to express my mom's story, and some people's story is whole lot of other people's story as well, you know, what they go through in life. And she's very empowering, and she inspires me. So, I will love to show people the story about her."
Angel Fant says her life's been a long journey, with many chapters, losses, and some wins. Given the cards she was dealt, Fant says she's played them as best as she could.
She's still recovering, but she adds, "I'm going to Paris."