Community Welcomes New Coffee Shop That 'Gives Everyone A Voice'
7:15am Jul 10, 2019
It's a busy weekday at Moji Coffee and More. Employee Matthew Kelly is working the cash register, only stopping to hand a latte to a customer. He's upbeat and serving the drinks with a smile. 
"I like the work cause I like to work with coffee," he says. 
This nonprofit cafe opened recently in downtown Winston-Salem with a special mission — it provides employment opportunities for people with intellectual and developmental disabilities. 
Executive Director Tim Flavin says he defines the word "Moji" as the jolt of joy you get when you make somebody happy. He got the idea after seeing a similar business in Wilmington. He says it provides meaningful, enriching jobs to more than 30 people with disabilities in the community.
"Many of the customers are interacting with people with different abilities for the first time. But here you're interacting and you're learning. It's the jolt of joy you get from being here," says Flavin.
Several local grants and donations have made this shop a reality. The Winston-Salem/Forsyth County School District is leasing the property to the cafe, which is attached to the Downtown School. The partnership will also provide employment opportunities to local high school students with disabilities.
Each "mojista" is paired with a qualified supervisor and trained to work in various roles. They're encouraged to work through problems, no matter how hard they may seem.
Madeline McGuire of Lewisville makes a fruit smoothie for a customer. She's shy and doesn't want to be interviewed. But her mom, Ceci McGuire, says she's seen her confidence soar in just a few short weeks.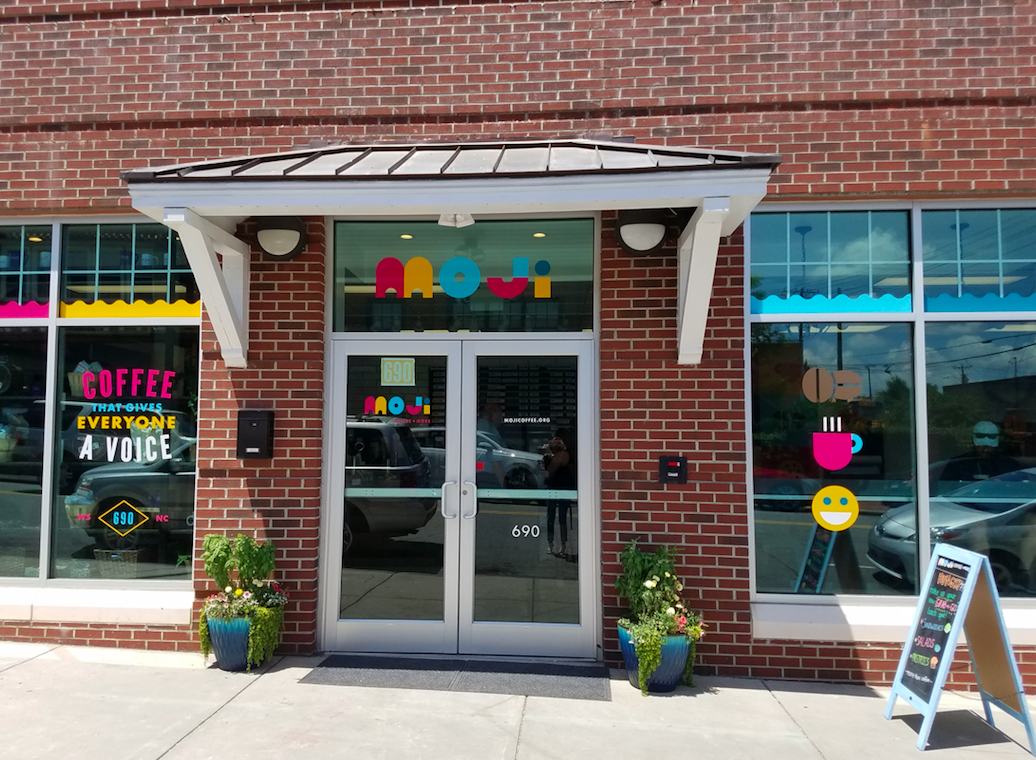 "My daughter has even been willing to make an attempt at running a register and when we first started looking into this she was so nervous about that," says Ceci McGuire. "And she didn't think she could take orders and she didn't think she could manage the money part, so just that confidence that she has a chance to try and she really can do it is just fabulous."
Erica Muller, 22, of Winston-Salem, says she's making a lot of friends on the job. She likes the inclusive environment and the chance to gain new skills.
"I think working at Moji is really special because the community has been really lacking for a job that accepts people who are different or of different mindsets. Because people are always like 'oh, you can go get a job, it's easy.' But not for people, somebody who has a disability," says Muller. "So to have a place that's so willing and open and accepting of that is such a huge step for the community."
Colorful artwork adorns the cafe walls, created by students and adults with disabilities and available for purchase by the public.
"It's unbelievable. The paintings, the pottery, the photography. It's beautiful," says Mary Baker from Greenville, Ohio. Her companion, Kristina Stout from Midway, says her brother-in-law has cerebral palsy and has struggled lately, so she wanted to show her support for the business. She says it's more than just a coffee shop.
"I feel like that's the forgotten population. I feel like they have a name to them and they are people like everyone else that just needs love and a purpose and that's what we are missing in the world and this organization is giving people a purpose," says Stout. "So why wouldn't you want to get a smile and purchase something that goes far beyond paying for a person's salary?"
Café leaders hope to grow their business model in the future and inspire more communities to develop job opportunities for people with different abilities. And, of course, creating that joy for customers one latte at a time.
*You can follow WFDD's Keri Brown on Twitter @kerib_news