With music venues and auditoriums closed for the foreseeable future, many artists have turned to virtual performances. But that makes collaboration tough. In the spirit of working together, the Winston-Salem Symphony created Etherbound, a new series of online performances.
It's launching with a video response to the COVID-19 pandemic called Quiet City, which brings together the worlds of film, dance, and music.
Composer Aaron Copland originally wrote "Quiet City" for a play in the 1930s. The show was a flop, but Copland reworked the original score as a standalone piece of music.
Winston-Salem Symphony Music Director Tim Redmond has a decades-spanning history with "Quiet City." Years ago he played it as an oboist, and it was the first piece he conducted while at university.
"There's something about Copland's music that's just so gorgeously, beautifully appealing," says Redmond. "I find it endlessly wonderful just to delve into that sound world. It's a sort of nostalgia for a time that never was."
As the film begins, you see small sections of the orchestra, wearing face coverings and spaced apart, playing on the stage of The Ramkat, a downtown Winston-Salem music venue that has been closed for months. The lights and the vibe are familiar, but it's different, lonelier, and the music hall is empty.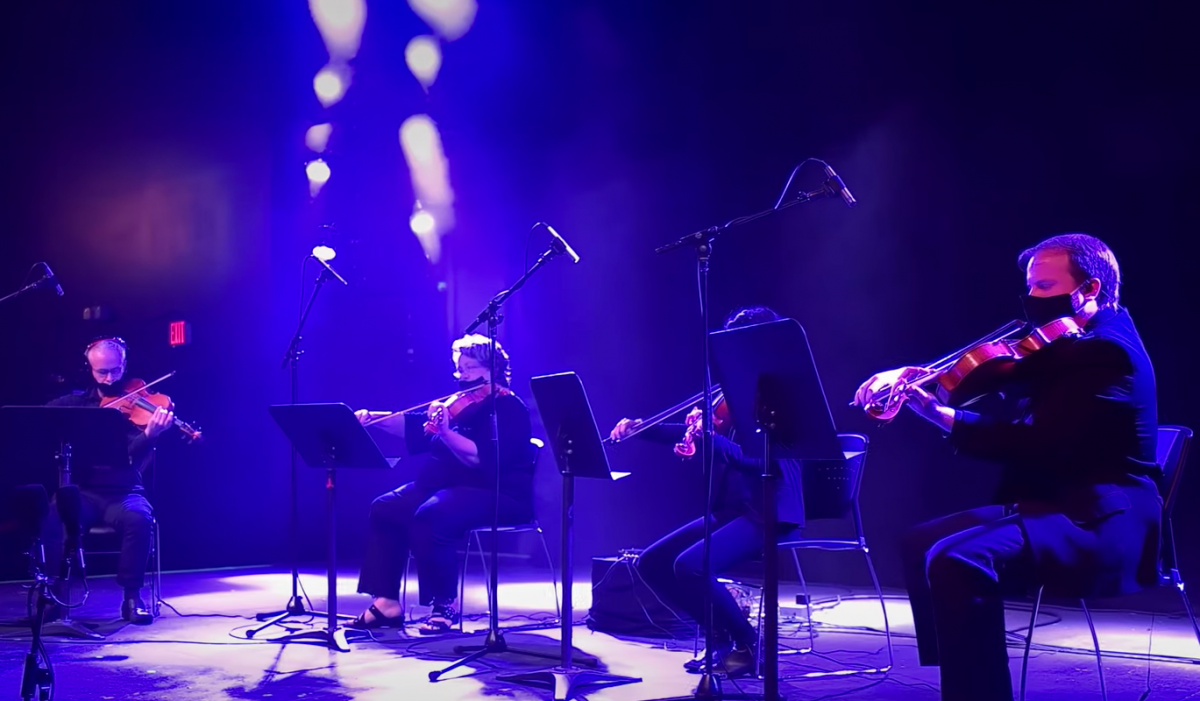 Amanda LaBrecque is a featured soloist in the symphony, playing the English horn.
"It's one of those pieces where it's really easy to get into your own head and get into your own personal, inner-emotions. I think the beginning was probably one of my favorites, just because it is so stark. I mean, you're just completely alone, as far as the English horn just coming out of a string chord essentially; it's just so naked," she says.
Musicians in a symphony are used to working together, feeding off each other's performance, and tuning to each other. But to follow social distancing rules, the players were kept separated until it was time to perform. 
LaBrecque says she waited backstage in the green room while she heard her colleagues playing, and it was strangely nerve-wracking and reminiscent of an orchestra audition.
"Which actually was really kind of hard to get out of my own head and be like, 'ok this isn't an audition, I have nothing to be nervous about, I don't know why my adrenaline is starting to pump,' you know?" says LaBrecque.
The music was being recorded in a truck outside of the venue and streamed to Tim Redmond in London, where he conducted the symphony via video conferencing.
"Anything collaborative like this has to have flex," he says. "There's got to be flow in how the thing is put together. That was key to this whole project. And one of the fascinating things about this is it highlights that in each of our disciplines, we have a slightly different approach to how we view the art that we make." 
The visual storyline of the work comes via a pair of dancers. They move through some iconic locations in Winston-Salem, mirroring and reacting to each other's movements, but never touching — almost like magnets of the same polarity, pushing together but always apart. This concept points to our inability to make physical contact with those outside of our most intimate circles during the coronavirus pandemic. 
The dancers, Gavin Stewart and Vanessa Owen, a married couple from Terpsicorps Theatre of Dance, improvised their movements. Heather Maloy is the company's artistic director.
"They are remarkable improvisational artists," Maloy says. "We liked this idea of having the two of them be close to each other with this connection, but lacking the ability to be able to touch, like so many of us. So that final moment where they touch was so beautiful."
Indeed, at the culmination of Quiet City, the dancers hands touch, ever so briefly, but the effect is electric. That moment was captured by John Jordan, who shot 17 hours of dance and music footage for a film that clocks in at just under ten minutes.
"My biggest challenge was filming all those different sections of the music in a way that was as cinematic as possible. I wanted it to be immersive, I wanted it to feel like you were in the room with those people, experiencing that as it was happening. I wanted to bring them to life," Jordan says.
According to Music Director Tim Redmond, when the early cuts of the project were shared with others, people had an emotional reaction to the work.
"Everybody who looked at it said they were blinking back tears at what it represented," he says. "And that's one of the things that art can do. Without the need for words, it reassures us, it challenges us, it soothes us, somehow it comforts us."
For the most up-to-date information on coronavirus in North Carolina, visit our Live Updates blog here. WFDD wants to hear your stories — connect with us and let us know what you're experiencing.
Support quality journalism, like the story above, with your gift right now.