Winston-Salem Native Brings Local Lessons To Broadway
1:24pm Jul 17, 2019
A Triad man is heading to Broadway, where he'll play multiple roles in the smash hit Hamilton. Jimmie "JJ" Jeter grew up in East Winston and credits much of his success to the local support he received along the way, like his education at UNC School of the Arts and North Carolina Black Repertory Company. 
But for Jeter, it all started in middle school with Authoring Action, a small nonprofit that trains young people in creative writing, filmmaking, and leadership. He recently attended a fundraiser for the organization, performing selections from Hamilton and some originals of his own.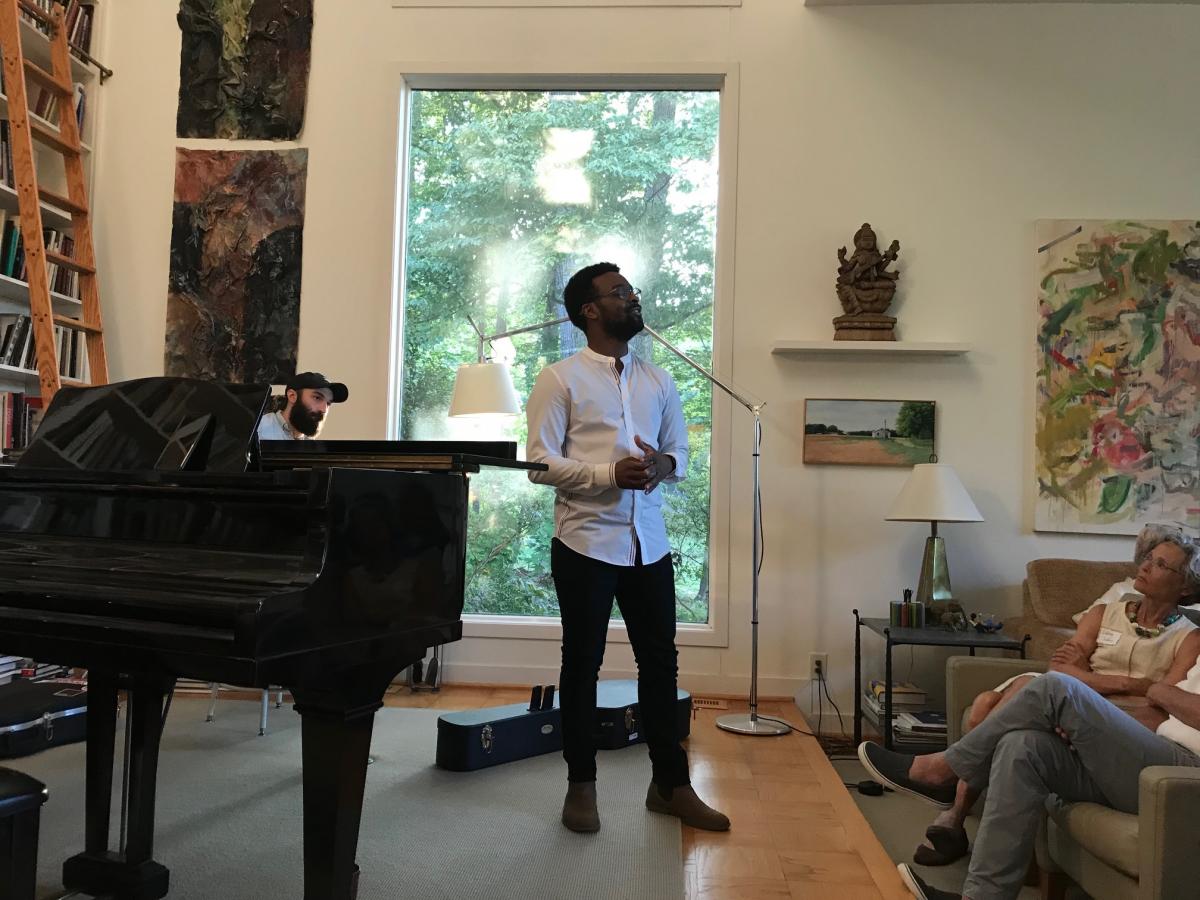 It was an intimate gathering of friends, supporters, and family with Jeter's mother sitting proudly in the front row, his sister, and infant niece sitting toward the rear. 
As his rehearsal was wrapping up, people began filing into the living room performance space. Jeter, seated at the piano bench, was brushing up on an original tune titled "Letter" with lyrics written by current Authoring Action assistant artistic director Willie Lavern Holmes.
Jeter tells WFDD's David Ford that even though he composed the song many years ago, it's still loaded with meaning for him today.  
Interview Highlights
On the importance of a song:
[Holmes] showed me this poem that he wrote about his mother who had passed. I don't know what it was, but something in me wanted to ask him if I could make a song out of it. And I think it's one of the first times someone had trusted me with such a precious gem. And we collaborated and made that song together. And that was like sort of the beginning  — for me at least in terms of sort of inspiring me — to really arrange;  to arrange things that I connected to and not just to arrange things for arranging sake, you know? So, that's sort of where that tune came from. It's stuck with me. It's one of those things you can never forget. 

I'm sort of self-taught on the piano. I started teaching myself when I was a senior at the School of the Arts because I was around pianos all the time for the first time ever. And that was actually one of the first songs I taught myself on the piano, "Letter." So, it sort of catapulted me to break out and write my own things now.
On the impact of Authoring Action on his life: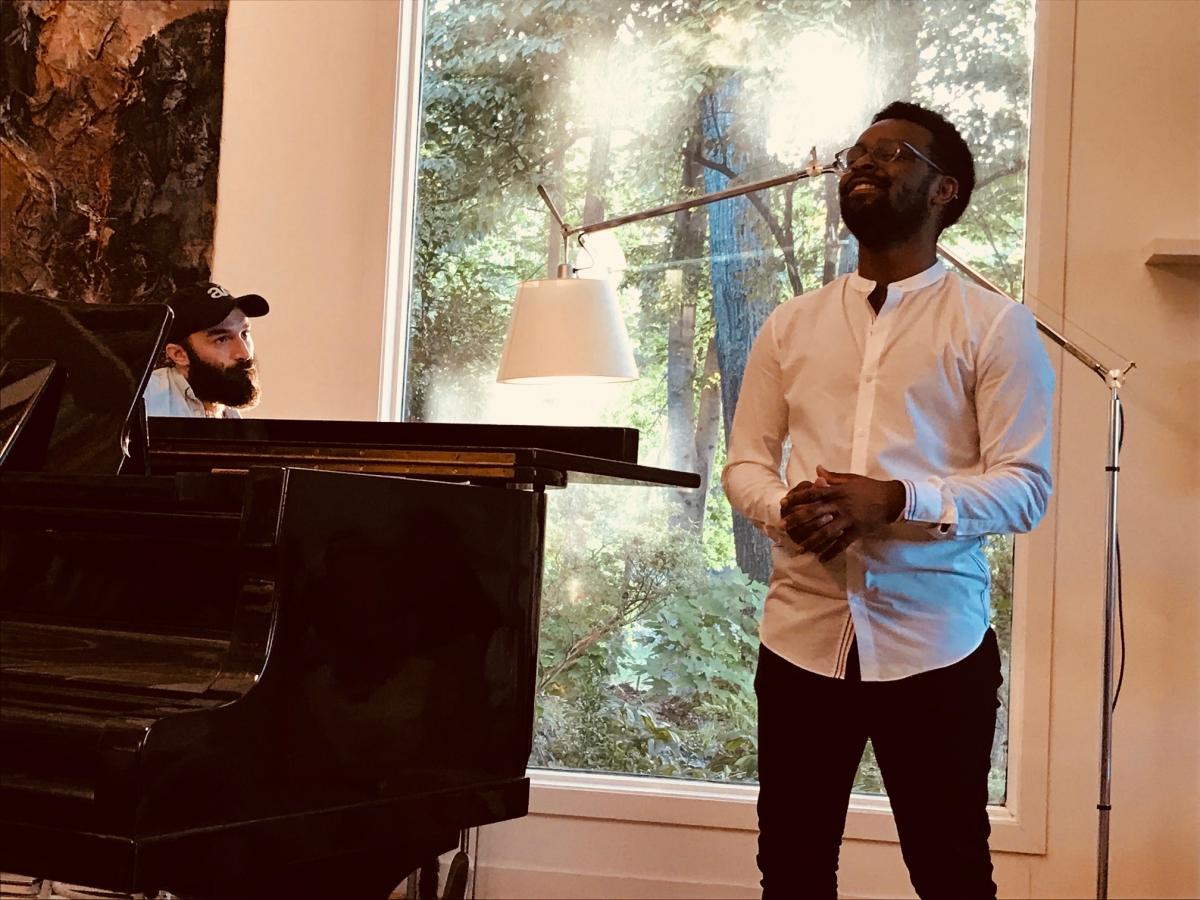 I think for the first time in my life ever, I was asked to have a point of view about the world. And it was so weird because if you are a part of our education system here in the United States, it's all about raising your hand and sort of asking permission to respond to things. And with Authoring Action it's about, "No, what do you feel about that?" and "What is your point of view?" and "How do you stand behind that fully?" — you know, even if it may not be the popular point of view — and "How can you use your words to articulate that?" So for me I've realized I have sort of a bit longer of an experience with that because I was asked at such an early age to create work always from that place. And I think it's helped me just as an actor, as a musician, [and] as a storyteller. It's just helped me even in helping someone else tell their story.
On teaching:
I've just finished teaching at the North Carolina School of the Arts Summer Program, and I was teaching acting. And there was something I realized maybe like the fourth day. I said, "Man, you know these kids are asking permission to make a choice, to make decisions." And we sort of had to make an agreement that before every class we said, "Look, we're going to spend these two hours making the craziest choices. I would rather you ask for forgiveness than permission." What we found was that once we were all on one accord, we were able to trust each other a bit at sort of a faster rate, and we were able to create some really cool moments for ourselves. And they're moments that I think these kids will be able to go home with in their own corners of the world. And I think if that had that impact, I can only imagine the impact that Authoring Action has had on the world now, you know giving students the freedom to have a point of view and what that does. It's special.