Over the last few decades, the United States' relationship with Iraq has been tense, to say the least.
But 6,000 miles away in Boone, N.C., bridges of understanding are being built in the world of academics. Recently, a group of six faculty and administrators from universities in Kurdistan, Iraq, met with their counterparts at Appalachian State University for leadership training. It was part of the U.S.-Iraq Higher Education Partnerships (HEP) Program, funded by the nonprofit International Research & Exchanges Board.
The Iraqi contingent came from the Erbil Technical Engineering College, Erbil Polytechnic University, Erbil Technology Institute and Sulaimani Polytechnic University. During their visit to App State, they learned from campus experts on a host of topics including curriculum, technology, and research, career and professional development.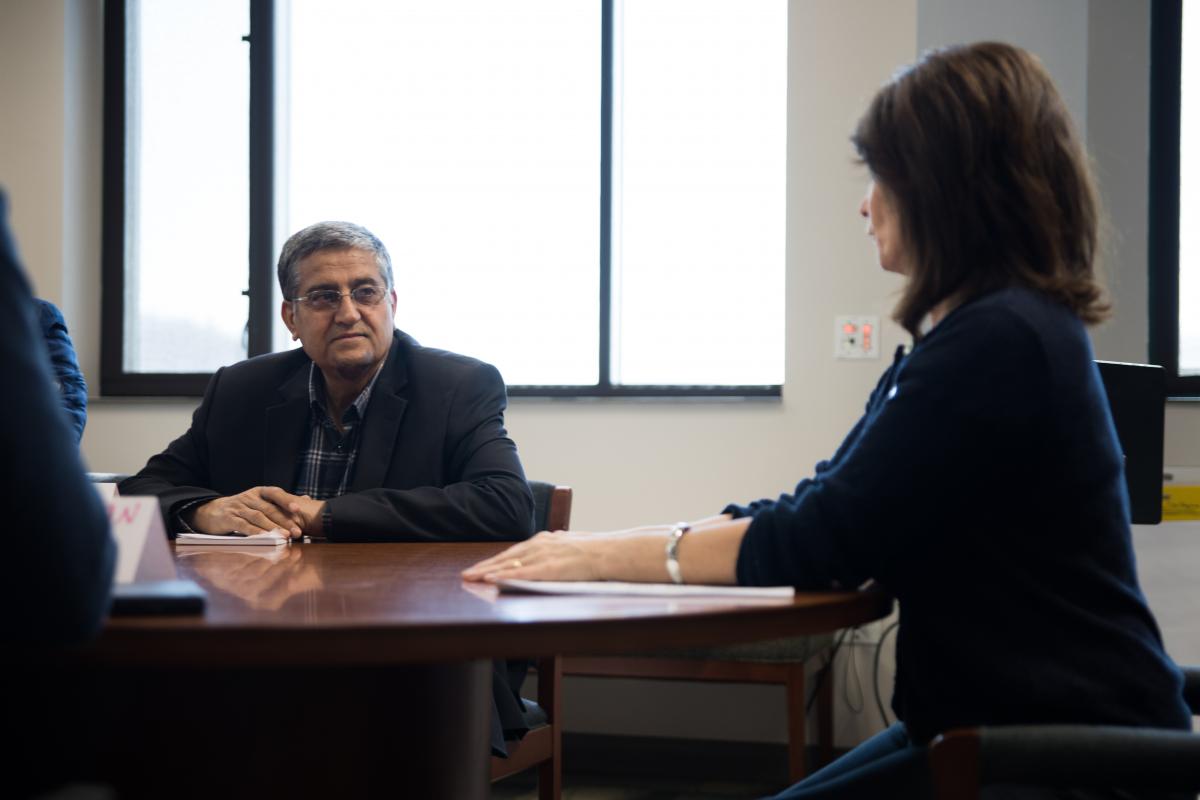 Associate professor and director of Appalachian's higher education program Vachel Miller says the week-long event was educational for everyone who participated. He spoke with WFDD's David Ford.
Interview Highlights
On the overall goal of this gathering:
We weren't trying to teach them a specific technique or a specific strategy. We had them meet with a lot of people across campus, really to get a new energy for change that they could bring back to Kurdistan, and feel some camaraderie with each other that they would take on their change work as a team, as allies with each other.

One of the legacies of a country that's undergone years of conflict is it can be very fractured and people can be often working against each other. And this enabled the group to come in and really find solidarity, and find energy to bring back and say, "OK. We've got a lot of positive ways we can work together now."
Which of the topics you covered seemed to resonate most with the Iraqi visitors?
For one week, a group of six faculty and administrators from universities in Kurdistan, Iraq, met with their counterparts at Appalachian State University. Photo credit: Marie Freeman.

They're really interested in professional development. They want to kind of retool their faculty and staff with new competencies, so they were really curious about how we do faculty learning communities, how we motivate and support professional development. And so we brought in all sorts of resources from across Appalachian: faculty development, technology integration, all the offices that support faculty and staff professional development.

They were excited by career development as well, the idea of we don't just wait until a student graduates to help them find a career. [We] link them up with a job. We begin talking with them from the first year about interests and aspirations. And they said, "Oh, that's a different approach" –working with students in career development from the beginning. They're also really eager to develop partnerships with local business and industry.
On looking at higher education through this lens of another culture:
On the one hand, everyone was surprised at how technologically savvy the Iraqis were coming here. Many of us carry assumptions that because of the war, because of all the problems they've faced, they may be behind. But they weren't behind. They showed up on campus the first morning, flipped out their cell phones, started saying, "What's your wireless password?" logged into our networks, and were communicating with their families in Kurdistan. They're very savvy.

However, they've struggled with a lot of economic difficulties in Kurdistan. The faculty and staff only get something like a third of their salary each month because the government doesn't have money to pay them, and they really struggle with doing new things because people may not show up or may go home early and naturally there's just not a lot of motivation if people aren't getting paid.
Many of the Iraqis in Kurdistan still carry scars from years of ethnic and religious conflicts against both the Saddam Hussein regime and later ISIS in nearby Mosul. At the closing ceremony, some shared stories from those dark times.
When we do these small things and when we connect with folks, it makes a difference. And they take back the sense of "You know, we're not alone in the world. The world hasn't forgotten us." And so, there's that human connection of people caring about each other and wishing each other well and wanting each other to succeed and [for] people who have been scarred by war. That's very meaningful.
(Ed.: This transcript has been lightly edited for clarity.)
Support quality journalism, like the story above, with your gift right now.