A recent report spotlighted Forsyth County for its poor air quality and raised a lot of questions. The study, called "Trouble in the Air," uses data collected by the Environmental Protection Agency through monitors in the state. It was then grouped by city. The report says Forsyth County had 107 high pollution days in 2018 — the most in the state.
Why the Triad's air is compromised.
First, let's look at the study. People like Minor Barnette, the director of Forsyth County's environmental department, aren't impressed. He says the results are misleading, adding that much larger cities like Charlotte had more days that exceeded the EPA's air quality standards for unhealthy levels.
"Once you get into code orange you are exceeding the standard. And so we had no exceedances and they did, so people were breathing higher levels of pollution there than here," he says. "But yet the way the study was carried out and reported gave us a dirtier ranking for air quality than an area that had more pollution than we did."
Barnette says the results were skewed because they're based on half of an area's monitors. There are only three in Forsyth County, all located near Winston-Salem's urban core, where Charlotte has seven monitors that are more spread out.
But Jamie Lockwood with Environment North Carolina defends the report and the methodology. She says even if the air doesn't exceed the EPA's standards, it doesn't mean it's healthy. Especially for those who have problems like asthma or have had a heart attack or stroke. The study took these moderate days into account.
"Our report isn't as much about ranking city to city and comparing them on air quality measures because you are going to get that variation based off of where air quality monitors are and how many a city has," she says. "But the trend that stays true is that across the entire state, we are experiencing air quality that's detrimental to human health, whether that's 19 days in Moorehead City or 107 days in Winston-Salem."
So, what accounts for all of these high pollution days?
According to the report, the primary source statewide is transportation. Electricity generation came in at a distant second place.
But locally, the source of pollution isn't as clear. Wake Forest University professor Christopher Zarzar analyzed the EPA's data and local sensors and found that the air quality in some rural and suburban areas was actually worse than in downtown Winston-Salem.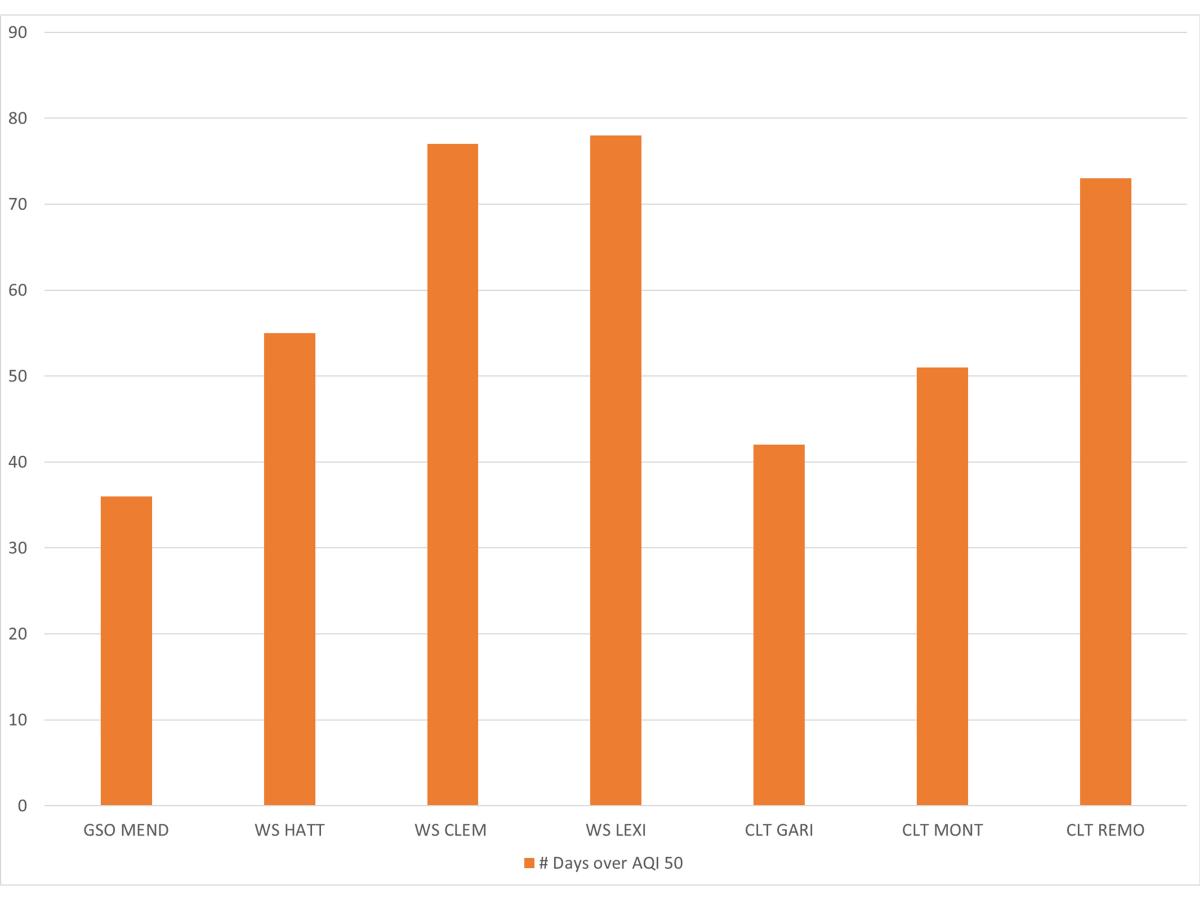 This graph shows the number of days in 2018 when the Air Quality Index was greater than 50 at some monitoring sites in the Triad. Image courtesy of Christopher Zarzar
"What we saw when you separate out the individual sensors, downtown particulate was pretty low and it was pretty high for Lexington and for Clemmons," he says.
"Clemmons and Lexington may be closer to agricultural operations, which we know [have] a combination of factors like traffic and exhaust from our vehicles but also the potential for livestock and ammonia turning into a gaseous state and also the application of more nitrogen and fertilizers can react with the volatile compounds coming from our car exhausts to create these fine particulate pollutants," adds Zarzar.
Researchers say more studies are needed to find out if other things like wind patterns from industrial sites like the Belews Creek Power Plant, or population growth are having an impact.
Location, climate change could also play a role.
National Weather Service meteorologist James Morrow says it could just be our terrain.
"The Triad region is a little more unique just in the fact that you are east from the Blue Ridge Mountains and while there is only a little bit of flow at the surface that flow tends to come from the Southwest or southerly direction and when that surface flow kind of moves toward the mountains it gets stuck there because that air isn't being forced over top the mountains," says Morrow. "There isn't a ton of mixing and any time you are not recycling that air it's going to end up potentially having worse and worse quality to it."
And climate change may also be a factor. Former EPA official Stan Meiburg says in 2018, the state had both drought conditions and hurricanes.
"With a changing climate you also get more extreme weather events and that can reach both issues of drought, which could increase the amount of particulate pollution in the air and create greater fire hazards and then also create the concomitant problem of these terrible torrential rains," says Meiburg, who's also the Director of the Graduate Department of Sustainability at Wake Forest University.
Despite all of this, most of the state, including Forsyth County, has seen ozone and particulate levels decrease over the past decade.
And now, we will have more data on our specific region's air. The State Division of Air Quality announced last week that daily forecasts will now be issued for all but a few of the state's 100 counties.
 *Follow WFDD's Keri Brown on Twitter @kerib_news
Support quality journalism, like the story above, with your gift right now.