There's an unusual exhibition going on at the Southeastern Center for Contemporary Art (SECCA) in Winston-Salem. The Future We Remember features twelve international artists and it builds bridges between past and present, art and science. Then it imagines what happens next.
The concept behind this show is difficult to wrap your head around. What objects from today will survive 1,000 years from now? The exhibit provokes pictures of the future of our world through what we leave behind. SECCA co-curators Cora Fisher and Sarah Higgins are inviting viewers to reach beyond the limits of their current reality to ponder that future world.
"I hope that viewers are left with a sense of wonder—at the universe and at our expressive role in it as humans. Speculating on the future allows us to see the present more clearly," says Fisher. 
A Walking Tour Of The Future We Remember
First up, a glimpse into what the next millennium reveals: garbage.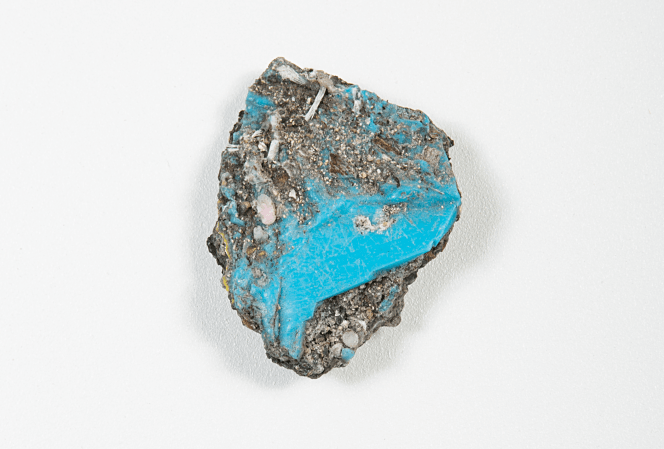 Rocks are neatly stacked in a single row. Each comprised of bits of wood, shells, and small pebbles bound tightly together. They're dressed up in swirls of hardened, smooth, turquoise-colored plastic waste, like a necklace at an artsy shop in Asheville.
It's called Plastiglomerate Samples by Kelly Jazvac. These stones, recently discovered in Hawaii, melded with plastic over time through lava flows and forest fires.
Co-curator Sarah Higgins says these stones helped guide them in their curation of the exhibition.  
"We found that whole idea of trash plastic entering into the geological record to be terrifying, but also really evocative of this idea that the future is about unlike things becoming one," says Higgins. 
Two Unlike Things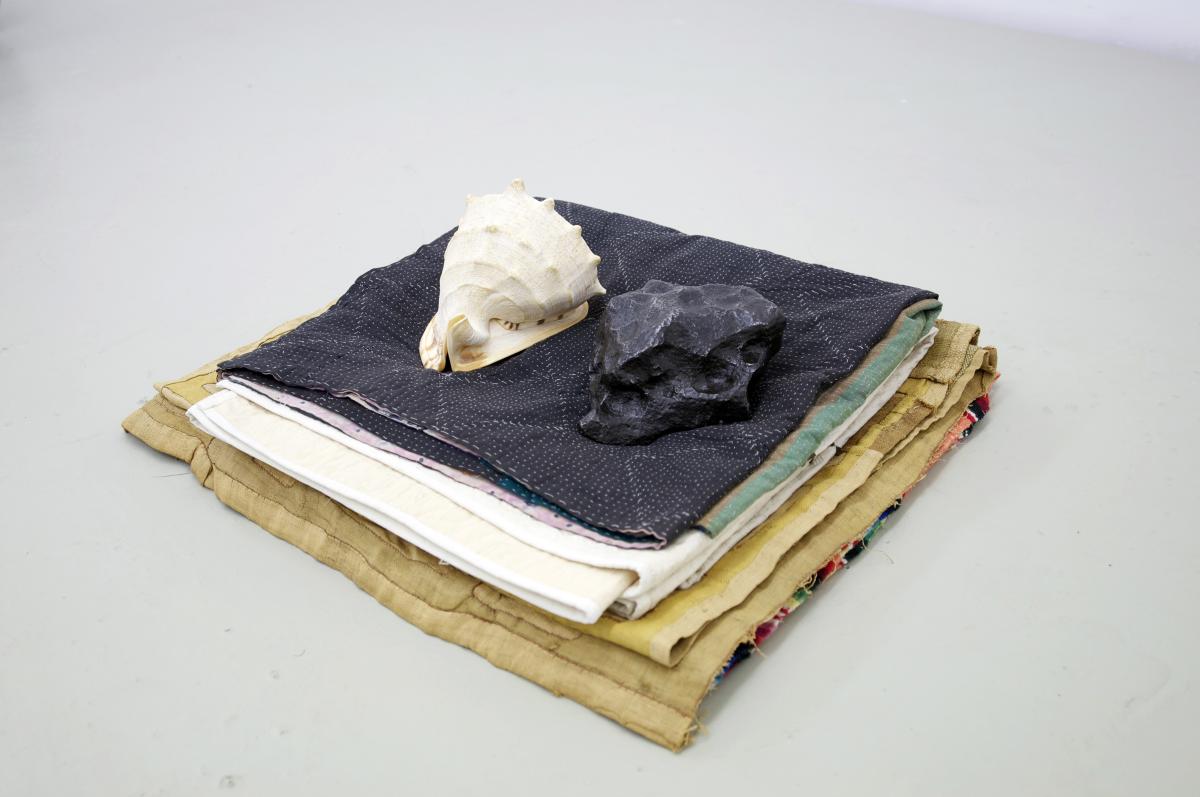 On a pile of handmade blankets a conch shell, delicate and white, sits next to an identically shaped object, black, otherworldly, and as old as the earth itself – a meteorite. This is 
The Diviner
by artist Michael Jones McKean.  
"The sense of time and scale that the two objects represent couldn't be more different," says curator Cora Fisher. "One is from formations of carbon and matter in outer space millions of years ago, and one is something that we would find in the ocean on planet Earth."
Art Inspired By Outer Space  
Artist Dario Robleto took his inspiration for The Pulse Armed With a Pen (An Unknown History of the Human Heartbeat) from NASA's Voyager probes. They were launched in the late 1970s to explore the outer planets of our solar system, and to maybe one day make contact with intelligent life.
The probes carried 12-inch golden phonograph records: time capsules, interstellar messages to any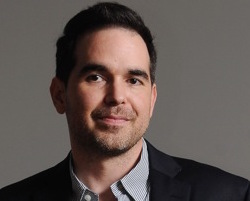 civilization that might recover them. The contents of this record were selected by a committee chaired by astrophysicist Carl Sagan.
"What's lost to that is that there's something incredibly special on board that is not widely known to the general public," says Robleto. "This incredible woman named Ann Druyan was the Creative Director of the Golden record, and while she was working on it with Carl Sagan, she fell in love with Carl."
The two were secretly engaged, and just three days before the Voyager launch, Druyan decided to record the electrical signals of her heart and brain waves and add them to the Golden Record.
"So, in the remote chance the Golden Record is ever found, in the grooves with sounds of thunder and rain and horses clomping on the ground, there is also this incredible recording of a 27-year-old woman's heart and brain in the throes of love."
The Pulse Armed With a Pen (An Unknown History of the Human Heartbeat) is a box set of custom cut, vinyl records and prints that traces 150 years of human heartbeats; from the earliest fetal heartbeat recorded in 1908, to Ann Druyan's compressed heartbeat and brainwaves, sailing beyond our solar system.
The artist then considers what's next with photographs of a valve-less mechanical heart, with no beat at all. For Robleto, the future could be an alien creature finding a recording of a heartbeat from a planet where a pulse no longer exists.
The Future We Remember will remain on exhibit through June at the Southeastern Center for Contemporary Art.
Support quality journalism, like the story above, with your gift right now.