The University of North Carolina School of the Arts in Winston-Salem is beginning a new chapter through a major fundraising campaign. UNCSA is the nation's first public arts conservatory. Since its founding in 1963, alumni from both the high school and university programs have been recognized as leaders in their respective art forms: American Ballet Theatre's Gillian Murphy, Golden Globe, Emmy, and Tony Award-winning actress Mary-Louise Parker, and Hamilton costume designer Paul Tazewell, to name a few.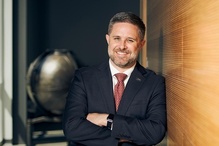 Interim Chancellor Brian Cole says, although it's grown significantly through the years, the institution itself has remained much the same since the doors were first opened over 50 years ago with a diverse and driven student body.
"There are lots of great schools around the country, and they're very expensive," says Cole. "This institution happened because the community wanted it to happen and because leaders across our state wanted it to happen in a public setting. There is more access to young artists, more access to talented minds so the future leaders of the creative industry can come here."
That's why, he says the biggest pillar of the school's campaign — some $25 million dollars — is for student scholarships. The other four pillars are faculty professorships and professional development, support for innovative initiatives, updating campus facilities, and community engagement.
Cole says extending the university's reach beyond campus has been a big priority for him long before he stepped in as interim chancellor. 
The impact of the arts on community, what it can do to build community, what it can do to impact the local economy I think is huge. There's already so many great things happening in our community in training in the arts — whether it's experiences for children, performative experience, or whether it's experience for adults, there's lots of different things happening — but in many cases these different things that are happening are a little too siloed off.  And there are lots of different initiatives just within music for example, but in many cases with a community this size, it's fragmented. And so, you're competing — if that's the right word — or you're using the same resources, and in many times it's the same spaces. One of the most important resources are the teachers that are out in the community working with students and helping them grow. In many cases, in lots of different smaller organizations that provide only part-time opportunities for the most talented teachers, it's hard to retain those teachers in our area. Most of these initiatives have the same supporters and donors. I think a lot of the community engagement part is going to be finding all those stakeholders and bringing them together, and doing even more by collaborating, and pooling our resources. It's the difference between having a lot of fantastic opportunities for young people or creating something transformative.
EDITOR'S NOTE: This transcript was lightly edited for clarity.
Support quality journalism, like the story above, with your gift right now.