Across the Triad, vigils were held Sunday night to show unity in the wake of violent protests in Charlottesville, Virginia. Hundreds of people of different backgrounds, and faiths came together peacefully in downtown Winston-Salem. The gathering was sponsored by the Young Democrats of Forsyth County, Forsyth County Teenage Republicans, and the Winston-Salem Urban League Young Professionals. The event was a demonstration against racism. WFDD's David Ford attended the "Winston-Salem Vigil for Unity", where he spoke with several of those in attendance.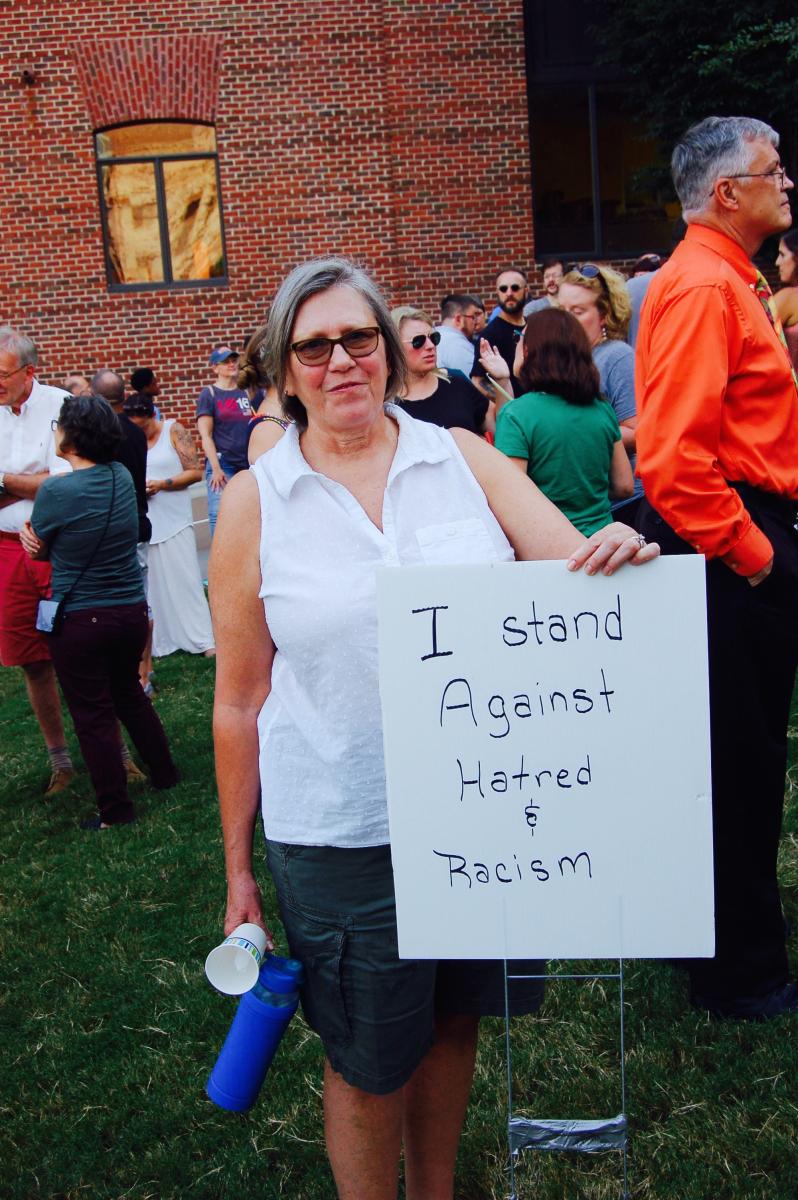 I'm hoping to send a statement that this sort of thing is unacceptable in our community, but especially across the United States. I mean every day that passes and it feels like there's more and more not just advocacy of open hatred, but endorsement of it. A rally of people in strong numbers I think sends a message that it's not acceptable here in Winston, and it's not acceptable in Boston, Atlanta, Seattle—wherever else they're holding these rallies at the same time. -- Sivri Mayhew
It's really good to see all of these people come together for this thing, and it proves that there are more of us that are consolidated than there are of us that are divided. Black people…we've dealt with this our whole lives. So, it's not that we're apathetic, but you do kind of say [groans] just more of the same. And we hope, and do what we can do to make it better, but we all have to do it together.  -- Rodney Davis
What's on my mind is the state of America. I stand up for equality and equity, and so, I want to be around people who have the same heart as I do, that want to build a unity and go forward and not continuously try to take us back to a time that was not good for America. -- Ronda Mays

The vigil, originally scheduled to take place in Artivity Park, was rescheduled for Merschel Plaza where people began gathering in the late afternoon. DAVID FORD/WFDD
There's a great deal of sadness about what's happening in our country—the rise of particularly violent forms of fascism, racism, anti-Jewish sentiments, anti-black sentiments. There's a great saying by Rabbi Hillel that says, 'In a place where people do not behave like human beings, your task is to show what it is to be a human being,' and that's why we're here. -- Andrew Ettin
Support quality journalism, like the story above, with your gift right now.