Triad Juneteenth Celebrations In The Shadows Of Pandemic And Police Brutality
1:55pm Jun 18, 2020
Galveston, Texas, was the sight of a famous speech given by Civil War Union General Gordon Granger in 1865. He stood on a balcony at a local villa and read aloud a message from President Abraham Lincoln: "The people of Texas are informed that all slaves are free." The annual national celebration to mark the occasion is known as Juneteenth. Individuals and groups in the Triad are marking the occasion during what has been a tumultuous year. 
Performance artist Josephus III is one of many performing in the Greensboro celebration. On Juneteenth, he and the Gate City Youth Slam Team he directs will share pieces that celebrate and honor triumph. But it almost didn't happen. 
He says the events of the past few weeks following the police killing of George Floyd left the teenagers he mentors feeling angry, frustrated, and tired.   
"They are not into — you know, right now — turning the other cheek and praying about it," says Josephus. "They want to do something. They want to see some movement, some change. They want to make some noise. And when being asked to write a poem about Juneteenth — a celebration — they quickly reminded me there was nothing to celebrate."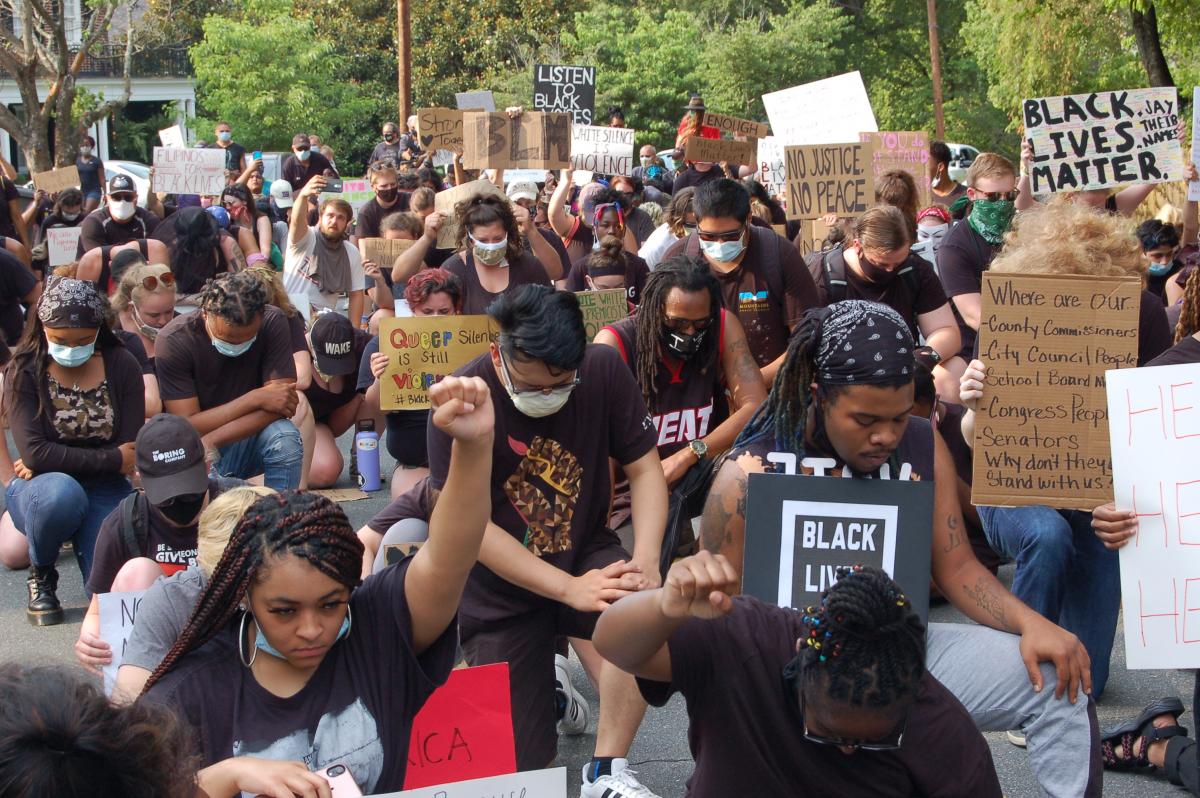 Josephus says he reminded them that Juneteenth is about the many people who sacrificed their lives so that they could enjoy the freedoms and friendships that they have today.
He says, "You know this was the first time in America that Black people had a taste of freedom at all, but it was the first small victory, you know, in a line of many more to come. But we cannot forget that moment, that first step, and how it affects where we are now."
He says it took some talking to and talking through, but today they're on the same page and will share their Poetry Project spoken word performance on Juneteenth.
Another current event that's weighing on the festival is COVID-19. The gathering restrictions and social distancing measures present an additional layer of complexity. Greensboro Chief Creative Economy Officer Ryan Deal says the city's here to help.
"We just saw an opportunity this summer to leverage our platforms to amplify those voices and those efforts to hopefully reach as broad an audience as possible," says Deal. 
There will be cooking segments, historical retrospectives, dance performances, and more, all streamed live from the City of Greensboro's Facebook page to its 23,000 followers. Deal says with all the newness of organizing virtual events this year, one thing remains steadfast: talented and committed artists with something powerful to say.
"And who I believe truthfully offer a salve for the times that we're living through," he says. "Whether we're talking about COVID-19, whether we're talking about race relations in America, it is an exciting time. It certainly comes with its own set of complexities, but this is why we do what we do."
Triad Cultural Arts founder Cheryl Harry grew up in Winston-Salem, and has organized Juneteenth celebrations here for nearly two decades. She says when the planning began early this year, news of coronavirus got them thinking early on about its potential impacts on the festival. 
"I had no idea that it would be at this level," says Harry. "But there was just something, there was a feeling about this Juneteenth, and we went with 'A New Season of Freedom' for the 155th anniversary of Juneteenth because we knew that there was going to be something different."
They were right. This year's festival is virtual with a celebration toolkit added to its website and Facebook page. There's a social media challenge to post pictures of family elders, suggestions on how to host a festival watch party, and Juneteenth recipes. And an online screening of Miss Juneteenth produced by Winston-Salem native Neil Creque Williams. He'll sit for a virtual interview afterward.
Looking at today's Black Lives Matter landscape, and protests driven by young people across the country, Harry says this Juneteenth presents a unique opportunity.  
"I am just in awe of the things that are happening now and [thank] God that I'm here to witness this," she says. "And what do I need to do? I'm here for a reason to push the movement further."
Harry says she believes Juneteenth is one way to do so — raising awareness about issues of justice and equality — and she hopes this year's celebration will be a launching pad and a rallying cry so the lives of those who've been lost will not have been lost in vain. 
For the most up-to-date information on coronavirus in North Carolina, visit our Live Updates blog here. WFDD wants to hear your stories — connect with us and let us know what you're experiencing.