Things To Know As NC Early Voting Begins
7:22am Feb 13, 2020
Expect lots of attention on North Carolina's elections this year, with many factors boosting interest. We're one of the few states with power split between the party dominating the legislature and another one the executive branch.
Margins were thin in 2016 and that's likely to be the case again this year. We're one of only six states where the presidency, governorship, and a U.S. Senate seat are up for grabs, and we're by far the most important of those — we have as many electoral votes as the other six states combined.
In 2016, just as new voting rules approved by the General Assembly were about to take place, we put together a voting guide to help people understand how the new laws would affect them once they got to the polls.
Court challenges and several new laws later, some confusion still abounds. Here are some things you need to know for 2020:
Photo ID
In recent North Carolina elections, no issue has been more confusing. There have been years of legal challenges and many misunderstandings about which IDs would be accepted. After all that, the Voter ID law was set to go into effect this year, starting with the March primary, which is part of Super Tuesday. At least for the primary, that's not going to happen. In December, a federal court sided with challengers to the law who argued it unfairly burdened certain groups of voters. 
This means the old rules are the status quo, and you won't need a picture ID to vote. In fact, you don't have to present an ID of ANY sort. During one-stop early voting and for the primary, all voters will have to do is give their name and address to precinct officials when it's time to cast their ballot. It's still felony fraud to provide false information claiming to be another voter.
It's unclear if the courts will find a way for photo ID in time for the November general election. North Carolina Attorney General Josh Stein has filed paperwork indicating he plans to appeal the court's decision.
Voter Intimidation
For the last several cycles, there have been fears of voter intimidation at the polls. As recently as 2018, a Franklin County poll worker was removed amid charges of intimidation. That's probably less likely to happen during a primary. But the contentious nature of this year's election could potentially bring confrontations. Voting improprieties of any kind, including intimidation, can be reported to the NC Board of Elections.  
Keep in mind that any report submitted to the Board of Elections is a public record.
Intimidation is also a concern among many voting rights organizations. Democracy North Carolina trains volunteers to be poll monitors to safeguard people's right to vote free of interference. They often have a ground-level view of what is happening at local precincts.
Another concern is photography at the polls. The hyper-partisan nature of the election combined with easy access to photography through cell phones and other mobile devices presents a certain risk.
So here are the rules: The counties are required to establish a 50-foot buffer zone to protect the privacy of voters in the polling places. Photographs of voters casting their votes are not allowed. Photos of voters inside the buffer zone are allowed only with the permission of the voter and the precinct judge. It's illegal to photograph a marked ballot. 
Election Machines
Election security is a key concern in this election. It's not disputed that Russia attempted to interfere in the 2016 election in a variety of ways. They will try again this year, and they're likely to be joined by attempts from China and Iran as well.
Republicans in the U.S. Senate have been reluctant to move forward measures that would boost cybersecurity. Their argument is that the federal government shouldn't get involved in overseeing elections, which are under the purview of state governments. Several states have replied that they lack the staff and expertise to handle sophisticated cyberattacks.
North Carolina allows counties to choose from a certain number of approved voting machines, which creates a crazy quilt of usage across the state. In the WFDD coverage area, three different types of machines will be in use on Election Day — all come with their own risks and benefits.
The map below from the General Assembly shows which machines will be in use on Election Day by county: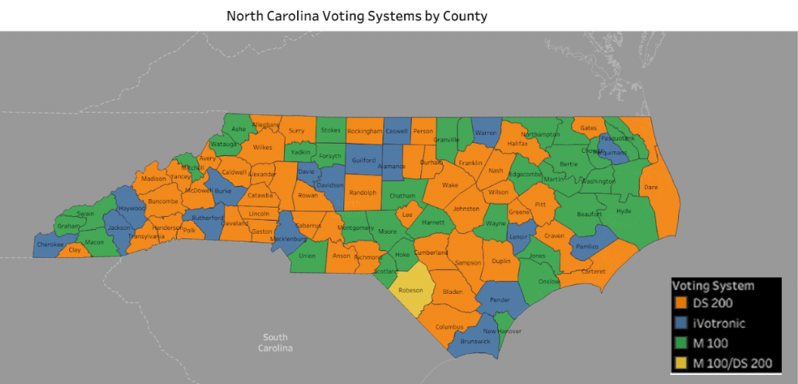 Key Races
Again, this is a big year with an unusually full slate of races. Beyond the presidential race, which is getting constant coverage, the senate race is certainly very interesting. Incumbent Republican Thom Tillis has not polled well — he was in the low 30s in a just-released High Point University survey — and Democrats consider him vulnerable. The good news for him is that his highest-profile primary challenger decided not to take him on.
For the Democrats, polls show a two-person race between Lexington's Cal Cunningham and state Sen. Erica Smith. The primary has been pretty low-profile but heated up when a pro-Smith ad began running. Smith didn't pay for it and says it was put together by a GOP-leaning PAC. She's disavowed it and Democrats have complained about GOP-minded groups meddling in their primary. The upshot of it is Cunningham may have to spend money to counter the ad, which obviously would leave less money for the general election fight should he prevail in the primary.
New Maps
Democrats in the urban areas of Guilford and High Point haven't had a representative in Congress since the former 12th District was moved to the Charlotte area. The new Congressional map likely changes that. The 6th District should favor Democrats and there's a good-sized field of candidates seeking the nomination. That includes Kathy Manning, who made an unsuccessful run against Ted Budd in the former 13th district. 
Also, many listeners used to having Virginia Foxx on the ballot won't be seeing her name. The district is now from the Virginia to the South Carolina borders, with Wilkes being the closest county to Winston-Salem. So it's a much more western district than it had ever been since she was first elected in 2004.
A lot of state legislative boundaries have also changed, and if you're unsure of who will be on the ballot this time it's probably a good idea to check out the sample ballots in the counties you vote in to familiarize yourself with the candidates.