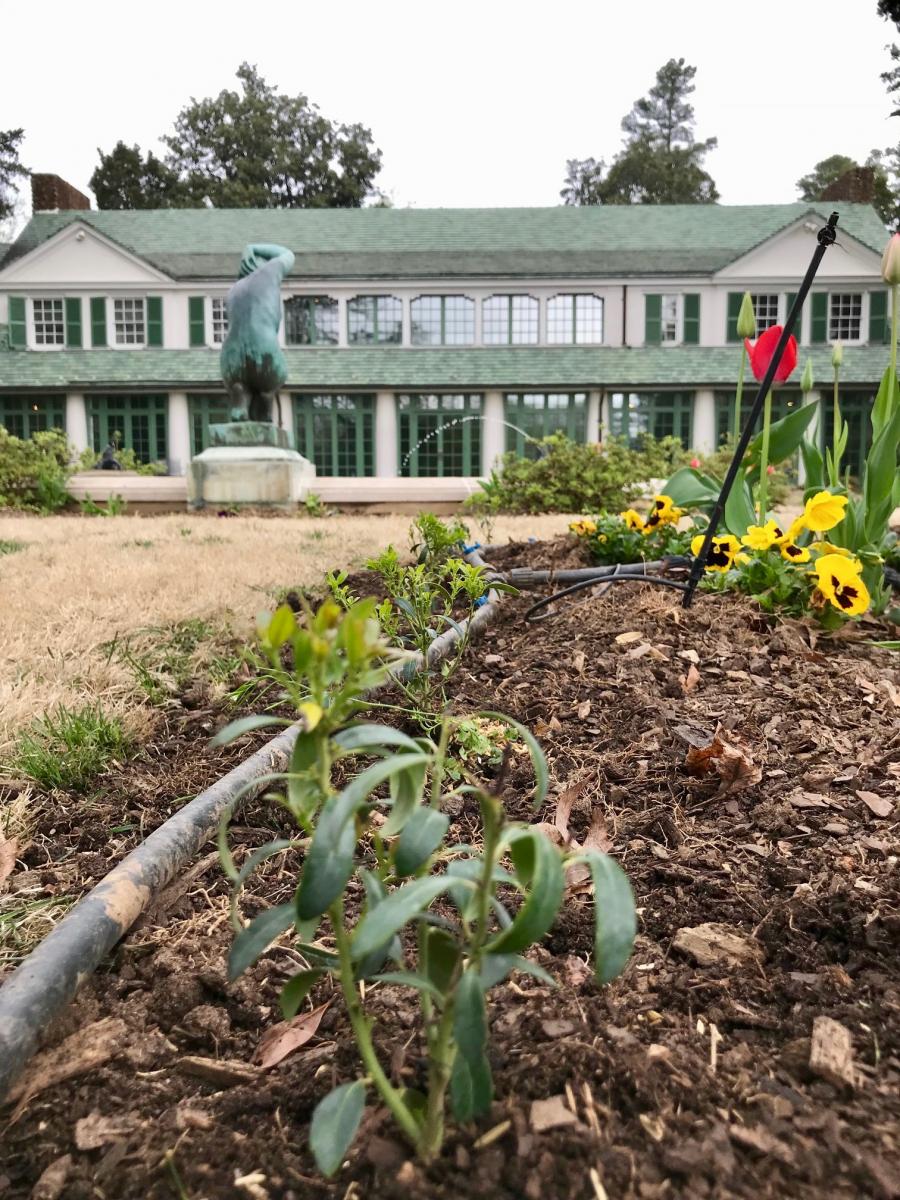 Boxwoods are not long for North Carolina. The slow-growing evergreen shrubs and small trees are facing the deadly boxwood blight that arrived here roughly a decade ago.
Dozens of nurseries throughout the state have joined the Department of Agriculture's compliance program with quarantines and inspections. But one high profile garden in the Triad is saying "bye-bye" boxwoods, and "hello" Gem Box Inkberry holly. The hope is to provide a case study for boxwood replacements for other historic landscapes across the country. 
From a distance on this overcast morning, the front court of Reynolda House Museum of American Art's south façade looks much as it did nearly a century ago. But walking up the sloping lawn approaching the bungalow's southern entrance, something is different.
About a dozen people wielding garden shovels have gathered here, each hovering over small holes in the ground. And the boxwoods that once called this place home, which provided critical design features off-and-on for decades, are gone. 
"The boxwoods that we had before were infected with the blight," says Reynolda House gardener Karl Erik. "The leaves will start turning brown and sometimes [there are] black spots on the leaves and it starts to look like it's dying. Once a boxwood is infected with blight, it affects the soil. And you really shouldn't put another boxwood in its place without removing the dirt. It's all contaminated."
The invasive disease first reared its ugly head in the U.K. in the 90s, quickly dispersed throughout Asia, Europe, North America, and New Zealand arriving here in North Carolina in 2011. Erik says the blight disease continues to spread within the nursery trade and in landscapes.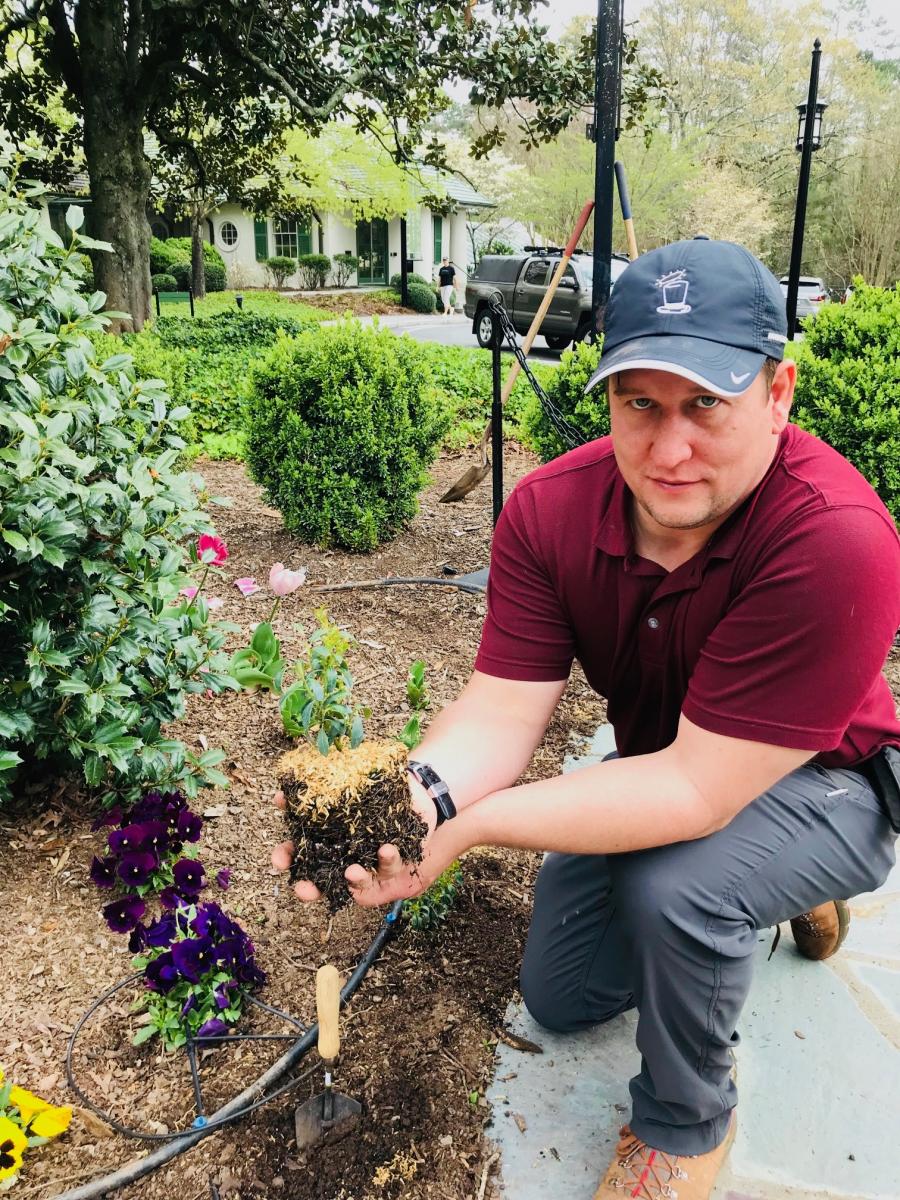 "Blight is very contagious, and it's been going around the area, and we're trying to look for a new replacement that's cutting edge so that hopefully other people – home owners, businesses – could also be a model for them to follow."
That model may just be the Gem Box Inkberry holly.
Looking on from the front fountain is Reynolda Gardens Director Jon Roethling. He's surrounded by newly transplanted shrubs. The need to replace boxwoods with a new plant was obvious, he says. The challenge was to find something that would create the same look and feel, but not be susceptible to disease. The Gem Box Inkberry holly plant filled all of those holes and more. 
"And I was like, wouldn't this be a fantastic backdrop to showcase, you know, here's a working alternative to boxwoods, front and center?" says Roethling. "It dovetails perfectly with what Reynolda was in terms of Katharine Reynolds, promoting new information [and] getting it out to the public. It was kind of the perfect storm of, yeah, we've unfortunately got this disease, but let's make the best out of it."
Reynolda's gardeners were joined in today's transplanting effort by a group of volunteers, like Steve Handly. The Winston-Salem transplant arrived here six years ago after retiring from the National Park service.
"Oh, I love the place," says Handly. "It's beautiful. Every time we have visitors we bring them down to this area of the city."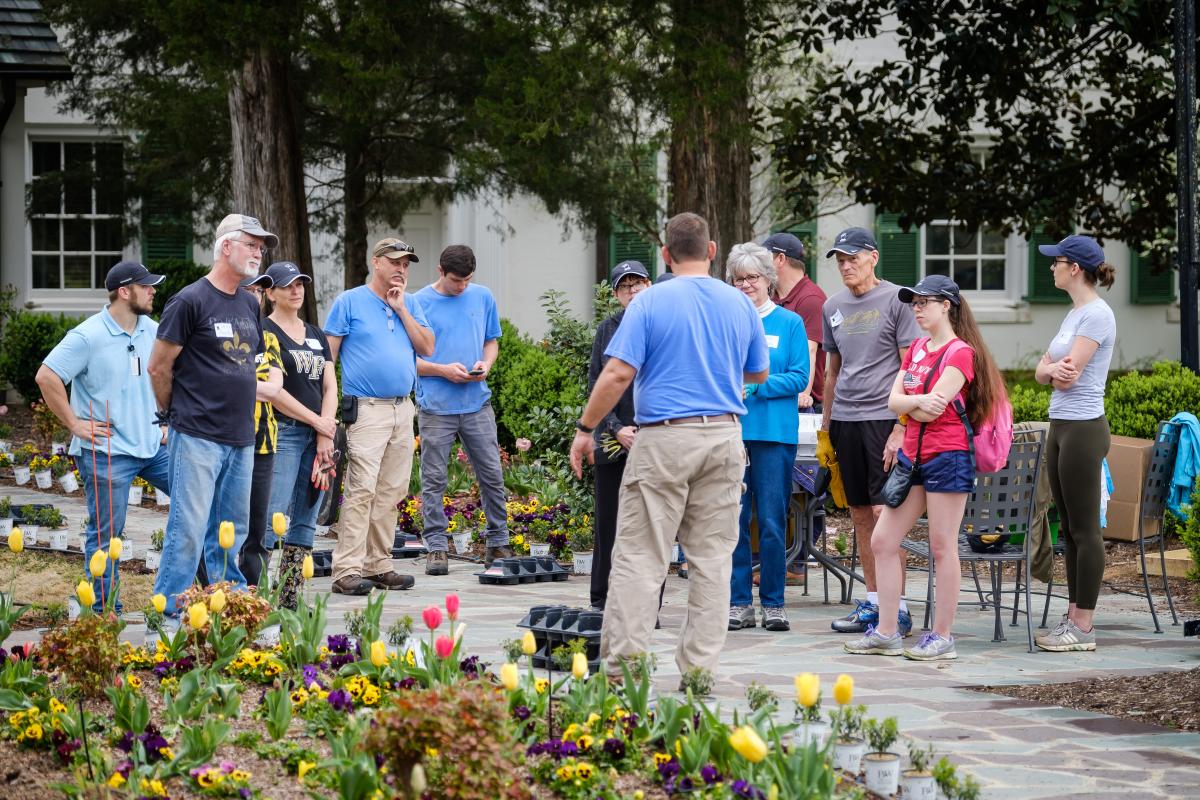 He says it's smart to seek out a more disease resistant plant and he's glad to do the work. He scans the scene of 300 six-inch holly plants where the boxwoods once stood. But he and his wife are also looking to leave their mark on their newly adopted community.
"We can come back here next year and look at these boxwoods and say, 'I planted those.' We can come back here ten years from now with our children and say, 'That looks that way because we put those in the ground.' It never stops giving back."
The master gardeners at Reynolda House are giving back too. Their hope is that the new plants become a case study for boxwood replacements in other historic landscapes across the country.
Support quality journalism, like the story above, with your gift right now.