Protesters in Winston-Salem ended their 49-day occupation of downtown's Bailey Park this week.
Their demands were met following weeks of coordinated demonstrations including one that took place last month outside the Forsyth County Hall of Justice in Winston-Salem. It marked the release of video footage that depicts the moments before John Neville's death. Five detention officers and an on-call nurse face charges including involuntary manslaughter.
Among the crowd of roughly 50 people were family members, ordinary citizens, and members of local activist organizations like Triad Abolition Project and Occupy Winston-Salem. Brittany Battle with Triad Abolition Project says although she's participated in activism work in the past, negotiating an end to the prone restraint method depicted in the video was a real education.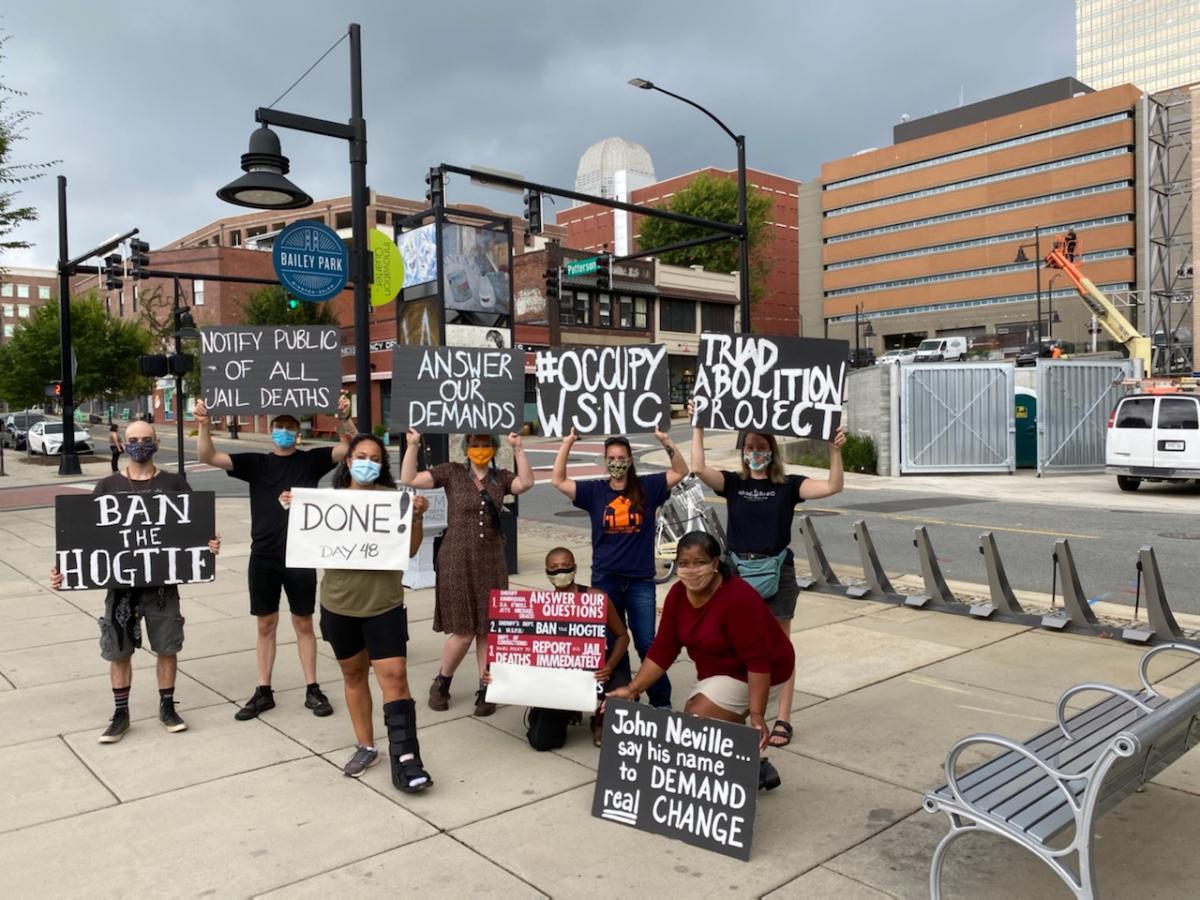 "We never imagined that it would take this long to get these demands met," says Battle. "Just fully understanding the power of persistence, but also I'd never imagined the community building that would take place down at base camp with all the occupiers. I mean, it brought most of us to tears thinking that we want to be with each other every day going forward."
Co-founder Bailey Pittenger agrees. She says watching everyone build stamina during the long occupation — treating the movement like a marathon as opposed to simply making demands and posting them on social media — was key to their success.
"Being seen by anyone passing by, having conversations with community members or people coming in from out of town and asking questions about what we were doing, I could just tell a difference was really made by being present," says Pittenger. "And kind of ignoring what exhaustion is — like addressing exhaustion, but just keeping going."
It took seven weeks to finalize agreements with the Forsyth County Sheriff's Office, but in the end, several major actions regarding use of force were taken: banning the restraint method that led to the jail-related death of John Neville last December, public notification of inmate deaths in the Forsyth County Jail, and mandatory administrative leave for deputies directly involved with the serious injury or death of someone in the custody of the sheriff's office.
Forsyth County Sheriff Bobby Kimbrough didn't respond for comment by this story's deadline. 
Wake Forest University law professor Mark Rabil says taken all together, the new resolution is a remarkable achievement.
"I have very little expectation that the United States Supreme Court would make the changes that have been made here as a result of 49 days of direct action by the protesters in downtown Winston-Salem," says Rabil. "And so that's just not going to happen. It's also not going to happen that quickly in the North Carolina state legislature. But now we have an example of direct action, in Forsyth County, which will trickle up."
People in Raleigh may soon be the next beneficiaries. Rabil says the governor's Task Force for Racial Equity in Criminal Justice is monitoring local law enforcement agencies and their use of force policies as it crafts its own recommendations. He adds that Sheriff Kimbrough's agreement to abolish the bent leg prone restraint in jails and in the field could well influence future state statutes.
"So, these protesters have not only probably saved a lot of lives over the next decades in Forsyth County, but they're also setting an example for our legislature and ultimately for the state and federal courts to follow," he says. "So, this is where true democracy is actually taking place is with the peaceful protesters here."
For Triad Abolition Project members and others, the work continues. On the docket: terminating the contract of Forsyth County Detention Center's health care provider Well Path — whose employee faces involuntary manslaughter charges following Neville's death — and educating voters on the recent local efforts to criminalize peaceful protesters. 
Support quality journalism, like the story above, with your gift right now.