Partnership For Prosperity Gathers Feedback In Winston-Salem
4:17pm Apr 04, 2019
A new nonprofit initiative in Winston-Salem is setting its sights on tackling local inequality. Partnership for Prosperity will act on dozens of recommendations put forth by the now defunct Poverty Thought Force that was first formed in 2015 to find solutions for reducing poverty.  
The new group will be gathering public input during a series of listening sessions this month. WFDD's David Ford attended Monday's session, and afterwards he spoke with two of the key players in this initiative: Community Engagement Associate Chanel Nestor and Executive Director John Railey. 
Nestor is a Winston-Salem native who grew up in one of the city's oldest African-American neighborhoods: Happy Hill. She's currently an adjunct lecturer of Sociology at N.C. A&T State University. Railey is the former editorial page editor of the Winston-Salem Journal.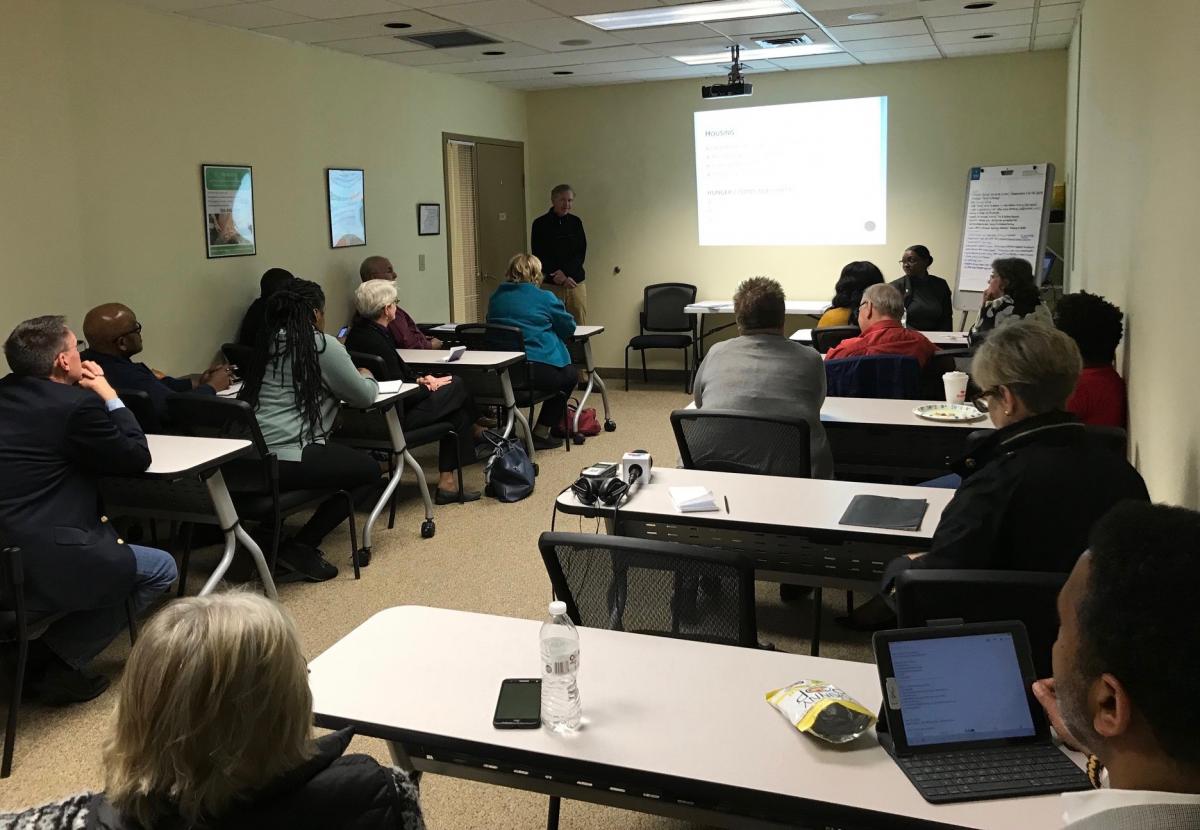 Interview Highlights
Before your work with Partnership for Prosperity began, what was your assessment of the landscape here in Winston-Salem in terms of equity? 
CN: I felt that certain communities have more access than others, especially if you're thinking about southern or eastern Winston-Salem. There's oftentimes a lack of access in those areas, but I don't feel necessarily that they're low-resource areas. I do feel like there's low access — knowing where to go, knowing who to talk to and how to make things happen. I think that that's where that lack lies. I'm hoping to get as many organizations involved as possible, so my role in this is to be that community stakeholder identifier for this program and this partnership, identifying the people, identifying the community leaders here in Winston-Salem and bringing everybody to the table. 
You've also dealt extensively with home ownership issues. This city has one of the highest eviction rates in the country. What do you see as the biggest contributor to this problem?
CN: I think one of the biggest things is the lack of financial management and learning that very early. Some school systems don't put that as a key. I know I went to elementary school — Vienna Elementary School — and I remember learning about financial management and check balances and these things, and some students didn't get the access. I think it starts very young as far as how to manage your finances and prioritizing within your family as well. I think that that's the number one thing in my opinion. I also think about knowing about the available resources here in the community. There [is] a lot of assistance available for rental housing and in making sure that you know you can create a stable home and have the finances that you need. There are resources available. It's just knowing where to go and how to maneuver those systems as well.
On the mission of Partnership for Prosperity:
JR: We are a work in progress. I mean, the partnership is Chanel Nestor, the community engagement associate, and myself. But we want that partnership to expand to include many members of the community working with us. That's what we mean by partnership. By the same token we're like building the plane as we're flying it. This is all new stuff. But what we do know as a core value is we want to build that from the listening sessions and from the original Thought Force report, informed by the listening sessions — freshened by them — and then come up with an action plan that will be defined by data and goals. And that's where we're going with it. As Martin [Luther] King said when he gave his Nobel Prize speech in 1964 ... There's nothing new about poverty. But the difference is now we have the resources to fight it. And I think that's definitely true of Winston-Salem/Forsyth County. The trick is to help coordinate that fight and to bring all the resources to bear and to bring down some more barriers that are blocking people from those resources. 
On what Railey's learned so far: 
JR: It's all about respect, and words are about respect, and instead of saying 'poor neighborhoods' or 'poor people,' you know, there are people of 'low resources' because it's the more correct term and not in a politically correct way but in a way that's the right way. Because in so many cases these people have more talent than a lot of people--maybe most people who have better resources--but they lack the resources. So that's why the language is so apt. And as we saw, it's all about that what we really want to do — and it's a journey — but we really want to lead this with the people that are in the low-resource neighborhoods. And if we're not doing that then it's not worth doing because for too long they've been told what to do from on high. And it hasn't worked. So we want to be there with them. We want to align with them in the fight. 
You'll find a link to future Partnership for Prosperity Listening Sessions in the month of April here.