At the historic Millennium Center in Winston-Salem, the first flight of a wine competition winds down in an enormous, sun-drenched lobby. The building was the City of Winston Post Office back in 1905, but today, seated at long tables covered in white linens beneath towering 15-foot arched windows, there are seven wine connoisseurs, quietly reflecting on what they've just sampled.
After roughly two hours of judging, officials stop by to collect the used crystal wine glasses; unceremoniously dumping their contents into plastic spittoons. They're making way for the next flight. But a few sommeliers linger for final assessments, slurping and spitting as they go.
Nearly 3 dozen vineyards competed in this North Carolina Fine Wines Society 2019 Showcase, which includes vineyards from across the state with more than 100 different wines vying for gold medals. Some of the region's most respected sommeliers traveled to Winston-Salem to see, smell, sip, and ponder North Carolina's bounty. 
Before places like California, Washington and Oregon dominated the American wine market, the Tar Heel State was number one. That was back in the 1800s. Then the Civil War, and later Prohibition, put an end to its reign. Grapes were out, and tobacco was king.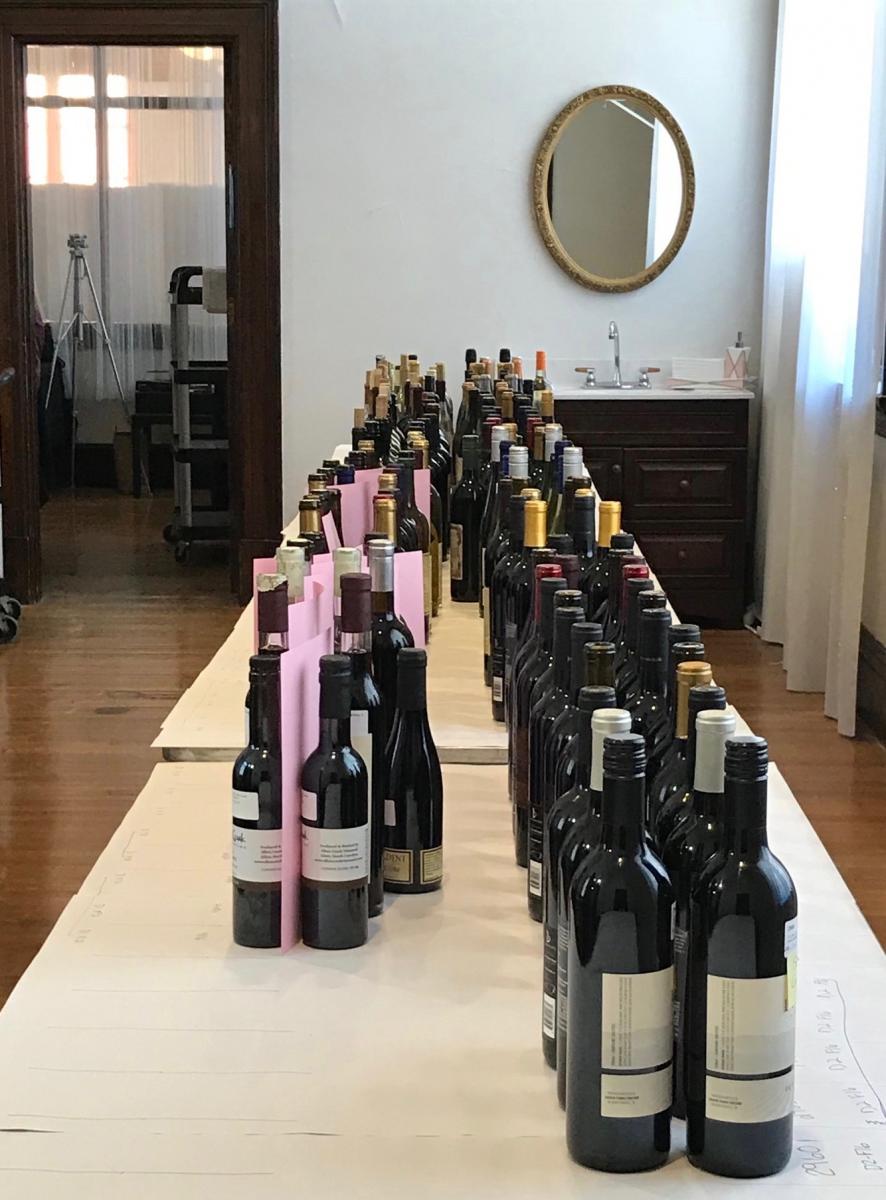 But over the past 20 years, things have changed, fast, says North Carolina Fine Wine Society Treasurer Cathy McLaughlin.
"We've got grapes growing all the way down at the coast, all the way out to the mountains," says McLaughlin. "And so, in each location you've got different terroirs, you've got different climates, and that just lends itself to North Carolina being able to produce a huge variety of different varietals."
The quality of the wines has grown, too. McLaughlin says, taken altogether, it was about time to let folks know what's going on in their own backyard.
Step one: create a high-profile wine competition in North Carolina where the grapes are grown and the wine is made. And McLaughlin's non-profit promotes all of them: from Spanish albariños to petit verdots, and cabernets to merlots. It also funds scholarships for students pursuing wine-related careers.
Those opportunities are expanding in North Carolina. The state recently cracked the nation's Top Ten list for both number of wineries and cases produced annually.
Inez Ribustello was the wine buyer for the largest grossing restaurant in North America – the renowned World Trade Center restaurant, Windows on the World. She says the quality of North Carolina wines may vary, but not her method for judging them.
First comes the visual element: clear versus hazy, and opaque versus transparent.
"It tells you a little bit about the grape that the wine was made with," says Ribustello. "It also tells you about age; could tell you about oxidation in case there's any oxidation happening."
Next, the aroma: does the wine smell corked, or heat damaged?
She says, "After you make sure that the wine is sound, you're trying to pick apart the different fruit flavors. And then of course the tertiary flavors which are earth, mushrooms, trying to see the grape that the wine is made from — or grapes."
Ribustello says identifying the aging method — metal versus oak barrels — comes easily enough, but once the nutty, buttery, coconut or dill flavor reveals oak, which kind of oak? Is it French oak? American? Slovenian? And finally comes taste.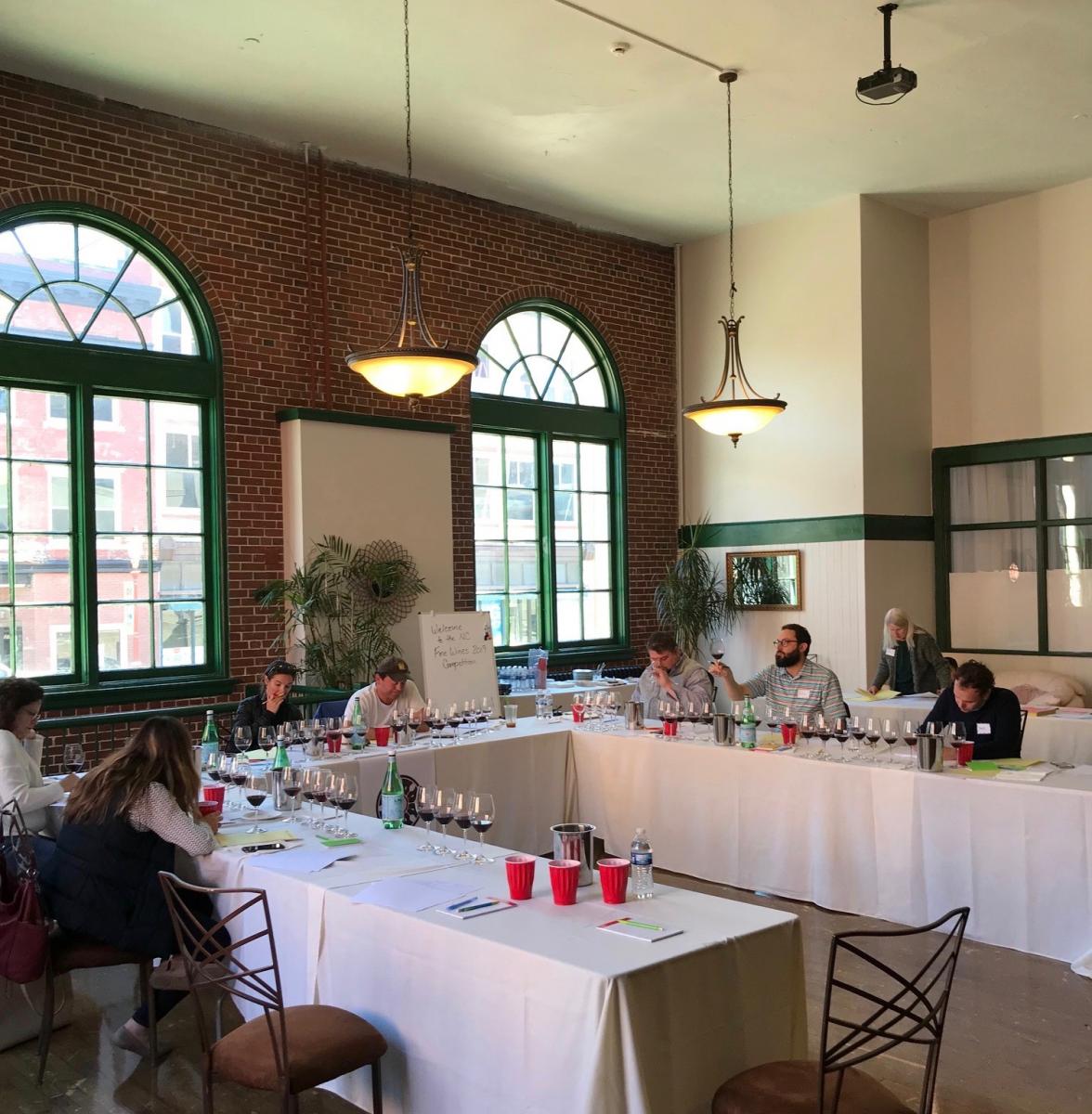 "Most fruit is smelled in the nose, and then your pallet validates that or discounts that," says Ribustello. "But you're really getting the structure in the wine. So, if it's high acid, typically it's a cool climate wine. If it's high alcohol, typically it's a warmer climate wine. And then you're using all those things: your sight, your smell and your taste buds to deduce what that wine is."
Ribustello's husband, Steve, oversaw a 1,500-label wine list in New York before moving to North Carolina and purchasing Tarboro's On the Square restaurant in 2002. Back then, he says, North Carolina's white wines were clearly more successful than its reds. But he says, the landscape is changing.
"I've seen an increase in quality across the board," says Steve Ribustello. "The wine making has gotten cleaner. The grapes have gotten riper. And in the past fifteen years it's gone from mediocre to above average.  That's just the way it works. It takes a long time to develop a wine industry, and we're still in relative infancy."
But no baby steps will be taken at this weekend's Awards Gala dinner where the head chef's resumes include Napa Valley's famous French Laundry, and Per Se in New York. Seven wines from the previous year will be featured. The 2019 winners will be announced, and awards presented. But the biggest prize comes from the judges themselves, says North Carolina Fine Wines Society secretary Dan McLaughlin.
"They write down tasting notes, and we provide those back confidentially to each of the vineyards," says McLaughlin. "So, it's like basically any vineyard that enters a wine in our competition has all these professional reviews of how their wine is showing at that particular time."
And with that feedback, these North Carolina vintners hope to one day reclaim their mantle as national leaders in the field, one grape at a time.  
Support quality journalism, like the story above, with your gift right now.