New Research Shows August Spike In Evictions
11:39am Jul 17, 2020
New research shows that there's a spike in the number of evictions around the country in the summer months. Upcoming COVID-19-related evictions combined with already high rates in the Triad are setting the stage for a perfect storm.
The study by the public problem-solving organization New America looked at eviction data from Phoenix, Indianapolis, and Winston-Salem between 2014-2018. They found that each year the number of people removed from their homes rose gradually from April to their peak in August. Forsyth County's August average is nearly 260 evictions.
Director Yuliya Panfil says next month those non-COVID-19-related numbers are expected to surge even higher with the eviction moratorium and unemployment sweeteners set to expire soon.
"And what that does is that it overwhelms courts. It overwhelms homeless shelters, eviction clinics, and other safety nets," says Panfil. "It's also coming just in time for the start of the new school year, and we know that displacement causes school transience and disruption to kids' education."
The high cost of utilities, summer childcare, and seasonal rent hikes may be contributing factors. But that was before the pandemic. Panfil says policymakers need to know when spikes occur before allocating resources.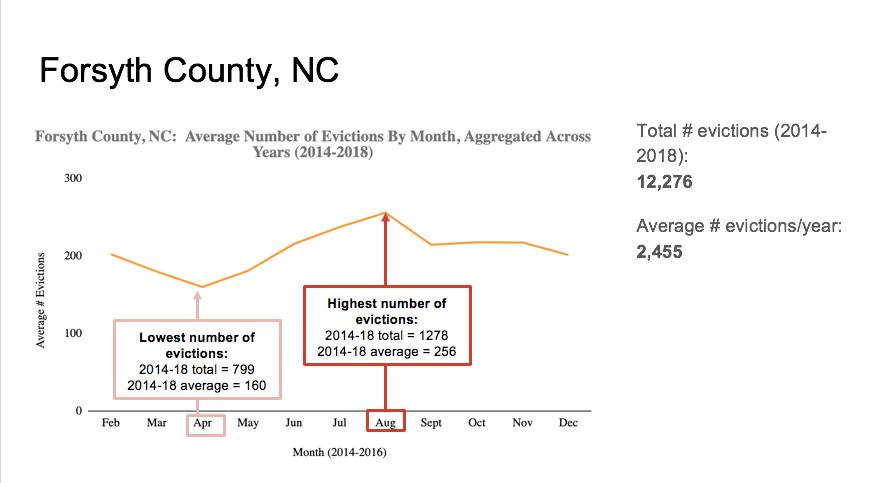 New America's Future of Property Rights program studied Forsyth County eviction data from 2014-2018. Graph courtesy of New America.
For the most up-to-date information on coronavirus in North Carolina, visit our Live Updates blog here. WFDD wants to hear your stories — connect with us and let us know what you're experiencing.