In 'The Last Ballad,' Wiley Cash Explores North Carolina Labor History
2:12pm Oct 23, 2017
North Carolina author Wiley Cash's new novel focuses on a significant moment in the state's labor history. The Last Ballad is set in Gaston County in 1929.
The historical fiction examines a real strike at Loray Mill that gave the labor movement momentum, even though it ended in tragedy.
The story is told through the eyes of union organizer Ella May Wiggins. WFDD's Eddie Garcia spoke with the author about the legacy of Wiggins and the echoes of the past that are still being heard today.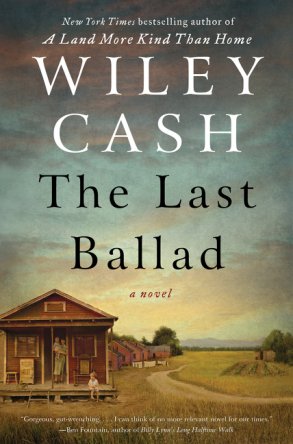 Interview Highlights
On Ella May Wiggins:
Ella was part of this migration that left the mountains for the mills in the Piedmont. And so she came down to Gastonia and got involved in the Loray Mill strike. Workers were striking for a living wage, for safer working conditions, for a 40 hour work week, and Ella instantly became the face of the strike. She was a singer, she was smart, she was tough, she was independent. And when she became the face of it, that made her dangerous.

I didn't want this to be a book about Ella's best moments. When she integrated the labor union, when she wrote these songs that Woody Guthrie performed and Pete Seeger recorded, when she travelled to D.C. and confronted congressmen... I didn't want the book to only focus on those moments - cause that's not who she was. That was part of who she was. I wanted to focus on those smaller moments of Ella's life that you can't get from a history book.
On fictionalizing history:
So the challenge was speaking to the facts while also creating the experience of the strike. And so I'd done so much research on the strike itself that the facts of the strike – I just internalized them. And once I was able to do that, I gave myself over to trying to construct 'what is the experience of the strike?' And that's why in the novel I tell the story from a multitude of angles. To bring in a roundness of what it felt like to be a striker, or a mill owner, or an African-American labor organizer that summer, this very violent, deadly summer in 1929.
The novel's parallels to today:
We have Charlottesville, which happened earlier this year. This pro-Confederate/pro-Nazi Unite the Right rally. The circumstances are so shocking. In that instance a woman named Heather Heyer was killed when a car drove into a group of protesters. Well, Ella May was killed when a car drove into a group of protesters.

And so these circumstances and these coincidences are very, very unfortunate. But it shows me that while I thought I was writing a book about 1929, I was also writing a book about 2017.  And I tell people - even before I wrote this book - that literature is written about a time, but maybe your literature is also written for a time. And I feel like this is written about 1929 but it's for 2017.