High Point Plans To Preserve John Coltrane's Childhood Home
7:23am Feb 21, 2019
Jazz legend John Coltrane stands alongside Charlie Parker as the most influential saxophonist of all time. His childhood home is in High Point, North Carolina. It's a little-known fact, but the community there is working to change that.
When Trane's masterpiece A Love Supreme was released in 1965, contemporary critics called it the most important album of post-war jazz. It sold a half million copies, and quickly cemented Coltrane's place in the jazz pantheon.
But the musical beginnings of the groundbreaking saxophonist took place decades earlier on a quiet little street in east High Point called Underhill.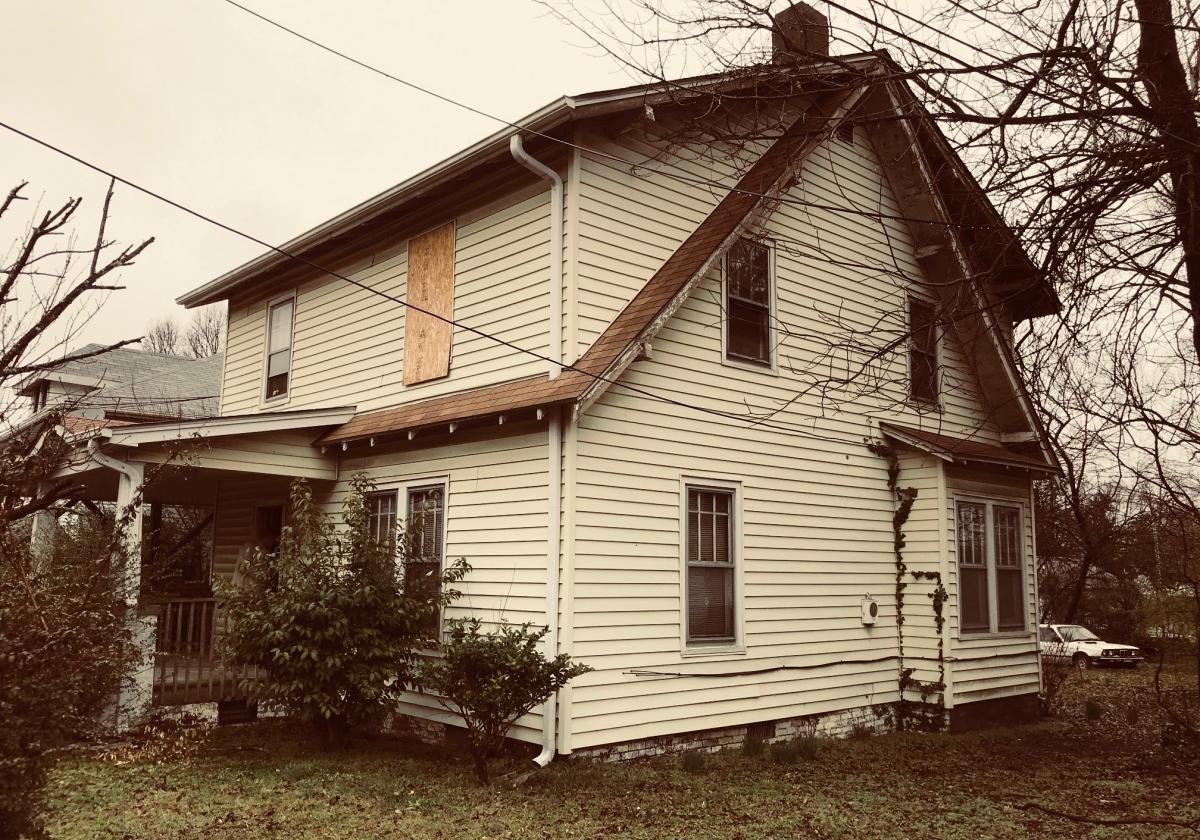 Coltrane's family moved here when he was an infant. He lived in a modest, two-story house from 1928 — the year it was built by his maternal grandfather, the Rev. W. W. Blair — until 1943, shortly after graduating from William Penn High School, just a few blocks away. 
Today, the home's been opened up to the public. A small group of community leaders are gathering here to discuss the building's future. 
One of these people is local historian Phyllis Bridges. When asked what she'd like to see done with the historic home, she's quick to answer.
"A museum that gives us the story—a little more detail—about his childhood here and his family's background because their family has a lot of rich history going all the way back to slavery," says Bridges. "So, I think a museum." 
And the location?
"Right here in this spot," she says. "Nowhere else!"
After all, she adds, it was right here where Coltrane developed his love for music. And where he blossomed as a performer as well, first playing the clarinet at William Penn High School, and later the alto saxophone before later switching to tenor.
Preservation Greensboro Executive Director Benjamin Briggs finds architectural treasures here too.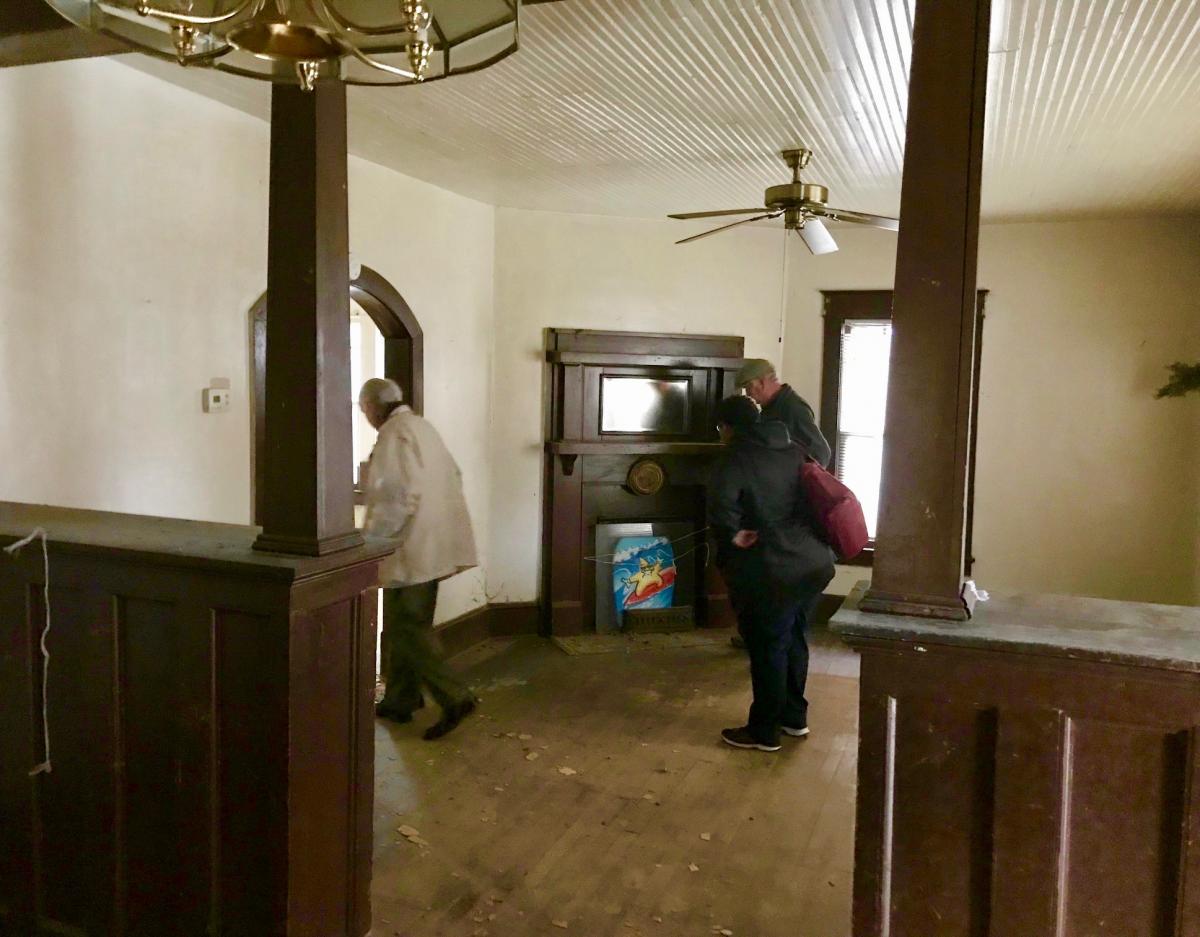 "There's a wonderful entry area with an original newel post on the stairs," says Briggs. "Pier supports that are on top of bookcases with glass doors. And there's an amazing mantle with a mirror over it with beveled glass and original architectural details. And then the entire room has a beadboard ceiling above."
Briggs says unique elements like those, along with a sound foundation and level flooring, make this home an excellent candidate for preservation. 
"The house is important, but so is the community around it," he says. "I think there are some opportunities to preserve the house within a context of other houses like it of the era. So, this is one chapter of a book, but it's nice to have the whole book."
This was a once thriving, predominantly blue-collar neighborhood. Professional white-collar workers lived here too: doctors, lawyers, small business owners, and all of them were African American.
Bruce Davis was among them. Now he serves on the John Coltrane International Jazz and Blues Festival committee. But growing up, he studied music with Coltrane's band teacher, marched behind the William Penn drumline, eventually joining a small jazz combo himself. He too has dreams for this space.
"And I says, what if it was to where young people could come here and have a jam session," says Davis. "Just the thought of being in this facility that John Coltrane practiced in obviously, there was something that could be magic about that."
Upstairs in the master bathroom, six community members are standing, animatedly discussing the possibilities here. Underhill Street neighborhood association's Kimberly Johnson leads the conversation. She says she's thrilled with the input she's received thus far.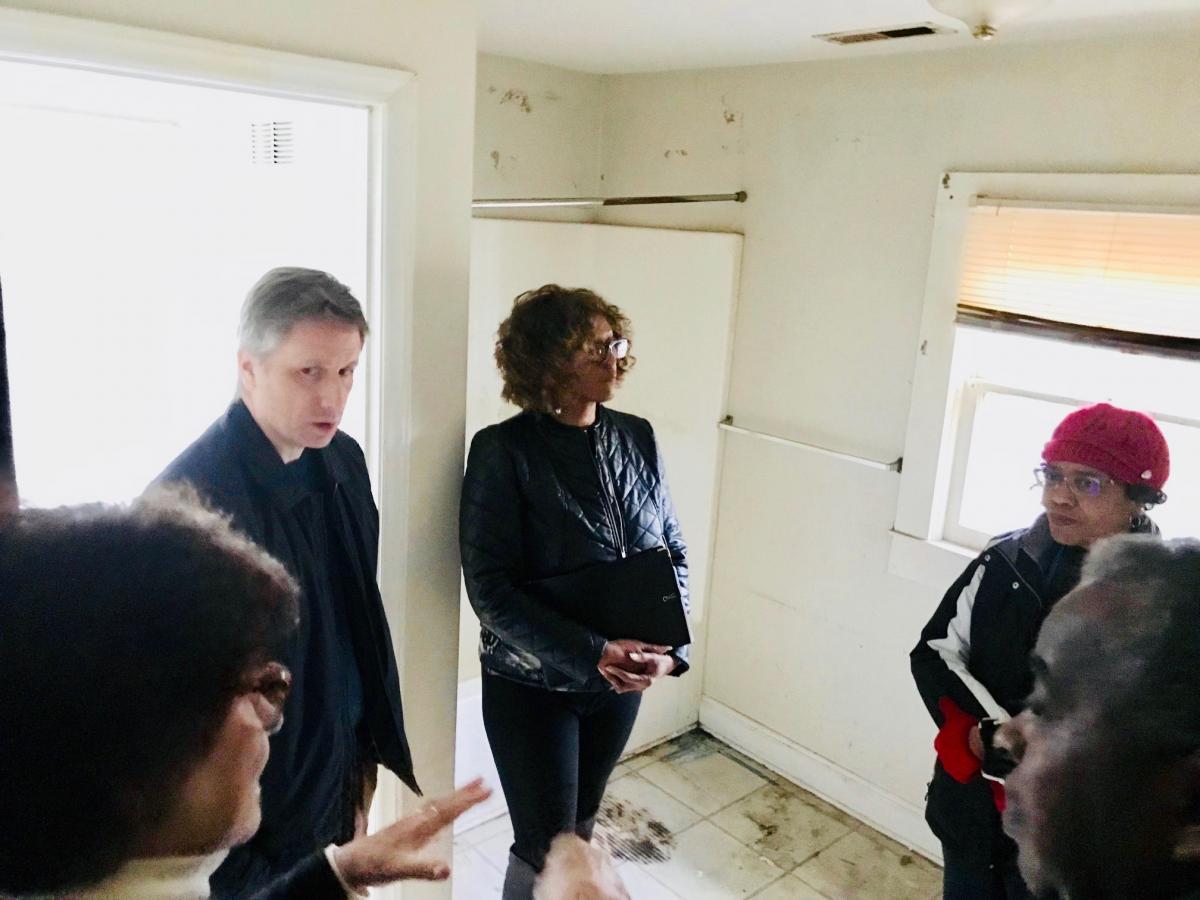 "We want it to be beneficial for the enhancement of the home and the community," says Johnson. "With the proper funds allocated and the city is interested in doing more, and we have so many people that are fans who are willing to come out of pocket as sponsors. So, we could see things taking place here very soon."
During the roughly hour-long open house, dozens of ideas on how to best utilize the space were shared, from Airbnb to small concert venue. Acclaimed saxophonist Wally West heads the John Coltrane Jazz Workshop faculty. He says, anything the community can do to put this sacred musical ground on the pedestal it deserves is alright with him.
"You know, I have stood in front of this house many times, and tried to look inside, so to get inside is a real treat for me," says West. "I've just got this warm, fuzzy feeling all over my body right now, I really do [laughs]! You know, this is…this is where it all began!"
And all of this may be a new beginning for High Point. The day a city began planning to fully embrace its most famous native son.