Helen Simoneau Dance Vividly Marries Music And Movement
12:21pm Mar 17, 2017
It's rehearsal day at The University of North Carolina School of the Arts. A series of somber chords hang in the air, struck from the Gibson SG guitar of Jared Draughon. He's the musical half of the audio / visual project Must Be The Holy Ghost. As the notes repeat and reverberate off the walls, slow and thunderous drums break in. They're emanating from a stack of speakers behind Draughon, who's surrounded by a massive arsenal of effect pedals.
Then dancer Kayla Farrish steps out. She moves effortlessly on the floor and through the air. Her movements are a series of skyward salutes, followed by groundward collapses.
Other dancers enter, surrounding Farrish, who weaves in and out of the circle. At times she's trapped by the dance company, at other times she's freely moving around them.
This is the beginning of Object Loop. It's one of three pieces in Helen Simoneau Danse Company's "7th Company Season." Simoneau choreographed this particular piece following a thematic muse that has crept into her work time and time again.
"There are some themes that continue to be of interest to me, and I'm continuing to explore. One of them is the relationship of the individual within a larger group, and group dynamics. So, I described it once to one of my family members and she said 'well of course, you're one of nine children, it makes sense that you're interested!'"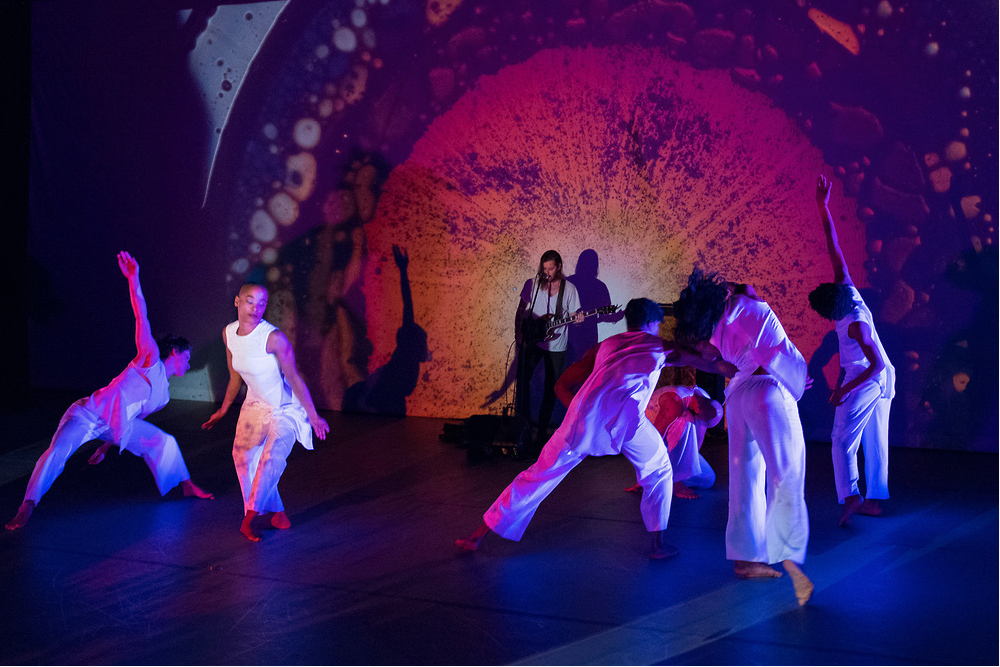 As the first piece of music "Keep Taking The Medicine" draws to a close, curious images begin to slowly fill the stage. But they're not stage lights - they're projections. Psychedelic pools of lights envelop the musician, the dancers, and the space. Everyone is dressed in white, turning each individual into a fluid silver screen.
This is courtesy of the other half of Must Be The Holy Ghost, projectionist Evan Hawkins. Hawkins has been working with Draughon for years, but now lives in Santa Rosa, CA. He wasn't able to fly in until the final week of rehearsals.
This didn't phase Draughon in the slightest.
"He [Hawkins] adapts really quick, and he's certainly so familiar with the songs I play so it shouldn't be too hard. I'm excited to get that element in there."
Something that is new for Jared is giving dancers cues. And he has to do it quite a few times during the performance. But neither he nor Simoneau were nervous.
"He has a cue for her [Farrish] to come on, then they pay close attention to each other throughout that solo," says Simoneau. "Then later on in the piece, during the song "Meltdown" all the dancers are in a sculpture, and she gives him a look, and that's how they know they're ready for the next track."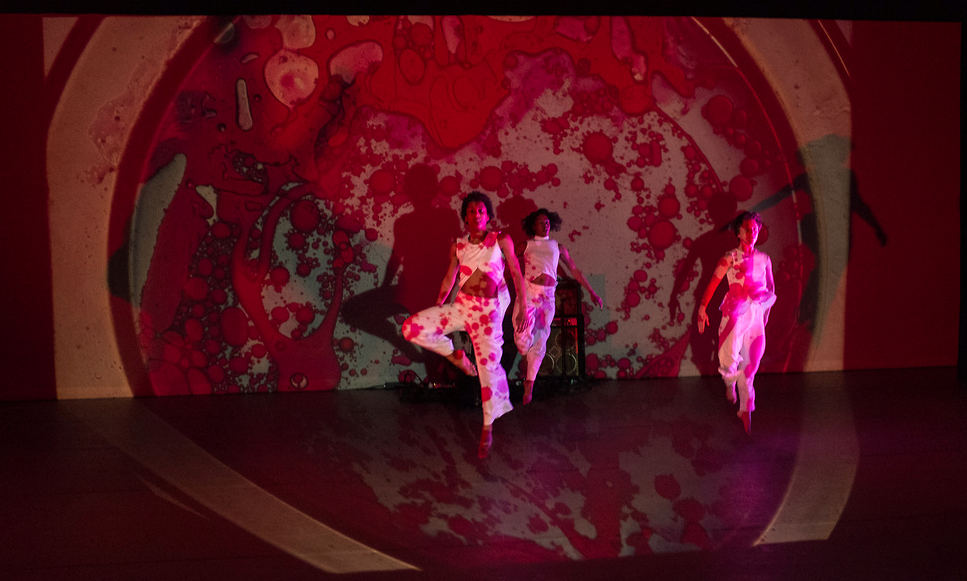 Draughon says the new challenge has been fun, and a learning experience. "The first couple of rehearsals I was just trying to make sure I was playing things right, and figure out what I was gonna do," he says. "So it's freeing me up to think about them [the dancers] more. So that's really my goal - to think less about the music, and more about the collective."
This isn't the first time the artists have collaborated. Back in 2015 they performed together at Phuzz Phest, a multi-day music festival in Winston-Salem, NC. They only had a week to prepare for that concert, so the performance was highly improvised. All involved were pleased with the results, but knew they could do even more. Simoneau prefers to improvise as part of the writing process, then refine those movements into something that is fully composed by the time it hits the stage.
"What I took from the Phuzz Phest experience was a couple ideas, one of them I call The Echo. We take a phrase from a dancer who's essentially the leader or root of the echo. And everyone lines up behind that dancer and decorates the phrase in front of them. It has this effect of taking the initial phrase and makes it larger and larger and larger. Originally it was all improvised. This time we found more specificity in the movement material which in the end adds a lot more clarity to the idea."
Helen Simoneau's 7th Company Season continues at Hanesbrands Theatre through Saturday.
Details on tickets and times can be found here.